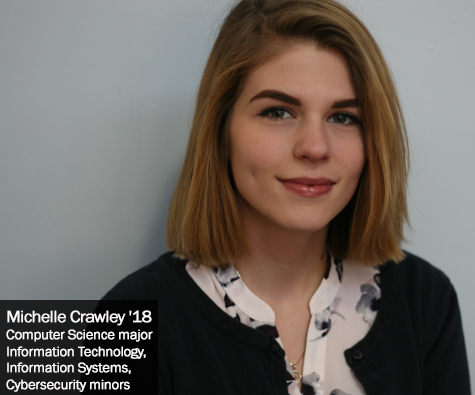 Michelle Crawley
Michelle Crawley is a computer science major from Bronx, New York. She is further developing her expertise with three complementary minors in information technology, information systems, and cybersecurity. Last fall, at IBM's 2016 TechConnect competition, Michelle's group took home a win in the Early Tenure, Best Solutions category for their project on CyberSecurity.
What does it mean to you to have won the competition?
I was quite new to the Marist-IBM Joint Study program at the time, so I was very happy that I had the chance to be a part of it and support my fellow co-workers who worked hard on the project and creating the poster. I learned a lot from them beforehand to prepare as well as during the event as they spoke. It means a lot to me that I was able to simply experience it and be a small part of my co-workers' success.
What is your most significant memory/lesson learned from the whole experience?
My most significant memory is of the IBM employees that we spoke to throughout the competition. They were all very kind and intelligent and easy to talk to and they made the competition a pleasant experience.
What is it like to be a female in a male-dominated field and major?
Before freshman year started there was a 2018 CS/IT Facebook Group which was mostly men. I made a lot of friends through the group, however, which made me much more comfortable taking Computer Science classes, especially at times when I was the only girl in the class. Most people I have met in the program are very supportive and do not care what gender I am. When I did come across someone who made sexist comments, it was easy to let it go due to the vast majority of students and faculty who provide me with confidence and encouragement.
What piece of advice would you give to incoming computer science students?
I would tell incoming students to always reach out to your professors. Forming good relationships with your professors will not only help you with learning the material and getting better grades, but it will also help further your career in terms of recommendations, job advice, and new opportunities that you wouldn't be exposed to otherwise.
Written by Sarah Gabrielli '18
---
Profile Tags:
Profile Type: Class of 2018
Major: Computer Science
Academic School: Computer Science and Math
Campus: New York