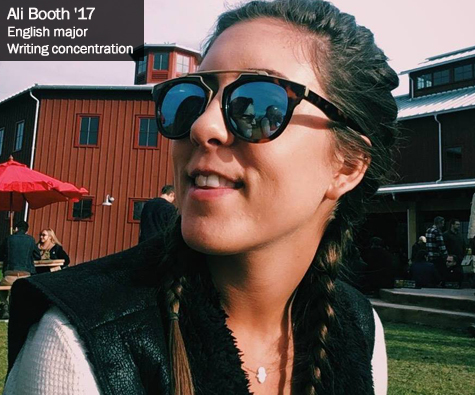 Ali Booth
Ali Booth is a senior from Bondville, Vermont, soon to graduate with an English major and a concentration in writing. Even before graduation, Ali has begun to gain her footing in the professional world as a freelance writer for TigerBeat and intern for Us Weekly. She then continues to pack her schedule with on-campus positions as a tour guide, ambassador, student writer and orientation leader. In the right weather, Ali can also be found out on the ski slopes. She says she is "super passionate" about her latest job--as a snowboard instructor.
What is the most important thing you want prospective students to take away from one of your tours?
Leaving my tours, I just want the students and families to have a strong understanding of the Marist community. You don't need a tour to find out what percentage of students get into med school, or how many years students are guaranteed on-campus housing, or the clubs and activities that are available to students. You can look all of that up online.I want every person on the tour to walk away feeling like they know whether or not the Marist community is a good fit for them.
What has been your most meaningful professional experience and why?
At my first internship at O, they had me start by sorting the mail for hours every day. By the end, they had hired me as a paid freelance writer, and I got to see my name in print on the newsstands. So I think that the realization that hard work pays off is the most meaningful thing I've learned. And if I continue to put in that same level of effort, I can only imagine that opportunities will continue to present themselves.
What is the key to managing your crazy schedule?
The key to managing a crazy schedule is enjoying it. I honestly don't do anything I don't love to do. I don't mind having 3 jobs, interning 3 days a week, taking classes, and still finding time to spend time with my friends because every single thing that I do makes me happy. There's a certain irreplaceable joy that comes from pulling it all off – making the busy days count and having something to show for them at the end of it all.
Written by Sarah Gabrielli '18
---
Profile Tags:
Profile Type: Class of 2017
Major: English
Academic School: Liberal Arts
Campus: New York