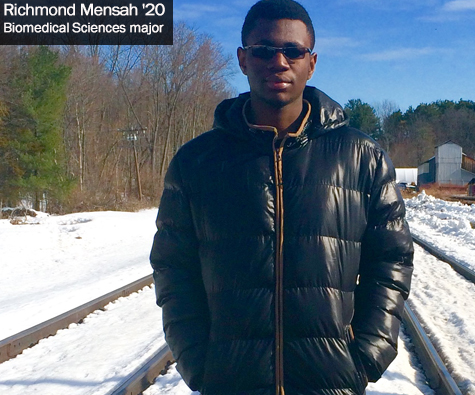 Richmond Mensah
Richmond is an international student majoring in bio-med. He recently received an academic achievement award for students from West Africa and hopes to attend a medical school following his graduation.
Can you tell me a little bit about your life in Ghana?
My life in Ghana isn't different from that here. I spent most of my time in school since I attended a boarding school. On vacations, I would stay with my family and hang out with friends.
How did you decide to come to Marist?
I had a scholarship opportunity from my school, which was pioneered by Marist College, Marist alumni and a professor, Christina Vertullo. She helped me throughout the process and finally got me here.
What steps did you take to adjust to life at Marist?
Adjusting to life at Marist was a bit difficult at the beginning due to cultural differences. However, by observing and questioning, I was able to adjust to the system here.
What is something that you enjoy doing in your free time?
When I am free, I either watch documentaries about new health science discoveries or hang out with my friends.
What is the greatest difficulty you have faced?
Things have been difficult, but I don't necessarily have an outstanding difficulty.
What is an accomplishment that you are most proud of?
I finished my first semester here with a 4.0 GPA. I am definitely proud of that.
What advice do you have for future international students?
For future international students, one thing they have to be aware of is that the system over here is different from that back home. Extra work is therefore needed at the beginning until perfect adjustments take place. I would advise them to stay focused and maintain a good social life as well. Finally, they should pay extra attention to professors and all faculty members.
Written by Erin O'Brien '18
---
Profile Tags:
Profile Type: Class of 2020
Major: Biomedical Sciences
Academic School: Science
Campus: New York