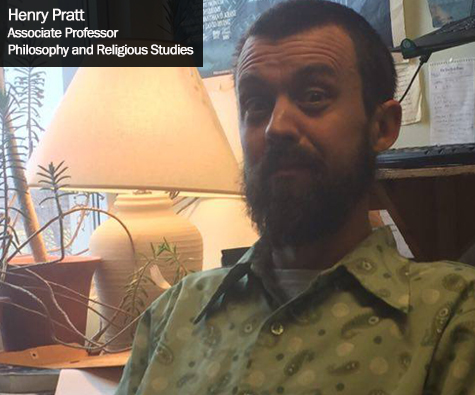 Henry Pratt
Henry Pratt is an Associate Professor in the Department of Philosophy and Religious Studies at Marist. He teaches a number of core philosophy classes, as well as more specialized courses along the lines of his expertise in aesthetics, philosophy, and art. Pratt also proclaims passions for baking, music and running "really far." His quirky interests and comedic nature shine through in his attitude towards his students and course material.
What do you most look forward to when coming to campus every day?
I am excited to see my students. I think if that excitement isn't there then I probably shouldn't be a teacher. I like having the kinds of relationships with students that I do in the classroom and I find that, when the semester is over, I miss them. I miss being in the classroom so that's a nice thing for me - being able to look forward to the kinds of exchanges that I get with students in the classroom.
How would you describe your classroom environment?
I think my students would tell you that it is pretty relaxed but also demanding. I try to hold people to high standards but I like to keep things kind of light-hearted. While taking serious matters seriously, as they deserve, I also think it is fine to talk about some of the more ridiculous aspects of what we do together in the classroom. Bringing in things like that helps keep the class feeling fun and interesting, even when sometimes we have to deal with topics that are very serious.
What lesson do you most enjoy teaching?
In aesthetics, one of the things I really enjoy is going through the philosophy of David Hume, who explores (...) our sort of knee-jerk reaction to say that everybody has their own particular taste. In art, or in whatever, you can't judge people for their taste. There's a tension between that, Hume thinks, and the idea that we do judge people for their tastes all of the time. We think that some people have terrible taste and get it wrong (...) I also like teaching about horror. In my philosophy of film class, we do a whole unit on what horror is and what role monsters play in horror. That's always a lot of fun.
Did you always know that you wanted to teach?
I didn't always know this. I always have enjoyed knowing things and being able to talk about those things with other people and that's effectively what teaching is. I also really like learning. That is one of my favorite things about teaching: that I learn as much from my students as they do from me, maybe more. So I really like learning stuff and knowing things and I like intellectual exchange with others. Gradually, I realized that teaching is a great way to be able to bring that part of my personality into my professional life.
Do you have any special skills that your students might not know about it?
I'm a musician. I play a lot of musical instruments and I was in a bunch of bands. I've got one little kid and another one who is due next week so the musical part of my life is a little bit on hold right now. But I do plan to, once my kids are in school, start a country band. I swear I am going to start a country band. Not contemporary country - we're talking like outlaw country - really loud and lots of trucks and stuff like that.
Do you think your sense of humor comes through in the classroom?
Yeah, I think that my students will tell you that. Lately this semester I seem to be stuck on dad jokes. I am recently aware of this genre called "dad jokes" and I realize that half of my humor is dad jokes - like a super lame play on words or something like that. I realized that a rich source of humor is you take a dad joke and you repeat it. There's this strange phenomenon where a joke is funny the first time, and then it gets less funny the more times you tell it, and then it turns around and gets funny again after the third or fourth repeat.
Written by Sarah Gabrielli '18
---
Profile Tags:
Profile Type: Faculty
Major:
Academic School: Liberal Arts
Campus: New York