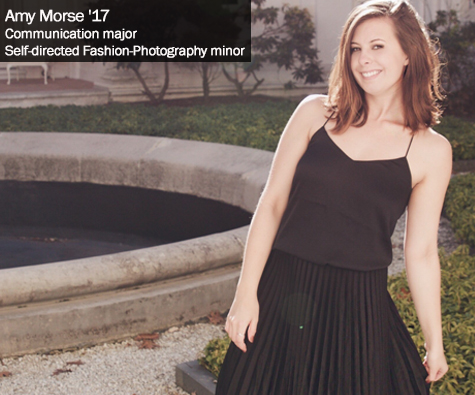 Amy Morse
Amy Morse is a senior from Newburyport, MA, a small town located on the Atlantic coastline between Maine and Boston.
What is your major/minor and how did you decide on that field?
I'm a Communication major with minors in Fashion and Photography. I have always had a strong interest in fashion and the editorial photography that is featured in magazines. I used to clip out my favorite looks and campaigns and plaster my closet door with them for inspiration. I decided to major in communications because I believed that it would provide me with a solid base - and it has! I went for digital photography and "customized" my fashion minor by meeting with the dean of the fashion department every semester because merchandising and design weren't for me. I am so happy I spoke up and made my own path!
What noteworthy extracurriculars have you participated in?
Currently, I am volunteering as the go-to fashion photographer on campus which is probably the coolest thing I have done at Marist! I finished my minor a year ago, but I couldn't just leave the department. Freshman year I was involved with probably 7 different clubs which helped me to make friends and get familiar with Marist. Dance Ensemble was probably my favorite of the extracurriculars that I participated in - it's a great release during the week.
Tell me about your Marist in Manhattan experience.
I decided to do a semester in Manhattan as opposed to abroad because I had already traveled to Europe a couple times and Manhattan has always been a dream of mine. I learned a lot about the city, myself, and the fashion industry. I had the opportunity to cover over 60 New York Fashion Week runway shows and presentations which were absolutely exhausting but totally worth it. I met a lot of hard-working people during those months and the experience helped me build a portfolio that got me my summer internship in Manhattan.
What advice do you have for incoming students?
Get involved in as many things as you can when you first get here - even if you're only a little interested. This will help you develop and hone in on your interests. Also, I wish that I took courses that interested me beyond my career goals - I think you should major/minor in a path that makes sense to your career, but maybe take on another minor that you don't necessarily want to pursue as a career but are intellectually curious about.
Written by Shannon Donohue '17
---
Profile Tags:
Profile Type: Alumni
Major: Communication
Academic School: Communication and the Arts
Campus: New York