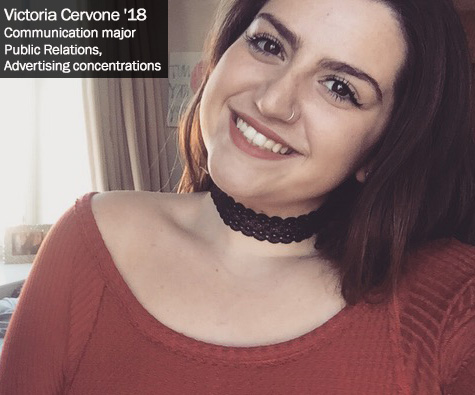 Victoria Cervone
Victoria Cervone is a junior Communications major with a dual concentration in Public Relations and Advertising from Freehold, New Jersey. She is involved in the Kappa Kappa Gamma sorority, Habitat for Humanity, North Road Communications, and PRSSA.
Why did you decide to join a sorority?
I joined a sorority to make new friends and connections that I probably would have never made. To have a group of people that are there and who share the same values as you is something really special.
What has Marist provided for you that no other school could?
Marist has provided me with a home away from home. It is a place where I was able to grow into an adult. Also, it has given me my best friends! If Marist didn't randomly place us as roommates freshman year, I don't know where I would be.
What are you most looking forward to senior year?
I'm looking forward to enjoying every minute that I have. I don't want to grow up and be in the real world, so I am going to take in and enjoy everything senior year!
Written by Adriana Belmonte '17
---
Profile Tags:
Profile Type: Class of 2018
Major: Advertising
Academic School: Communication and the Arts
Campus: New York