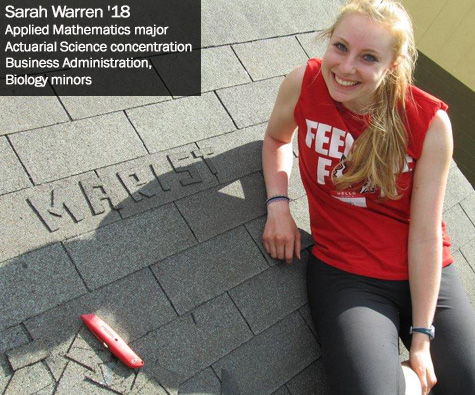 Sarah Warren
Sarah Warren is a junior Applied Mathematics major with a concentration in Actuarial Science and minors in Business Administration and Biology. She is from Cold Spring, NY. Sarah is a member of Habitat for Humanity, Math Club, the Math Honor Society, and Campus Ministry.
How did you choose your major and minors?
Before coming to college I wasn't really sure what I wanted to do but knew that I enjoyed math. But, since coming to Marist I have grown to love the interplay between math and science and hope to go into a field involving the two.
What made you choose Marist?
I visited about a dozen colleges all within the tristate area, but I ended up applying to four. I really loved the community feeling and how beautiful the campus was. When I was looking for a college, I didn't want to go so close to home, but this being my only drawback to Marist, it didn't make much sense to choose anywhere else.
What advice would you give yourself freshman year?
I would tell my freshman year self to take advantage of all the activities the college has to offer and to get to know the surrounding areas. Now having seen all the great programs Marist has to offer and all the touristy towns in the surrounding area, I wish I had explored sooner! I also would tell myself to stop stressing. It may seem near impossible in the moment, but that paper will get done, and that test will be passed.
What has been a highlight of your college experience so far?
One of my greatest experiences at Marist has been going on Habitat for Humanity's Collegiate Challenge. I've been on two trips: one to Alabama and one to Mississippi, and it's such a rewarding experience. You learn so much about yourself and are challenged in ways that you never have been before and may never again in the future. I mean how many college-aged females can say they have worked on the roof of a house and used a nail gun to re-shingle it? I can imagine not too many!
Written by Sophia Brana '17
---
Profile Tags:
Profile Type: Class of 2018
Major: Applied Mathematics
Academic School: Computer Science and Math
Campus: New York