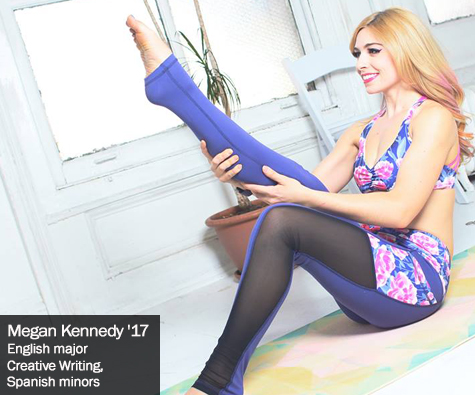 Megan Kennedy
Megan Kennedy is originally from Wall, NJ. She is a member of the Class of 2017 with a major in English and minors in Spanish and Creative Writing.
How did you decide on your major?
I'm an English major with a minor in Spanish and Creative Writing. I came in as an Education and Spanish major with a minor in English because I was thinking I wanted to do ESL, but that ended up not being the right path for me. I found that I loved my English classes, so I changed my major. I've definitely enjoyed being an English major because it forces you to look at things in different ways, and reading and writing skills are always applicable no matter what you do.
Did you have any internships?
Yes! Last year I interned at Health Magazine for the Marist in Manhattan program and then stayed in Manhattan for the summer interning at InStyle. At Health it was a legitimate 9-5, Monday-Friday job. I had pretty routine intern tasks but I also got to interview people and I got to go to all of these press events, like a 8 course Napa Valley dinner, which was amazing. I also had a few articles published and did a lot of my own outside research, which was very cool. While I was there, the magazine was undergoing a big transition to move everything online, so it was a really interesting time to have been there and seen that.
I was so set on working in the magazine industry, but by the end of the summer after having done it for 6 months straight I wasn't sure it was for me. Now I'm going to graduate school for Exercise Science at Florida Atlantic in a few months and I'm taking a leap into a field I've always been interested in rather than forcing it.
Did you do any extracurriculars while you were here?
I'm in Kappa Lambda Psi, the sorority, which I actually joined kind of late. I joined my junior year and it's honestly one of the best decisions I made. I made so many friends. I went in thinking "I don't ever want to join a sorority, that's not me," but I took another leap and I loved it.
I know you teach a lot of fitness classes here for students. Tell me about that.
Yeah! So I started out just teaching Zumba and now I teach Pop Pilates and Insanity. I've always particularly loved Zumba, so the second I turned 18 I got certified. The Zumba instructor who was here my freshman year was a senior and she was leaving, so it was really just a matter of me going up to her and saying "Hey who's teaching Zumba when you leave?" and she was like, "No one, do you want to?" So I jumped right on that opportunity. It's so funny how asking that one question has led me to so many different experiences - even my decision to go to grad school next year.
Any advice for incoming students?
I would say to be flexible about your goals because you might come in thinking, "I'm definitely going to do this," and then you'll come out with all these other interests that you find through all the opportunities at Marist. Just explore and try things that you normally wouldn't. It's all waiting for you! So keep your head up, figuratively and literally, for all of the opportunities and cool people and fun things happening around you every day.
Written by Shannon Donohue '17
---
Profile Tags:
Profile Type: Alumni
Major: English
Academic School: Liberal Arts
Campus: New York