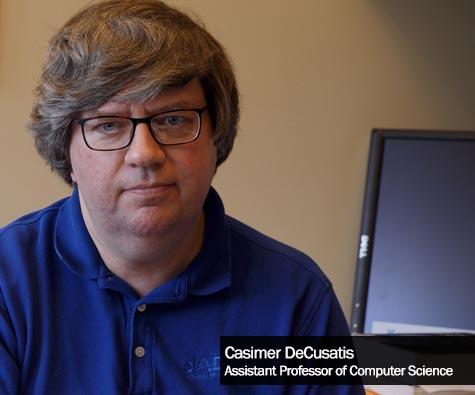 Casimer DeCusatis
Professor Casimer DeCusatis offers the only class on campus that deals with cyber security, which he believes to be relevant to students of all backgrounds. Along with many others, Professor DeCusatis further bridges the gap between Marist and IBM. He worked at IBM for 24 years before coming to Marist to teach computer science. After so long in the industry, Marist's joint study program reminded DeCusatis that he had always intended to return to teaching.
What kind of insight can you offer to students interested in being a part of the joint study program at IBM?
A lot of students are concerned about keeping their grade point average up and, while a high GPA is important, I think it's equally important, if not more so, that you are eager to learn and able to work independently. We can teach you the things that you are going to need to know to participate in a program like this. We are looking for students that are self-starters and are motivated and I think we've found some really great students at Marist who have been working with us over the years.
You have been referred to as an IBM "master inventor" can you explain that?
A master inventor is a title IBM gives to its employees when they have made a lot of contributions to the patent portfolio. Usually, you need 10 to 12 patents at least and more is always better. When I was with IBM I used to do lots of patents that were used in IBM products over the years. They named me a master inventor because all of those. [As a master inventor] you also have this responsibility to go back and work with people and teach them how to become more productive inventors. Over the course of my years, I have built up about 150 patents.
Is there one subject you are currently researching or most interested in right now?
Right now we have a grant from the National Science Foundation that is called "Secure Cloud." It's a program to do research on cyber security for cloud computing networks. This was a pretty significant grant - it is about 700,000 dollars. We hire students, we are doing research and publishing papers and we are really excited about it.
How else are you involved in tech programs/clubs/activities at Marist?
I am the faculty advisor for the Marist student chapter of the IEEE: the Professional Society for Electrical and Computer Engineering. We work with the local Mid-Hudson section of the IEEE. I am also the founder and director of Hudson Valley FIRST LEGO League. We have Marist students helping us run robotics tournaments so we can teach students about programming and building robots.
What would you say is the most prominent change in the study of technology since you were in school?
Computer science is a field that is constantly changing. Every couple of years we have new technologies that we never had before. As recently as 10 to 15 years ago, we didn't have any courses in cyber security or anything in how to secure your mobile phone like we do right now. Cloud computing was just getting started. I think it's great that students today have access to all of these resources on the internet and online classes that we didn't have when I was going to college. That is a huge innovation from what we had in the past.
How did you end up at Marist after working at IBM?
I was with IBM for 24 years and then while I was at IBM I started working with the IBM-Marist joint study program. I got to know some of the students and the faculty here and I thought they were doing some really interesting, good work. I started thinking about how I always wanted to get back into teaching. I originally got my Ph.D. with the idea that I would spend a little time working in the industry and then I would go back and teach at a college. When I realized all of the good work happening at Marist, I decided that was a great opportunity for me to get back into teaching.
Why would you encourage students to take your cyber security class?
It's the only class in the Computer Science Department at Marist that focuses on cyber security. I think that's a really important topic because it affects pretty much everyone in their daily lives. You can also apply it whether you are writing code or just working with computers or even if you just want to learn how to protect your own personal data a little bit better. We have a minor in cyber security, so there is actually a sequence of three special topics courses that you can take in that area which is open to anybody on campus. I would encourage anyone who has any kind of interest in computer security to look into those courses and contact me for more information.
What is a recent classroom moment or accomplishment that has really stuck with you after the fact?
In our research program, we often send students to technical conferences to give presentations on our work. We just sent a couple of students to an IEEE conference in Trenton, New Jersey and they presented some of this work on the Longtail SSH Honeypot which analyzes cyber attacks. I like giving students the opportunity to go to technical meetings and interact with the broader technical community outside of Marist. They can meet people who are good contacts and working professionals in the field.
Written by Sarah Gabrielli '18
---
Profile Tags:
Profile Type: Faculty
Major:
Academic School: Computer Science and Math
Campus: New York