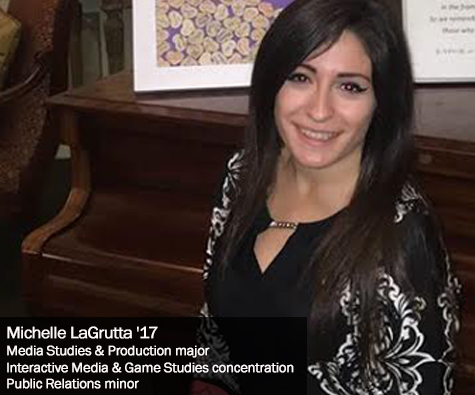 Michelle LaGrutta
Michelle LaGrutta was born and raised in Massapequa, NY in Long Island. She is a member of Marist's Class of 2017 with a major in Media Studies & Production with a concentration in Interactive Media and Game Studies and a minor in Public Relations.
What is your major/minor and how did you decide on that field?
My major is Media Studies with a concentration in Interactive Media and Game Design. I love designing things and I love video games so the major screamed my name!
Did you participate in any noteworthy extracurriculars or classes during your time at Marist?
One class that I loved was Interactive Media II - the entire semester we worked on conceptualizing our own mobile app. My app was about a study assistant app to help students. We had to put in a ton of research about app functionality, workflow, and target audiences. It was really cool because we had to think strategically about the concept and design flow. My favorite part was getting to design all of the pages for the app.
What was your favorite Marist experience?
Riverfest this year was probably one of my favorite events at Marist. The weather was beautiful and it's so nice to get to be down by the river. It was awesome to have an event where pretty much our whole class was there. I also loved getting to hang out with our professors outside of the classroom!
What did you do for fun/in your free time at Marist?
If I'm not hanging out with my friends I'm probably playing video games. I've always loved video games so I'm always trying to find free time to play! My favorite right now is Skyrim. You get to run around this giant world and kill dragons! Also, I love to play with my pet lizard, Sid. He's a really cool leopard gecko that I got from Florida.
What are your plans for after graduation?
I wish we had more time until graduation! I'm looking to work with a PR firm in the technology industry or a PR firm in the video game industry. I'm not really sure exactly what I want to do yet, but I know that I want to work in a tech-related job.
Do you have any advice for incoming students?
Always go out of your way to meet more of your peers! Whether that means going to Marist events or even hanging out on campus, don't restrict yourself when it comes to meeting new people. I met some of my best friends towards the end of my Senior year so I kind of regret that I didn't meet them sooner. Marist has a great community so take advantage of it!
Written by Shannon Donohue '17
---
Profile Tags:
Profile Type: Alumni
Major: Game Design
Academic School: Communication and the Arts
Campus: New York