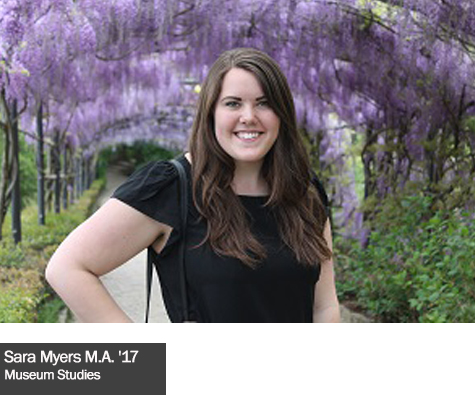 Sara Myers
Sara Myers is a member of Marist's M.A. in Museum Studies Class of 2017. She received a Bachelor of Arts in Classical Studies with a minor in Art History from Brigham Young University and is currently a Museum Educator at the Children's Museum of Denver at Marsico Campus .

Why did you choose the Marist Italy Florence branch campus?
I chose Marist's branch campus because I have always loved Italy, and since I visited in 2012, I couldn't wait for an opportunity to come back. Coupled with the fact that I wanted to get a degree in Museology and Florence's history as a museum center, I couldn't pass up the opportunity to study here.
What is the learning experience like in Florence?
The learning experience here is one of a kind. I have never heard of another program that offers its students such a wide range of opportunities. We have had the chance to attend class in a huge selection of museums, ranging from the historical Pitti Palace to the more modern Galileo Museum, and even the historical house of Michelangelo Buonarroti. On top of that, we have had guest lectures and meetings with museum professionals and have been able to learn from them on site within their museums.
What is your favorite class? Why?
Museum Ethics and the Law is definitely my favorite class. Our professor is one of the kindest women I have met here and she is so enthusiastic about the law. She presents the material in a really interesting way and I feel like I learned so much in the class. We have examined real court cases and held ethical and legal debates about contemporary legal disputes. I had no interest in this subject coming in, but now, I can't stop thinking about the legal repercussions of things that happen within the museum setting.
What is your favorite place in Florence? Why?
My favorite place in Florence is hands down, The Bardini Gardens. I have been several times throughout the year, and every single time it is a new experience. The most beautiful view of Florence can be enjoyed there, and since not many tourists know about the gardens, it is always really quiet and enjoyable. There is a cafe at the top of a set of Baroque stairs that provides a relaxing atmosphere to grab a panino or coffee.
What is your least favorite aspect of living in Florence and why?
I'm not going to lie, the city smells bad in places and the lack of open space and green areas just amplifies it. I can handle the tour groups, which a lot of people complain about, in fact sometimes they are fun to observe, but I hate walking down the street and feeling like I have to hold my breath at times to be able to get through the smell.
Are you currently employed or furthering your education? If you are working in the field please include the name of the organization and your title. Please feel free to tell us about your job or any other degrees you are pursuing.
I am currently working as a Museum Educator at the Children's Museum of Denver at Marsico Campus. I get to work on creating the programming for our school groups that visit, as well as present those programs. I do both in-house programs for field trips and outreach programming.
How has the Museum Studies program helped you get where you are today?
The program opened my eyes to the different job possibilities within a museum and helped me decide that I wanted to be an educator. Without the program, I definitely would not be at my current job doing what I love to do.
Where have you traveled during your time in Italy?
I have been fortunate enough to travel to a lot of places throughout this year and I don't regret a single trip. During fall break I traveled with a few of the girls in our cohort to Prague, Vienna, and Tuscania. Following that trip, we went on a class 'field trip' to Frankfurt, Germany and visited a number of contemporary museums there. While my travel time was limited during the fall semester, I learned to accommodate weekend trips into my spring semester. Over the course of 8 weeks, I ate sausage and sauerkraut in Bucharest, visited the catacombs in Paris, drank coffee at a castle in Trento, spent a day at Camden Market in London, took a boat tour in Zurich, walked across the highest suspension bridge in Europe (by Lucerne), drove porches in Stuttgart, visited the famed Neuschwanstein Castle in Germany (while staying in a different castle), and swam in the Adriatic sea in Puglia.
What is the most interesting difference between Florence and your home country?
The most interesting difference between Florence and the States is the history. In Denver, where I am from, the history goes back maybe 200 years to the gold miners and we barely have any standing structures from then. But here, you look at a building and chances are that it was built over 500 years ago, and in most cases, even earlier than that. I can't imagine just how many people have lived here and how many stories even the most 'insignificant' person living in the city during the Renaissance could tell you. I am constantly in wonder and awe at my surroundings.
What advice would you give to a prospective student considering pursuing a Master of Museum Studies degree in Florence?
You need to come in with an open mind. As Georgette Jupe, otherwise known as Girl in Florence, once told us, we cannot compare Italy to home. It is impossible, and it will only make you miserable. You shouldn't spend your time thinking about what you can't get here from the states, but rather, think about what is new, find exciting things to try, and new experiences to do. If you look at Italy as something completely different and don't expect it to be like your home in the States, you will find that Florence is an extraordinary place to live and learn. The city is literally yours for the taking! It is just up to you to find the courage to go out and find what it has to offer.
Do you have any advice for students who are looking into pursuing a career in a Museum?
I would just say to research what you want to do and make it happen. If you want to work in a museum, do not give up hope. It is definitely a struggle to get a job that you want, but just keep looking for openings and keep applying. Don't be afraid to take the low paying, entry-level jobs, those positions will open doors for you in the future. Eventually, you will get where you want to be.
---
Profile Tags:
Profile Type: Alumni
Major: Museum Studies
Academic School: Communication and the Arts
Campus: Italy