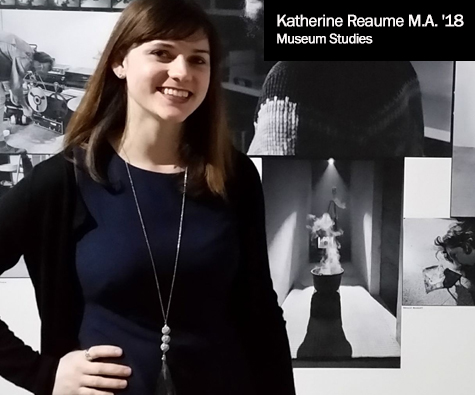 Katherine Reaume
Katherine Reaume is a member of Marist's M.A. in Museum Studies Class of 2018. She received a bachelor's degree from Central Michigan University
in Art Education, with minors in Dance, Art History, and Museum Studies.

Why did you choose the Marist Italy Florence branch campus?
I choose Florence due to the amazing amount of museums and opportunities to learn from working professionals in the field. It sounded like a great venture to go and study in Italy and expand my horizons intellectually and culturally.

What is the learning experience like in Florence?
Sometimes class feels like being in college back in the States, while other times it is unbelievably surreal. Having the opportunity to travel to other cities and experience museums with the director of the museum, heads of departments, other professionals such as restorers, provided a comprehensive look into museums in Italy.

What is your favorite class? Why?
My favorite class is a tie between Museums, Galleries, and the History of Collecting and Museums, Ethics and the Law. The history class was fascinating being able to visit locations around Florence that corresponded to the timeline of collecting and the impact that Italy has on Museums. I also loved learning about all of the different laws that have an effect on museums.

What is your favorite place in Florence? Why?
My favorite places in Florence are one of the many gelato shops. I love tasting the different flavors that each carry and coming up with delicious combinations!

What is your least favorite aspect of living in Florence and why?
Selfie-sticks. They are everywhere and people try to sell you them all of the time. I'm not against them (I do own one) but, have been hit by a few and that's no fun. Just have to watch out for people trying to get those great angles with the amazing architecture Florence has to offer.

What type of museum career are you pursuing, or are you planning on earning another degree?
I would like to work in an art museum in the education or events department.

What type of internship do you have or plan to have, and where is it located?
I am interning at the Uffizi in Florence with the Uffizi Live department, which organizes live events in the museum on Tuesday nights during the summer months.

Where have you traveled during your time in Italy?
Paris, Bordeaux, Cologne, Budapest, Prague, Amsterdam, Venice, Milan, Puglia, and Sorrento to name a few!

What is the most interesting difference between Florence and your home country?
I love the many different festivals, shows, and markets that pop up around all over the city constantly! Having the chance to walk around and stumble upon a farmers market one day and a chocolate festival the next is truly an experience.

What advice would you give to a prospective student considering pursuing a Master of Arts in Museum Studies degree in Florence?
I would recommend learning some Italian before coming. Though it is not required it is helpful to know another language especially if you want to dig into the archives for research or visit the great small towns. Also to pre-plan some trips and things that you want to see. Time goes by fast and you don't want to leave wishing that you could have gone somewhere.
---
Profile Tags:
Profile Type: Class of 2018
Major: Museum Studies
Academic School: Communication and the Arts
Campus: Italy