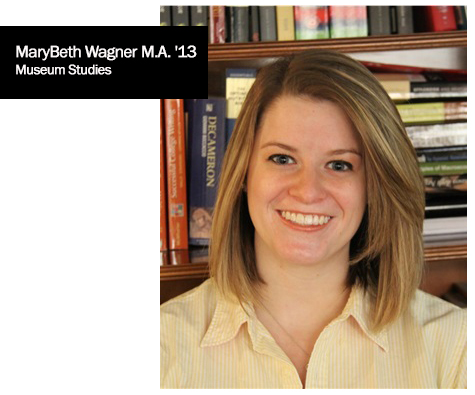 MaryBeth Wagner
MaryBeth Wagner is a member of Marist's M.A. in Museum Studies Class of 2013. She received her undergraduate degree in History and Secondary Education from the Catholic University of America.

Why did you choose the Marist Florence branch campus?
When researching museum studies graduate programs abroad, I stumbled upon the Marist-LdM collaboration and immediately knew I wanted to apply. Because the program focuses on a hands-on approach to the museums and museum professionals in Florence, I believed my experience in Italy would benefit my eventual career goals as well as provide me the opportunity to immerse myself in a very different culture from my own. I wanted a program that combined learning about museums in a classroom setting with visits to different institutions and interactions with actual museum specialists. In my future, I hope to work in a leading institution with the tools and education I need to succeed, and I believe this program will help me get there.

What is the learning experience like in Florence?
At first, the thought of living in a different country and understanding how people in Florence function on a day-to-day basis was daunting. As time went on in the semester, though, I began to better acclimate myself to my new environment. The learning experience was combined with the classes in my program and understanding a new culture, which made it tough at first. Eventually, I realized how much I had learned in a short amount of time, and I recognized how valuable that experience was.

What is your favorite class? Why?
My favorite class in the program was Museum Management. Having the ability to learn from one of the most influential museum directors in Florence really opened my eyes to the challenges museum managers face in today's world, and I believe I learned the most from this class as well. Dr. James Bradburne, director of the Palazzo Strozzi, provided lectures analyzing various aspects of museum management and created assignments that allowed students to place themselves in the roles of overseeing a museum. The lectures and assignments catered to a stronger grasp of why and how museums are governed.

What was your most challenging class in Florence? Why?
The History of Collecting course was challenging because of the amount of work we were given. With a plethora of primary source readings, analysis, and a final research paper, the class made us focus on perfecting our work and being able to understand how to balance schoolwork in a graduate program with life in a different country. While the class was challenging, it still established the importance of time management and hard work.

What is your favorite place in Florence? Why?
It is difficult to choose just one of my favorite places in Florence! The city, though small, offers so much history and cultural beauty. I particularly enjoyed walking along the Arno and across the Ponte Vecchio and viewing the shops on the bridge. For most of my life, I've had the mindset of hurrying from place to place and rarely stopping to enjoy the scenery around me. Italy has taught me to really appreciate the details and take my time. Thus, my walks along the river helped open my eyes to the beauty surrounding me, which I may not have done previously.

What is your least favorite part of Florence? Why?
It is challenging living in a country and city with a different mindset as the one you are used to. Most people in the US are used to getting from point A to point B in an efficient and timely manner. Most Italians, on the other hand, do not view time as an important aspect of life. Sometimes it is difficult to constantly live in a relaxed manner, and when rushing to not be late to class or another obligation, it can be frustrating to constantly be slowed down. However, it is nice to view both sides of the time spectrum. Italy has definitely taught me how to slow down and enjoy all of my experiences.

What type of museum career are you pursuing?
Since it is early in the program, I am still deciding what museum career I want to pursue. I have been debating on a curatorial career or a career in museum education. In the spring, I will be in a course focusing on education as well as starting my internship in an education department in a museum. I hope to have a better idea once the second semester of the program is completed.

What type of internship do you have or plan to have? Where?
The internship that I will begin in the spring is at the Museo Galileo, the history of science museum in Florence. The dual internship, with another student and myself, is in the education department of the museum. I am very much looking forward to beginning a project for the museum and learning as much as I can about museum education, especially in Italy.

Where have you traveled and where do you plan on traveling during your time in Italy?
Aside from traveling throughout Italy, I was able to visit Brussels, Amsterdam, and Prague during fall break. The trip was amazing; and even though I've visited Europe in the past, it was nice to be able to visit other countries and so easily get from place to place. Every experience in each different country contributes to developing a wider worldview, and I feel more confident and independent in terms of traveling on my own.

What is the most interesting difference between Florence and your home country?
I think it is so interesting to see how much history and culture Florence provides. Obviously, the United States is far younger than Europe, but being in buildings that have lasted many, many centuries and are still standing is phenomenal. It puts time into perspective, especially for a person with a fascination for history. Having the ability to walk in the midst of so much history not only enhanced the aesthetic and traditional values of the city, but I feel as though I was much better educated than I may have been had I studied in the United States.

What advice would you give to a prospective student considering a Master's in Museum Studies in Florence?
This experience will help you understand who you are and your limits. At first, you may feel lost and unsure of your new situation, but you will find new friends and great places to go when you're not feeling your best. When you leave to go back home, you will realize how much you have grown and learned in a short period of time. If you ever start to doubt your reasons for moving to Florence or the program itself, think about how much stronger you will be when you return to your home country. This program will benefit both your career goals and your understanding of a different culture. Stick with it; it will be worth it in the end!
---
Profile Tags:
Profile Type: Alumni
Major: Museum Studies
Academic School: Communication and the Arts
Campus: Italy