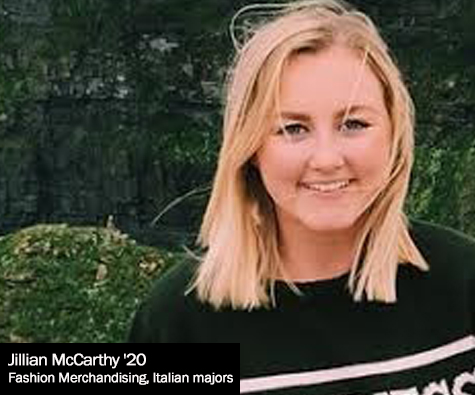 Jillian McCarthy
Jillian McCarthy is a member of Marist's Class of 2020 who recently completed her first year as part of the "Freshman Florence Experience" at Marist's Branch Campus in Florence, Italy. She has a double major in Fashion Merchandising and Italian.
How did you feel when you first found out about the Freshman Florence Experience (FFE)?
I was very excited when I first found out about the Freshman Florence Experience and I could not stop reading the pamphlets and looking up videos on YouTube. It sounded like the experience of a lifetime and I applied to Marist and the FFE program Early Action and found out around the holidays. I was really proud and I felt like I couldn't turn the opportunity down.
What were some of your concerns about spending your first year of college at the Florence branch campus?
I wasn't scared to move to Italy and surprisingly didn't give cultural differences a thought. I had traveled to Europe before so I knew what it was like, but I was most nervous about making new friends. The program is relatively small and I wasn't sure what to expect!
How did you decide that the FFE was the right choice for you?
I was actually deciding between a few schools, all of them were far away from home, but Marist offers my major in fashion merchandising and a year to spend studying in Italy. By just comparing those two factors alone, it left me with an easy choice. I also took Italian in high school so I felt like it was a perfect fit for me. I know what it's like to have your heart set on one specific school, and while it may be disappointing to not get in or receive enough financial aid, it's important to remember you end up exactly where you are supposed to be. I truly met my best friends this year and learned more about myself and the world than I ever could have if I attended another school.
What was your favorite class in Florence? Why?
My favorite class in Florence... wow that's a tough question. I had great professors and met amazing friends in all my classes this year. I would say my favorite ones are between First Year Seminar, Textile Sciences, and Topics in Nutrition (the famed cooking class). I learned many new things in all of those classes, and I successfully learned how to chop! It was unbelievable to cook in the Mercato Centrale, and I wish I could do it again!
What was your most challenging class in Florence? Why?
My most challenging classes in Florence related to my major of fashion merchandising. They were brand new topics to me and required more studying compared to Topics in Nutrition or Writing for College which consisted of essays.
What was your typical day like in Florence?
My typical day in Florence included going to class, going to work, and cooking my food or going out to eat. On most days I went to a cafe at some point to get a coffee and do my work or to hang out with my friends. One of the best parts of Florence is its size- it's so small and easily walkable that you are bound to walk into your friends. My plans would easily change if I passed my friends at the sit n' library or a cafe on our street. It's not typical nowadays to meet your friends around town without texting or calling them, but in Florence, it's very typical.

What was your typical weekend like in Florence?
I usually traveled on the weekends, but when I was lucky enough to be in Florence for the weekend I would hang out with my friends at cafes, go shopping, and go out to eat and at night. We would walk to Piazzale Michelangelo often to sit in the sun and take in the beautiful views of Florence. Many study abroad students travel on the weekends, so sometimes the city may feel quieter than during the week, but that's the best time to snag a table your favorite cafe or to get a panino at Al Antico Vinaio.
How did you stay connected with home?
I deleted most of my social media after coming to Florence because it was just too difficult to try and keep up with everything happening at home or with my best friends at their new schools. I would FaceTime my family and friends when we all had time, and sometimes I would write letters too. I had unlimited texting and could keep in contact that way too, but most of the time you are so busy enjoying your new Florentine life to obsess over what's going on at home.

How did the faculty and staff support you during your time in Florence?
I worked at the Marist Italy office so I was helping out the staff and planning events for the FFEs, and I enjoyed it very much. The staff is very helpful and supportive, and if anyone says otherwise it's because they didn't reach out to people for help. It's important that if you need something or if something goes wrong that you use the Marist Italy Emergency number or the maintenance email for help. Each time I used the maintenance email my flat's problem was fixed within the next day.
What was your most memorable moment in Florence?
I've had too many memorable moments in Florence to count! Please note some (most) of these are about food, but when in Italy...

Some highlights include:
- the Gelato Festival with my family and friends
- lunch outside in the sun on Valentine's day at Nobile panini with all of my friends
- finding and trying new restaurants and cafes
- Wednesday afternoon bagels before class with my friend Colleen
- Visiting a villa with my friend Amelia
- coffee tasting at Ditta Artigianale

How do you feel you benefited from this program?
I feel like I benefitted in many ways by doing this program. I learned to be a more independent person and become sure of myself. I learned how to cook (this is huge people), live with other people, and travel. These are not things you learn to do in a 300 people lecture on Biology, they are worthwhile and prepare you to live and work in the real world. We were responsible for food shopping, cleaning our apartments, and finding jobs and activities. Our school does offer some activities, but one of my friends wanted to play competitive water polo, another wanted to train to be a barista, and others wanted to be nannies. The people in the FFE program are extremely adaptable, intelligent, and highly motivated.

What advice would you give to a prospective student considering the FFE?
To the student considering the FFE program, let me tell you this: You have to come. You will be a better person because of this program, have the time of your life, and meet your absolute best friends. I know the college choice is extremely nerve-wracking, I've been there, but no other school can offer you this (not even the Ivy league or baby Ivies). My point is, how can you decide what you want to study and do with your life if you don't know what the world has to offer? The only way to see what the world has to offer is to travel, meet new people, and gain a new perspective. The Marist FFE program offers you that and more, so without a doubt, this is the best option for the person that wants to grow, change, and learn on their own.

What is your favorite place in Florence? Why?
My favorite place in Florence... is a tie again. I love Florence and the musical hum of the city, the chatter in the cafes, and the sound of scooters whizzing by. My favorite cafe is La Menagere, which also happens to be on my street!! My favorite restaurant is Neromo, and I will tell you that the Neromo Souffle is tasty enough to make me want to stay here forever. My favorite study spot is Ditta Artigianale over the river, but the Marist Italy office tables are equally wonderful to spread my work. My favorite wine bar is Antiche Dogane (across from Hotel Brunelleschi, which is a great hotel) because you can taste a few wines before you settle on the right one for a glass, and the cheese and meat plates are absolutely delicious!

What was your least favorite place in Florence? Why?
My least favorite place in Florence is the Post Office. I sincerely hope you never have to go there. It is a disaster of waiting in lines, people cutting into line knowing full well you won't say anything and mass confusion. There are little red post boxes throughout the city, so buy your stamps at a tabaccheria and mail your letters in the boxes.

I hope my profile helps you make a decision to join this program of globe-trotting and intelligent individuals because it is surely an experience you will never forget.
---
Profile Tags:
Profile Type: Class of 2020
Major: Fashion Merchandising
Academic School: Communication and the Arts
Campus: New York