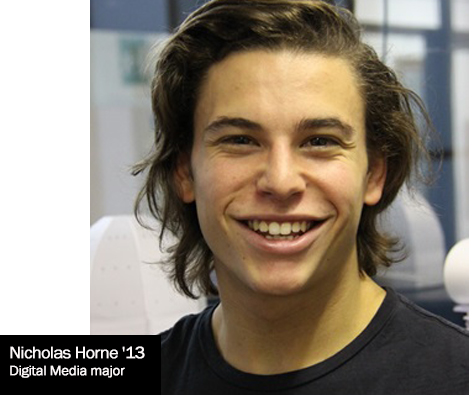 Nicholas Horne
Nicholas Horne is a member of Marist's Class of 2013. He was a Digital Media major at Marist's branch campus in Florence, Italy.
Why did you choose the Marist Florence branch campus?
I first studied abroad in Rome, Italy, and really enjoyed the experience. I needed to get back to Italy any way I could. I found the Marist Bachelor's program and it seemed like a perfect fit. I could spend my remaining two years in Florence while earning an American degree from a college that I respected. Once I found the Marist-LdM Bachelor's program, I knew I needed to attend.

Describe the learning experience in Florence.
My learning experience has been very similar to that of any U.S. college or university. Some of my professors are even from the United States. Most of my classes are small, I'd say under 20 students or so. This offers a great way to become close with my professors and makes learning an enjoyable experience. I get to know most of my professors on a personal level because I have them for more than one class. This really helps to create a unique learning experience.

What is your favorite class? Why?
It's hard for me to pick a favorite class because I enjoy most of the classes I attend, but if I had to choose I would say Graphic Design Project Development. In this class, we work on our design portfolios and this really helps to prepare us for a job in a graphic design-related field.

What was your most challenging class in Florence? Why?
I would have to say my Art History classes are probably my most challenging, just for the fact that there are so many dates and artists to remember; but it certainly helps to take art history in one of the most famous cities in the world for artwork.

What is your favorite place in Florence? Why?
I really enjoy the Boboli Gardens behind Palazzo Pitti. It's such a huge park with so many different views of the city. You really get to see a whole new side of Florence. I like to go there on weekends in the warmer months with friends. There really is nothing else like it in the city.

Where have you traveled and where do you plan on traveling during your time in Italy?
I have traveled so many places while I have been here: France, Germany, England, Spain, Switzerland, Egypt, Budapest, Poland, The Netherlands, Brussels and the Czech Republic. I have also traveled all over Italy. I plan on going to Ireland, Morocco, and Sweden in the spring semester.

What is the most interesting difference between Florence and your home country?
I really enjoy just how ancient everything really is. I mean just walking home late at night past the Duomo is such a surreal experience every time, I don't think I will ever get tired of it. We don't have such old buildings and churches in the United States.

How did the faculty and staff support you during your time in Florence?
Everyone is extremely helpful and really wants you to succeed.

What advice would you give to a prospective student considering the Florence branch campus?
If you are even thinking about coming to Florence, Italy, for the LdM Bachelor's program, it's a life changing experience that you will never forget. It's the best college experience I could think of!
---
Profile Tags:
Profile Type: Alumni
Major: Digital Media
Academic School: Communication and the Arts
Campus: Italy