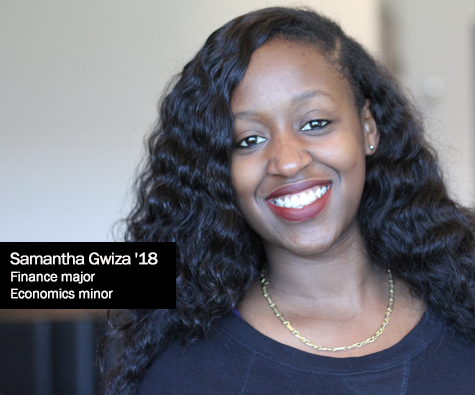 Samantha Gwiza
Why did you choose Marist College?
I chose Marist because it was close to the city and because of the generous scholarship award.
What was your favorite class? Why?
My favorite class is financial accounting.
What is the best part of living on campus?
On campus, everything is available to me and I see many different people, making it easy to socialize. It also gives me the opportunity to get involved with clubs and activities.
Where is your favorite place on campus?
The campus green is my favorite place, because of the view and social environment.
How do you connect with friends and family at home while at Marist?
I use social media (Skype, Facebook, WhatsApp and more) to connect with home.
What kind(s) of extracurricular activities are you involved in?
I am involved in Campus Ministry, Student Ambassadors, Intramural Basketball, Resident Hall Council, and the Black Student Union.
Tell us about a "cultural" moment you had at Marist (culture shock, funny story, etc.).
A "cultural" moment I had was when I ask how to say an African word in English. Also, getting comments like "I love foreigners".
What do you do for fun outside of Marist?
Outside of Marist, I go to the mall and the movie theater.
---
Profile Tags:
Profile Type: Class of 2018
Major: Finance
Academic School: Management
Campus: New York