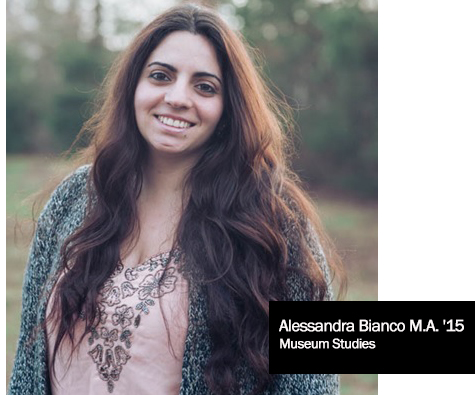 Alessandra Bianco
Alessandra Bianco is a member of Marist's M.A. in Museum Studies Class of 2015. She received her undergraduate degree from Towson University in Fine Art and Design and Photography.
Why did you choose to pursue your degree at Marist Italy:
I grew up in Italy, daughter of an Italian mother and an Italian-American dad. I moved to the US when I was 11. Although I often returned to Italy to visit family, I really wanted to try living there again as an adult. My childhood dream was to study Fine Arts at an academy in Florence. I decided to resurrect that old dream and combine it with my passion for photography and career path in the museum field. I didn't find any other program that matched my criteria as well as the Marist Museum Studies program.
Tell us about a project or course that was particularly meaningful to your professional development:
The Law and Ethics class was my favorite. This course taught me an incredible amount of which ultimately led to my decision on writing about Copyright Law in relation to Photographs, specifically the founders of the photo agency, Magnum Photo, and their opposing views on the law and practices of editors at leading magazines such as LIFE. This is particularly meaningful because not only was I able to land an internship at Magnum Photos immediately after leaving Italy, but after a year I also got a job with the LIFE magazine picture collection. I am still working with LIFE but now with the softcover news stands editions as part of the Photo Edit team and obtaining photographic licenses and permissions.
Where did you do your internship?
Magnum Photos, New York
Where did you travel during your time in Italy?
All throughout Tuscany and Umbria; all the tourist spots such as Venice, Rome, Pisa, Bologna, Milan; Budapest, Hungary; Brighton and London, England
What was your favorite place in Florence and why?
Piazza della Signoria. There is an eerie yet blissful feeling about standing in the exact spot where so many historical displays of power took place that just made that location unlike any other.
What is your least favorite aspect of living in Florence and why?
It is really easy to feel comfortable and speak English every day. I wish I would have practiced my Italian more.
What advice would you give to a student considering pursuing their master's degree at Marist/LdM:
Get involved in the school programs and activities. There are really many enjoyable things to do and it's a fantastic way to make new friends and everlasting memories.
Are you currently employed or furthering your education? If you are working in the field please include the name of the organization and your title. Please feel free to tell us about your job or any other degrees you are pursuing.
I work at Time Inc., with Time Inc Books, LIFE Books, Magazines, and Specials. I am in charge of getting photo permissions for any picture that appears in our magazines. I am part of the edit team and I work collaboratively in deciding which photographs go in our softcover newsstand editions.
How has the Museum Studies program helped you get where you are today?
One of the courses offered was in partnership with the oldest photographic archive in the world, Fondazione Fratelli Alinari. For me, especially since I joined this program to become a photo archivist, it was absolutely life changing. Through this course, I was able to gain hands-on experience in the specific type of institution I wanted to work for. It was also a fantastic resume addition!
Do you have any advice for students who are looking into pursuing a career in a Museum?
Anyone pursuing a career in a Museum generally just wants to work in a museum. My advice is to narrow the path. Pick one aspect of the museum that you want to specialize in, and know what that is before completing your graduate degree. Make everything you do in graduate school count by taking courses, doing activities, and networking with people that fit that path.
---
Profile Tags:
Profile Type: Alumni
Major: Museum Studies
Academic School: Communication and the Arts
Campus: Italy