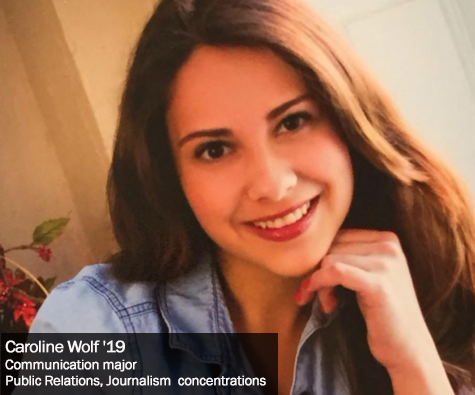 Caroline Wolf
Caroline is a junior from Oxford, CT pursuing a Communication major with concentrations in Public Relations and Journalism. She is a tour guide and student journalist for the Office of Admissions. She is also actively involved in PRSSA, Dance Ensemble, Transfer Student Advisory Board, and North Road Communications. Caroline is also a former transfer student and volunteers as a peer mentor to students transferring from other colleges.
What made you choose Marist?
What really made Marist stand out to me was all of the different resources for students. There are a variety of clubs on campus to get involved in that can be geared towards your future career or just for fun. The Career Services office is also a great resource for students and they can put you in touch with different alumni and professional connections to help you find that internship or job. Marist really cares about its students and wants them to succeed. Also, being a train ride away from NYC doesn't hurt!
Do you feel that Marist has prepared you for life after graduation?
Absolutely! The classes I have taken will benefit me professionally because professors focus on skills applicable outside of the classroom and prepare you for the workforce. I have made so many professional connections through Marist that will hopefully lead to a second internship or my first job.
What do you do for fun?
When I get a moment of free time, I love to go to the gym with my housemates (even though they don't always want to go). I also enjoy hanging out with friends, cooking, and trying new restaurants around Poughkeepsie.
What is your best advice for incoming freshman?
Try a club or class you never thought you would be interested in. Marist has so much to offer and it's exciting to step out of your comfort zone. Who knows, you might find a new passion or a potential minor!
---
Profile Tags:
Profile Type: Class of 2019
Major: Communication
Academic School: Communication and the Arts
Campus: New York