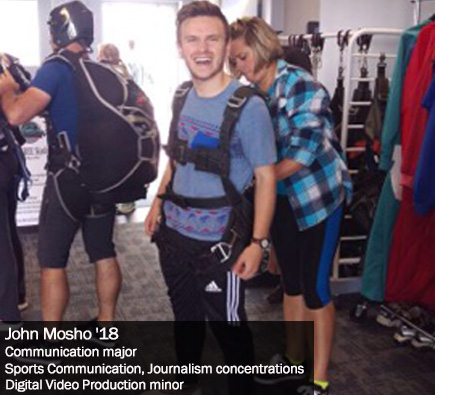 John Mosho
John Mosho is a senior from Boxford, Massachusetts. He is a communication major with dual concentrations in sports communication and journalism and a minor in digital video production. He spent a semester his junior year taking part in the Marist in Manhattan program during which he had a chance to intern full-time with Madison Square Garden.
What made you decide to come to Marist?
I decided to come to Marist later on in the college process. It was important for my family and me to discuss finances and figure out what would work out best for me in the long run. Thankfully, Marist offered a nice enough financial aid package that it allowed me to go to a truly incredible school.
Have you participated in study abroad or any of Marist's internship programs?
While I did not study abroad, I did do the Marist in Manhattan program, which changed my life for the better. It allowed me to not only learn about New York City, but it also gave me real world, valuable experience that has been instrumental towards me becoming a competent member of the sports media industry. Having the chance to work a full-time internship at Madison Square Garden, I was able to learn the in's-and-out's of what working within a professional sports landscape is like and create content for millions of viewers. Not to mention I was able to make connections that have helped me to propel my career forward.
Do you have any advice for prospective freshmen?
My advice for any prospective freshmen would be to talk to everybody and anybody you meet. No matter what industry you're in, connections are everything. It's important to put yourself out there and introduce yourself to everyone you possibly can, you never know who will be able to help you get an internship or a job. It's vital in today's day and age to know that you have someone looking out for you in the industry.
What are your plans for after graduation?
My plans for after graduation are certainly up in the air right now. Personally, I just try to take it one day at a time and see where life ends up taking me. However, I hope to be able to find a job in the sports media field after I graduate.
Written by Erin O'Brien '18
---
Profile Tags:
Profile Type: Class of 2018
Major: Communication
Academic School: Communication and the Arts
Campus: New York