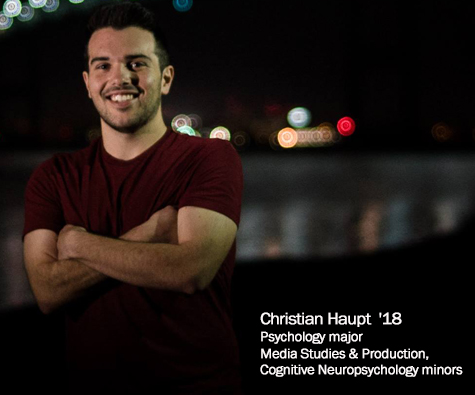 Christian Haupt
Christian Haupt is a senior from North Kingstown, Rhode Island. He is majoring in Psychology and double minoring in Cognitive Neuropsychology and Media Production. Christian is currently interning with Community Housing Innovation in Poughkeepsie and is also working as the photographer and videographer for the FDR Presidential Home and Library. Christian is an active member of Marist's branch of Psi Chi, and hopes to attend graduate school for Psychology on the West Coast.
What made you decide to come to Marist?
I came to Marist because it's a good academic school, and it hit all my needs and wants for what I wanted in a college. It's in a good location, it's a good size and it's near family.
What is your favorite memory from freshman year?
My favorite memory from freshman year is probably from the first or second night in Leo. A bunch of us hung out as a big group and played Cards Against Humanity and really got to know each other and then we actually snuck down to the river late at night and it was just a really fun and different experience.
Is there anything you would have done differently looking back on the last four years?
I really wish I went abroad, one hundred percent. I wasn't mentally ready for it at the time but looking back, I wish I had spent a semester if not an entire year abroad.
Did the fact that both of your parents went here influence your decision to come to Marist?
It did not at all. Funny enough my parents went here twenty or thirty years ago and it was a very different place than it is now. Obviously they were excited to come tour it with me but honestly, I looked at many schools besides Marist. I just ended up falling in love with the campus when I came here for my tour and felt like this was the place that I should be.
Do you have any advice for incoming freshmen?
My advice for incoming freshmen would be to just put yourself out there and do as many clubs and activities as you possibly can. Study hard, don't let all of the freshman fun activities go to your head and just remember that school comes first. Get your work done first and then do every fun thing afterward.
Written by Erin O'Brien '18
---
Profile Tags:
Profile Type: Class of 2018
Major: Psychology
Academic School: Communication and the Arts
Campus: New York