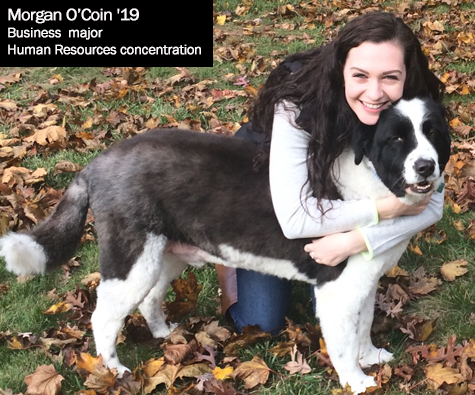 Morgan O'Coin
Morgan O'Coin is a junior from Farmington, CT with a Business Administration major and a concentration in Human Resources. She is a Resident Assistant (RA) and has been an RA for Foy and Building C.
What made you want to be an RA?
My freshman year I had a really good experience with my RA. She was really friendly and helped my transition into college. She encouraged me to apply for the position and I thought it would be really cool to be able to help other people adjust to college life the way she helped me.
What else are in you involved in on campus?
I am the co-chair of the Relay for Life event, working with the committee to plan fundraisers. I'm also a student ambassador and Residence Hall Council and a member of the Honors program.
What has been your favorite class so far?
I'm taking an Honors class called Race & Ethnicity. It's about different ethnic relations in the United States and we discuss current trends and the history of minority groups. It's really interesting and has helped me to better understand diverse backgrounds.
What is your favorite place on campus?
Hancock Brew. It's always warm by the fireplace, I can go to the Starbucks, and I always see friends coming in and out so it's a great place to socialize.
What has been your favorite RA event that you've planned so far?
Last year I held a Thanksgiving event in Foy with two other RAs. I cooked a full turkey and stuffing, really over the top. A lot of people came out which was great. I'm actually partnering with the Residence Hall council this year to do it again.
Have you completed any internships?
For the last two summers, I spent time at a law firm, Robinson & Cole, in their recruiting and professional development department. I would help set up interviews and hiring, it was a great experience. Marist really stresses the importance of internships to get that real-world experience so I'm happy to have had that experience right off the bat.
What piece of advice would you give to incoming freshmen?
I would say be open-minded. College is such a different experience and I think people come in with an idea of what it's going to be like and that they have it all figured out. It's okay to not know what's going on and figure it out along the way. Just be open-minded to new experiences, meeting new people, and taking new classes.
Written by Caroline Wolf '19
---
Profile Tags:
Profile Type: Class of 2019
Major: Business Administration
Academic School: Management
Campus: New York