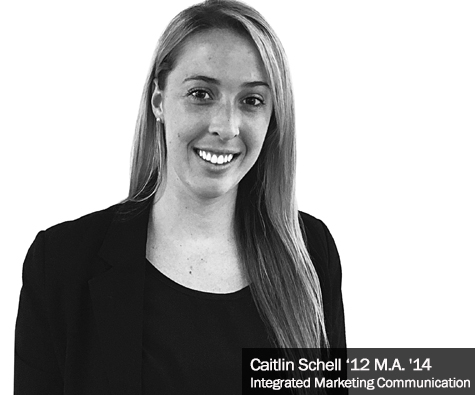 Caitlin Schell
Caitlin Schell is a member of Marist's online MA in Integrated Marketing Communication Class of 2014. She is a Senior Associate Manager, Consumer Marketing Activation for Mondelez International. She received a Bachelor's Degree in Communications, with a minor in Psychology from Marist.
Why did you choose to pursue your degree at Marist?
The IMC program at Marist was very appealing to me as the program was very unique and offered a variety of classes that are applicable to the marketing space. I was intrigued that the program not only included standard marketing programs but did include various MBA programs, in which I feel has helped achieved my current position.
What was the best experience you had as a student?
While many are unwilling to explore educational programs online, I feel the online part of the program was one of the best experiences. Having online courses enforces you to develop new communication skills, learn how to work with different online technology and work with fellow students across the country of various employment positions.
I would also say the final capping class was one of the highlights of my experience. Putting together all of the learnings you gained throughout the program into a real-life example was truly helpful and applies to my current position.
How has a degree from Marist and your coursework enhanced your career?
Having the Marist IMC Master degree on my resume has allowed me to stand out amongst my peers within the competitive marketing landscape and achieve a position that is often filled by MBA students. The IMC degree provided me with the education and knowledge needed to move forward within the marketing space, but also gain valuable connections with my classmates. Lastly, being a full-time employee and part-time student, I was able to enhance my communication and time-management skills that I can also apply within my current job.
---
Profile Tags:
Profile Type: Alumni
Major: Integrated Marketing Communications
Academic School: Communication and the Arts
Campus: Online