Student Achievement
Fine Arts Student Excels in Art and Mentorship
Michelle Eggink, Assistant Director of Content Marketing & Communications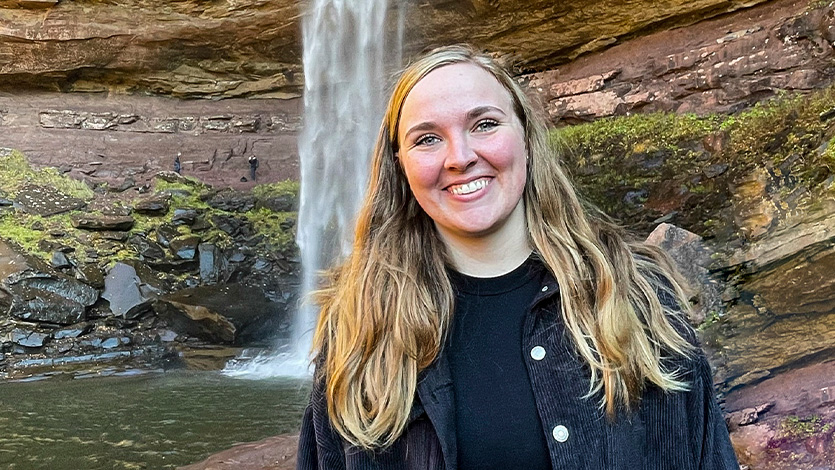 May 30, 2023 — Fine arts student Bridget Stevens '23 graduated Summa Cum Laude a week ago after excelling in art and mentorship as an undergraduate. Through her work with the Office of Academic Accommodations and Accessibility and art education internships, she developed a passion for supporting students with disabilities and inspired students and faculty alike during her time at Marist.
She has now been accepted into premiere graduate art education programs post-graduation, giving her the opportunity to continue helping students of all ages and abilities.
Originally from Connecticut, Stevens fondly remembers committing to Marist at Accepted Students Day in 2019.
"After visiting Marist and doing a tour of the Steel Plant, I knew that I was meant to go here," said Stevens. "My parents and I went to Accepted Student's Day and attended an information session for the art department, which was the first time I met Professor Ed Smith. Ed talked about the art program in a way that made me feel like I was going to be supported and welcomed through my time at Marist. I committed in the Rotunda that day!"
A major in fine arts with concentrations in studio art and art history and a minor in photography, Stevens explored woodworking, ceramics, oil painting, and printmaking mediums while at Marist. Much of her artwork includes plants, animals, and natural elements, aiming to capture the beauty of nature while also conveying the complexity of the human mind. She participated in various exhibitions, including the Senior Exhibition titled "IDENTITY." She also co-curated an exhibit titled "Canvas & Vinyl" which featured her work with other fellow senior art students.

Stevens drypoint etching in Steel Plant printmaking room.
"Bridget's success is a mark of the greatness of the Marist education with the involvement of her mentors and her beautiful, strong will," said Ed Smith, Art/Gallery Director, Director of Marist Venice Biennale Program. "Bridget is a remarkable young woman who shows what greatness is and how to raise everyone up with her exceptional efforts, intellectual generosity, and kindness each and every day."

Stevens at IDENTITY Exhibit.
While Stevens' art portfolio and skillset are impressive, her kindness and diligence are a huge part of what makes her an exemplary student and peer mentor.
"Bridget Stevens is an extraordinary and charismatic young woman who is one of the kindest students I've ever met," said Deborah Reeves-Duncan, Director of Trio Student Support Services for OAA and Stevens' advisor of four years. "Since Bridget worked as a peer mentor for us, she was a strong advocate for all students. When students speak of Bridget, they all say how helpful and encouraging she is.
Stevens worked with the Office of Academic Accommodations & Accessibility as a student and peer mentor, where she provided guidance to freshman accommodations students who were transitioning into college. In the mentorship program, Stevens helped students utilize available campus resources and connected with other students within the accommodations program.
"Bridget is an outstanding student," said Maryellen Guardino, Director of the Office of Accommodations and Accessibility (OAA). "She is such a hard worker who is intelligent, patient, and caring. She goes above and beyond in her academic studies and we, in OAA, are so proud of all she has accomplished."
Stevens was also a Delta Alpha Pi Honors Society member and worked at an art education internship at One River School of Art and Design in Larchmont, NY. At One River School of Art and Design she gained valuable experience working with art education teachers who encouraged her to work with different age groups and students with disabilities.

Stevens on graduation day.
"As someone with academic accommodations, I am dedicated to providing a supportive environment for art education to students of all abilities," said Stevens. "I have had many professors throughout my academic career who have inspired me to go this route because of how much their classes have impacted me. I am forever grateful to all my mentors and professors and aspire to emulate their success and encouragement."
Before choosing a graduate program, Stevens will spend the summer working at the Center for Contemporary Printmaking in Norwalk, CT.