aerial shot of Marist campus featuring the Hudson River and Poughkeepsie area
Just Follow the River
The Hudson River Valley is known for its rich landscapes, sustainable-foods, diverse culture, and has a wide variety of vibrant cities and historic towns. Follow your sense of adventure, find great food around every corner, engage with a proud community, and be a part of history right at Marist in the heart of the Hudson River Valley.
Marist has created partnerships with IBM, the Franklin Delano Roosevelt Presidential Library in Hyde Park, and the Institute of Ecosystem Studies in Millbrook, offering students and faculty opportunities to collaborate with these world-renowned leaders in business, history, and ecology. In addition, the College has initiated several innovative programs that provide students with unique learning opportunities, such as the Marist Institute for Public Opinion and the Marist Bureau of Economic Research
Under Construction: Hudson Heritage
Directly up the road from the Marist campus comes "the Hudson Valley's preeminent open-air, walkable, intergenerational community." The 156-acre site is creating opportunities for residential, hotel, medical and other properties, as well as a 153,000-square-foot retail shopping village. Hudson Heritage will include ample commercial space, 750 residential units, and 150 hotel units. The following establishments are currently located at Hudson Heritage:
| | |
| --- | --- |
| Shop Rite | CVS Pharmacy |
| Starbucks | Chipotle |
| Jersey Mike's | Smoothie King |
| Burger King | Supercuts |
Discover What's Around Town
From resturants within walking distance to local outdoor attractions, discover what's in the area with our helpful guide.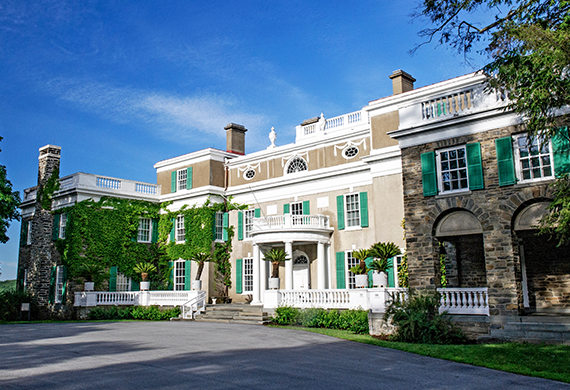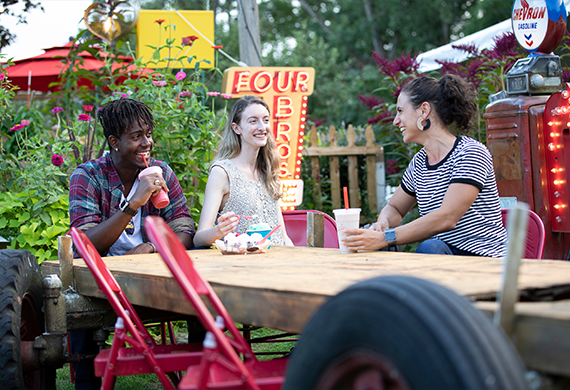 Cinema
Aside from the movies frequently shown on campus, the Hudson River Valley is a hub of great cinematic experiences. Two movie theaters are located a stone's throw from campus; the Roosevelt Cinemas in Hyde Park and the Regal Cinemas in Poughkeepsie. Film buffs rejoice because only a little bit further is the annual Woodstock Film Festival, described as a "haven for those who love independent and challenging cinema," and the beloved Four Brothers Drive-in located in Amenia. Browse Fandango's list of movie theaters near Marist.
Concerts and Coffeehouses
Marist hosts annual concerts with top artists like Jason Derulo and Goo Goo Dolls, as well as open mic coffeehouses for smaller student performances. But the concert scene is incredibly active off-campus, too. From small local venues like The Chance, showcasing bands like All Time Low, to major music landmarks like Bethel Woods Center for the Arts featuring performers like Pentatonix and Pat Benatar, there is always a surplus of music events to attend in the area.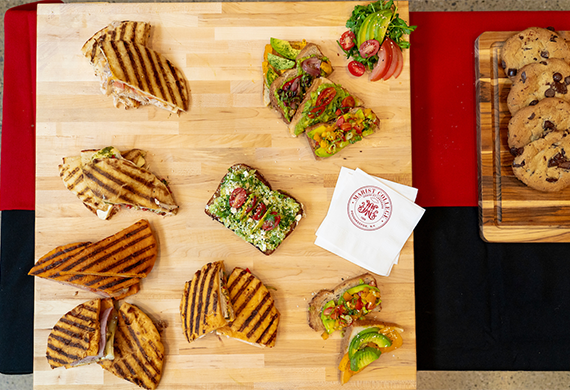 Food
While Marist dining offers an impressive variety of food options on campus, the restaurant scene in the Hudson River Valley is incomparable. Known for its sustainable foods and farm-to-table eateries, the region is home to a vast array of culinary experiences. It certainly helps that some of the best chefs in the country come from The Culinary Institute of America, located just up the street from the Marist campus. Right here in Poughkeepsie is everything from small-town delis to gourmet and global cuisines from every corner of the world. Check out the wide variety.
Cafés
The Hudson River Valley is known for its population of friendly, socially active, and intellectually engaged people. While you're bound to find many of these folks at the Starbucks on the Marist campus, you are likely to also run into them at any number of Poughkeepsie's popular coffeehouses. The Poughkeepsie Grind, The Crafted Kup, and The Ugly Mug are all very local to campus and attract the kind of individuals you can be confident will brighten your day.
Image of Marist College and Hudson River
Bottom of the State, Top of the Charts

World's Greatest Places 2021

Best Places to Go in the U.S. in 2023

World's Longest Elevated Pedestrian Bridge
Craft Beverages
The appreciation of small-batch craft brews is very much alive in the Hudson River Valley. Mill House Brewing Company, located minutes from campus, offers a wide range of distinct styles and seasonal brews. Bad Seed Cider Company's taproom and farm bar are just across the Hudson, and the most dominant cider innovator and distributor in the world, Angry Orchard, is less than an hour from campus. Check out Travel Hudson Valley's comprehensive directory of craft beverages throughout the area.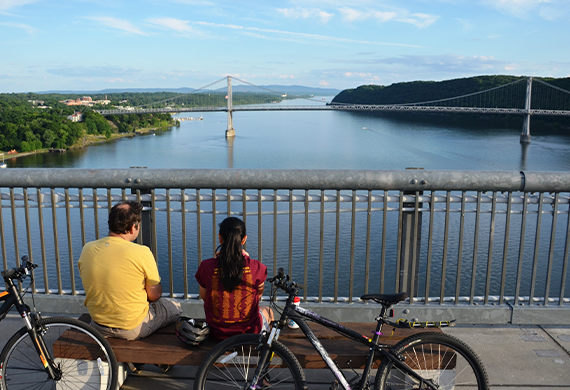 Outdoor Recreation
The Marist campus offers a number of outdoor recreational opportunities, like the Fern Tor Nature Preserve and the riverfront Longview Park. But only steps from campus is a world of outdoor experiences. The Walkway Over the Hudson State Historic Park, the world's longest elevated pedestrian bridge, offers stunning views of the Hudson River and surrounding scenic valley. Mohonk Mountain House, a Victorian castle resort, is surrounded by 40,000 acres of forest and protected wildlife and is only 20 miles from campus. Whether it's hiking, biking, skiing, or climbing, the local Hudson River Valley outdoor life leaves visitors in awe and provides students with unforgettable memories.
Local Accommodations
Perpetually welcoming to tourism, lodging options abound right near campus. From hotels to bed and breakfasts to cozy retreats, visitors can be confident they will enjoy their stay in comfort and style. Browse local lodging options.
90 Minutes from NYC
One of the most appealing aspects of Marist's campus is its connection to its roots in the beautiful Hudson River Valley paired with its ease of access to the city that never sleeps. Catching a train just off campus offers a scenic ride along the Hudson River to Grand Central Station, where Times Square is at your fingertips, and many Marist students often take advantage of unique excursions and premier internships in the Big Apple.
Hudson River Valley Resources
History
Area Profiles
Hudson Valley Housing
Education
Religious Life
Volunteer Opportunities
LGBTQ+ Resources
Community Centers
Department of Motor Vehicles
Internet Service Providers
Hospitals & Health Care
Hotels & Local Accomodations
Employment On & Off Campus
Moving, Shipping & Postal Information
Pet Services
Transportation & Travel
Security
Banking & Personal Finances
Featured News
Especially for our newest Red Foxes, here are five suggested to-do's before moving to campus this fall.
Make the most out of Welcome Week with these 3 essential tips for your first week on campus.
Three honorees were honored for their distinguished commitment to the Hudson River Valley community.