Student Achievement
Emma Dionne '20 is Awarded a James Madison Memorial Fellowship
Dionne is the first Marist recipient since 2008.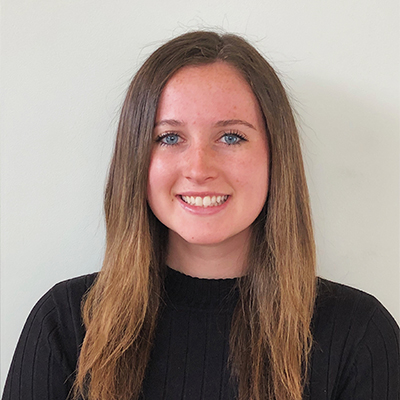 May 7, 2020—Emma Dionne '20 was one of just 53 students selected nationwide for the prestigious James Madison Memorial Fellowship.
Dionne is the second Marist student to receive this recognition; Nicole Brooks Donolli '08 was the first. A native of Hopkinton, Massachusetts, Dionne is majoring in history with a minor in political science. Her goal is to teach at the high school level.
The James Madison Memorial Fellowship recognizes the potential of current and future teachers of U.S. history and politics, equipping them to better incorporate the teaching of U.S. constitutional history into their curricula. The Fellowship provides a grant for graduating students to pursue a Master's degree in history or political science. Fellows are required to teach history and the Constitution at the secondary level for one year after earning their degree.
"The Madison Fellowship is an invaluable opportunity for students like me who chose to focus on history rather than education during college, yet desire to teach at the secondary level," said Dionne. "By choosing to major in history and not education, I had the flexibility in my schedule to study abroad and to participate in two internships. I was also able to engage in a wide variety of history and political science courses which have given me a deeper understanding of history. I feel that my experiences will help me to be a more effective teacher with a lot to share with my future students."
Support from Marist Faculty
With guidance from her academic advisor, Professor of History Michael O'Sullivan, Dionne began to look into the Madison Fellowship during her sophomore year.
"The application process for the Madison was intense and it pushed me both academically and personally," Dionne explained. Applicants are asked to write an essay about why the study of the Constitution is so important to democracy in America. "I think that this question holds more weight now than ever and it led me to do some serious research in order to best answer it."
Dionne credits the success of her application, in part, to the close relationships she has built in the Marist History Department, notably with O'Sullivan and Professors Robyn Rosen and Nicholas Marshall. "They have been encouraging me and pushing me to succeed from my very first classes with them. Their willingness to read my drafts and let me spend time in their offices has been one of the main reasons why I'll miss Marist," said Dionne. Graduate School and Fellowship Advisor, Pat Taylor, also helped to guide Dionne through the application process.
O'Sullivan noted that Dionne was a stand-out student from the beginning. "Emma's success is a result of both her own tremendous character and all that is good about the Marist experience. I noted her talent already in her first semester at the College, but she transcended our expectations by taking advantage of every possible opportunity. She utilized the personal attention of faculty and staff. She studied abroad twice, completed internships, and applied for fellowships," said O'Sullivan.
Active On and Off Campus
On and off campus, Dionne has engaged in numerous pursuits. She worked at the FDR Library and Archives, and the Marist College Archives, and volunteered at the Poughkeepsie Pines nursing home, Manor at Woodside senior living, two elementary school programs, and the Lunchbox Soup Kitchen in Poughkeepsie. Last fall, she traveled to London as part of the Hansard Scholars Society Program where she was an intern to Chris Evans, Member of Parliament of the Labour Party for Islywn, Wales.
"Emma has the most important quality of all as we face COVID-19: resilience. Even though Brexit disrupted some aspects of her Hansard internship in London and the pandemic pushed her spring classes online, she continued to work closely with Marist faculty and string together several enriching academic opportunities," said O'Sullivan.
Closer to home, Dionne was also an intern at Marist's Hudson River Valley Institute. "My job there entailed writing a documentary film script and conducting four on-camera interviews for an episode of 'Return to the River.' This internship has tested the limits of my historic knowledge and made me come to the realization that history needs to be shared with the public or it is not useful to preserve. Experiences such as these are ones that I know will be instrumental in the classroom and will inform how I interact with my students in a real and honest way."
The Madison Fellowship work has begun and Dionne off and running. "As soon as I found out that I was selected as a 2020 Fellow, I had to register for the GRE Test and apply to graduate schools," she said. This summer, as part of the Madison Fellowship requirements, she will attend the Summer Institute at Georgetown University. She anticipates making a decision about where to attend graduate school soon; she will pursue a Master's Degree in History with a focus in American Studies.
No matter what program Dionne chooses, it's clear her future is going to be bright.