Diversity & Inclusion
Liberty Partnership Marks 30 Years of Helping High School Students Graduate
The New York State-funded Liberty Partnerships Program at Marist College marks three decades of helping high school students graduate and pursue their career goals, whether entering college, the military, or the workforce.

March 26, 2020—Dwayne Douglas '06 has come full circle. As a seventh-grader at Poughkeepsie Middle School, he enrolled in the Liberty Partnerships Program (LPP), a New York State grant-funded initiative administered by Marist College. He went on to graduate from Poughkeepsie High School and earn a degree at Marist. Since 2017, he has been employed by Marist LPP as a full-time site coordinator at the middle school, planning and supervising after-school activities for 163 students — many of whom are the children of his former classmates.
"It's all geared around motivating students and preparing them for that next level," says Douglas. "It's a really awesome system that we have in place in that it works. I'm a product of it myself and I'm really excited to be able to continue it."
New York State established the Liberty Partnerships Program in 1988 to address a significant dropout rate among New York's youth. The program aims to boost graduation rates by pairing higher-education institutions with school districts to help secondary-school students strengthen academic and social skills and explore and prepare for future opportunities in college, trade school, or the military. LPP is free to students in partner schools. To be accepted to the program, students must be referred by guidance counselors and apply. Once interviewed and accepted, they can receive services.

LPP staff members are (left to right) Dwayne Douglas '06, site coordinator and Poughkeepsie High School graduate; Linda Scorza, operations assistant, a Poughkeepsie native and a 50-year Marist employee who is retiring this year; Melinda E. Martínez '07/'13MA, director; Christine Smack (top right), high school coordinator, a Poughkeepsie native and Poughkeepsie High School graduate; and Crystal Purfield, family engagement coordinator and former LPP intern.
Over the 30 years since Marist LPP welcomed its first cohort in 1989, the program has encompassed much more than academic support and career advising. LPP is like a family, says Yamilet Ruiz '23, who began LPP in ninth grade and is one of 44 Marist students involved in the program as tutors, interns, or volunteers.
"We all have trust, and we can all really communicate with each other," says Ruiz, who also has been working part time in the Marist LPP office. "We really are there for each other, and we really want to see everyone succeed."
With 46 sites in partner schools across New York State, LPP supports more than 15,600 students annually. Marist LPP currently serves 341 students in grades 5 through 12 in Poughkeepsie High School and Poughkeepsie Middle School, with academic activities during after-school sessions Tuesdays through Fridays throughout the school year. During the summer, Marist LPP participants go on college tours and cultural excursions, take part in community service opportunities, and attend classes on Marist's campus.

Marist students tutor LPP participants at Poughkeepsie Middle School.
The extra support for students is clearly paying off. Over the past five years, the graduation rate for LPP participants at Poughkeepsie High School ranged from 95 percent to 100 percent, while the rate for all students at the high school ranged from 56 percent to 63 percent. The graduation rate for all students in New York State high schools ranged from 80 percent to 83 percent.
In 2019, 22 of the 23 LPP seniors graduated; the one person who did not instead enrolled in a high school equivalency program because of full-time employment obligations. Almost three-quarters of the graduates enrolled in post-secondary institutions including Marist, Bard, NYU, the College at Brockport, SUNY Cortland, University of Hartford, and Dutchess Community College. The remaining LPP high school graduates have full- or part-time jobs.

Marist students (shown with LPP staff) tutor, intern, and mentor in the LPP program.
"Marist LPP supports the efforts of the Poughkeepsie City School District staff by providing year-round supplemental educational services to program participants," says Melinda E. Martínez '07/'13MA, director of Marist LPP for the past five years. "For instance, Marist LPP provides tutoring, mentoring, academic advising, workforce readiness, and college preparation. I believe this is why our students are successfully graduating from high school, handling the rigors of college, and entering the workforce.
"For 30 years," adds Martínez, "Marist LPP has been successful due to our fruitful partnerships with the New York State Education Department, Marist, the Poughkeepsie City School District, community-based organizations, local businesses, parents, alumni, and resilient students."
Martínez, who was an HEOP student at Marist, began her involvement with LPP as a tutor in the program. Her distinctions include being named to the inaugural list of Latinos 40 Under 40 in New York published by Negocios Now, a national business magazine, in 2019 and receiving Hudson Valley magazine's 2019 Women in Business award. Also in 2019, she was honored with the SUNY Orange Community College Sojourner Truth Leadership Award. As a board member of the Hispanic Alliance for Career Enhancement (HACE), she facilitates career development, diversity, and inclusion workshops for women of color and top executives of color from Fortune 500 companies. Recently both she and Douglas, who was also an HEOP student, were named to the 2020 Forty Under 40 Mover and Shaker Awards list sponsored by the Dutchess County (NY) Regional Chamber of Commerce.
Currently, 11 LPP graduates attend Marist. Nine of these students received the 50 percent-discounted tuition scholarship awarded by LPP to participants who meet regular Admissions guidelines and maintain the necessary GPA. (One did not receive the scholarship because as an HEOP student she was ineligible; the other was enrolled as an adult learner.)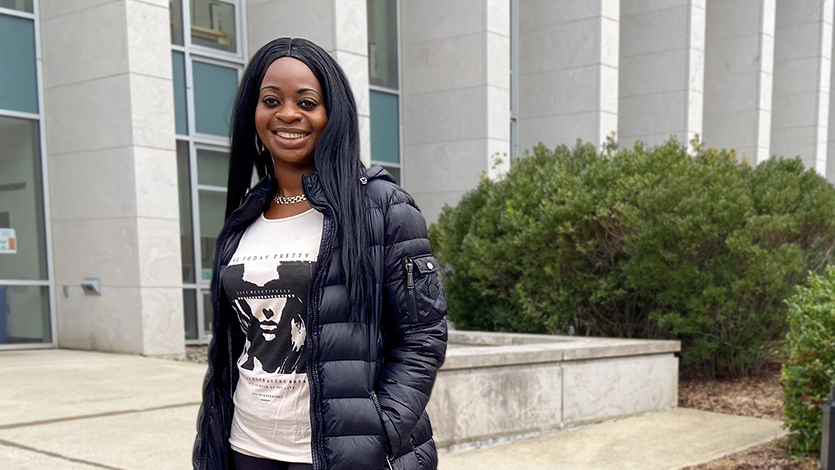 Geneva Russell-Brown
An LPP parent also is currently a student at Marist. Geneva Russell-Brown '20 has three sons who have participated in Marist LPP.
Her eldest, Tyrese, graduated and is a freshman at Dutchess Community College with plans to transfer to Marist. The second son, Dylan, attends Poughkeepsie High School, and the third, Tyler, Poughkeepsie Middle School.
"It's an amazing program," says Russell-Brown, who works full time while pursuing a bachelor's in organizational communication at the College. "Melinda and everyone on the team is really, really great."
But Martínez directs any accolades for Marist LPP to others, citing her staff — Douglas; Christine Smack, high school coordinator, a Poughkeepsie native and Poughkeepsie High School graduate; Crystal Purfield, family engagement coordinator and former LPP intern; and Linda Scorza, operations assistant, a Poughkeepsie native and a 50-year Marist employee — as well as Steve Sansola, associate dean of student affairs, who supervises the program.
"The team's the glue, but the students are the stars."
For more information about the Liberty Partnerships Program or to support the program, please visit libertypartnerships.com/30-30 and specify Marist College Liberty Partnerships Program/ Poughkeepsie High School as the recipient, or contact Melinda E. Martínez at 845-849-0330.