Student Achievement
Red Fox Spotlight: Evan Fernandez '21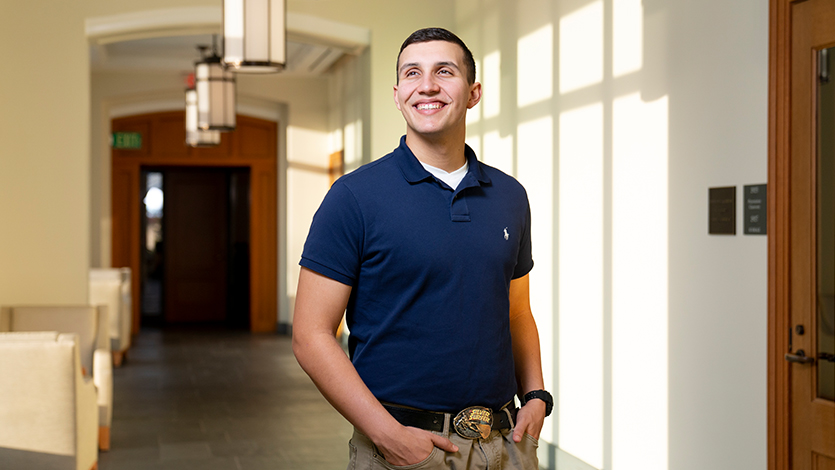 February 22, 2019—Service to others was a recurring theme in the life of Evan Fernandez '21 well before he came to Marist to study criminal justice. So after his arrival at the College, he was able to draw on that tradition of helping others to support the people back home in Puerto Rico (including his own friends and family) devastated by Hurricane Maria.
Growing up in Isabela, on Puerto Rico's northwest coast, service, leadership, and community involvement were always central to Fernandez's life. As he puts it, "I come from a family of Eagle Scouts, and we always step in to help. It's just what we do." In addition to earning his own Eagle Scout rank, Fernandez was a leader in his high school, serving as captain of the track and field, basketball, and soccer teams. His father is a federal agent in the US Department of Homeland Security, which sparked both his interest in criminal justice and his journey to Marist. Says Fernandez, "My father is a great role model, and I've always admired both his work ethic and commitment to service. When I was looking at colleges, I knew Marist had both a strong criminal justice major and a ROTC program, so it was at the top of my list." His optimism was not misplaced, and he is especially appreciative of his advisor, Assistant Professor of Criminal Justice Molly Buchanan, who has guided him academically.
Arriving at Marist as a freshman, Fernandez dove right into campus life, working as a technician for the Office of College Activities, becoming a tour guide, and joining the Student Government Association, where he is deputy vice president for safety and security. Culture shock was not an issue for him, as he was already familiar with the United States mainland; Fernandez's mother is from California, while his father is from New York. But he was new to the Hudson River Valley and was pleasantly surprised by the variety of recreational opportunities available. Like his father before him, Fernandez joined a fraternity, where he serves as vice president. One of the organization's central pillars is community service, and fundraisers for charity are frequent occurrences. Because of the support and camaraderie he has found there, Fernandez says, "It's hard to feel alone on campus. They are a rare group of friends, more like brothers, really."



About a month into Fernandez's college career, Hurricane Maria, a deadly Category 5 storm, slammed into Puerto Rico, taking the lives of almost 3,000 people, destroying countless structures, and knocking out electricity to the island for many months. Says Fernandez, "Since my dad works for Homeland Security, he was helping out in both Puerto Rico and the US Virgin Islands, and I was able to speak to him via satellite phone. I knew that our house had come through the storm OK, but my uncle's roof was ripped off. It was scary because it was more than a month before I could speak to my mom, my uncle, and my grandfather." Wanting to help those in need, Fernandez threw himself into organizing campus relief activities, both in his freshman dormitory of Champagnat and through his fraternity, which collected both funds and supplies for Puerto Rico. With the assistance of Fernandez's godfather in Brooklyn, those supplies were delivered to Puerto Rico and put to use in the rebuilding effort. Says Fernandez, "When I went home over Christmas break, the power was still out, and I remember us eating MREs [Meal, Ready-to-Eat] and playing dominoes with headlamps attached to our heads." Besides directing his energies toward hurricane relief, Fernandez found support on campus through his friends, as well as his fellow students from Puerto Rico, whom Professor of Spanish Ivette Romero had brought together.
Fernandez continues to keep himself busy with both extracurricular activities and academics, and he likes to think long-term. In addition to majoring in criminal justice, he is pursuing his paralegal certification "to diversify his studies and be more competitive" professionally. Fernandez has always been interested in the law, and he expects that there will be opportunities to apply his paralegal skills in the Army. (He has signed an eight-year Army Reserve contract and gives special credit to retired Master Sgt. Dave Rogers, the ROTC Coordinator at Marist, for his help and encouragement.) ROTC also offers training opportunities abroad during the summer, which Fernandez says he is more likely to pursue than traditional study abroad. Ultimately, he plans to enroll in Marist's five-year Master of Public Administration program with a goal of becoming a federal agent in a government agency. Through a field trip organized by Associate Professor of Criminal Justice Addrain Conyers, Fernandez has already connected with Trustee Jerome Pickett '98, who served for many years in the Secret Service.
In his spare time, Fernandez runs a business selling comic books and pop culture memorabilia. "I buy and resell comic books and action figures on Instagram. I've been a collector since I was very young, and it's a great community." He recently had a booth at a comic book convention in Virginia, where he was able to sell his comic books and bond with other enthusiasts. Fernandez doesn't think his comic book business will derail his plans to become a federal agent, however. "I'm a fan and a consumer, so I don't actually make a lot of money from the business!" It might be the only area in which Fernandez has not been a success.