Institution
The Marist Mindset List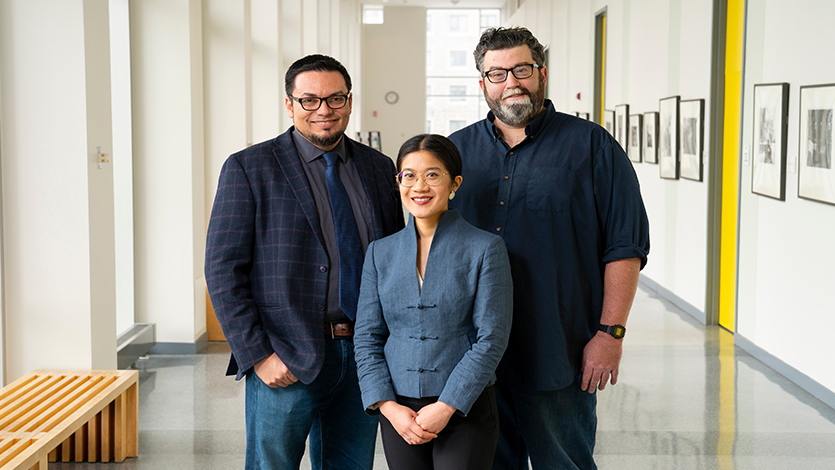 "Cultural compass" takes new direction under Professor Tommy Zurhellen.

June 9, 2020—The annual Mindset List, which moved to Marist last year, is about to get a makeover.
Under the direction of Associate Professor of English Tommy Zurhellen, the list for the Class of 2024 will be the first iteration fully compiled by Marist. Zurhellen hopes to establish the list as "a cultural compass that tracks the challenges and celebrates the accomplishments of each incoming college class."
This year's Marist Mindset List will reflect Zurhellen's vision for the list as a catalyst for ongoing discussion. He has enlisted the help of Assistant Professor of Art and Digital Media Joyce Yu-Jean Lee and Assistant Professor of Computer Science Pablo Rivas. "We're eager to both build on the accomplishments of the previous Mindset Team and break new ground on identifying the complex cultural issues facing college students today," said Zurhellen.
Originally established at Beloit College in 1998, the list has been developed annually by co-founders Tom McBride and Ron Nief along with Beloit Professor Charles Westerberg. In 2018, Beloit announced they would no longer be the home of the iconic list and Zurhellen, a Beloit alumnus, was instrumental in rehoming the list at Marist.
The new Marist Mindset team hopes to offer a streamlined, more concise look at the complex issues facing college students and their families today with more diverse viewpoints represented. When it is released in August, the new Marist Mindset List will focus on identifying trends in ten major areas: arts, commerce, education, ethics, fashion, history and politics, language and literacy, science, sports communication, and technology.
"These content areas are all interrelated. Our goal is to create a comprehensive yet inclusive list that touches on each of the areas listed above," said Zurhellen. "This will give incoming first-year college students, their professors, and even their parents some common ground to discuss the issues that matter most to our college students today."
Naturally, the COVID-19 pandemic is impacting their work. The lifetimes of this year's incoming college freshmen are bookended by the immediate post-9/11 world (most were born in 2002) and a pandemic of a proportion not seen in over 100 years.
Lee is keenly aware of this. "I am reflecting on the overarching trends in the art, fashion, and commerce categories over the last decade, as well as specific developments within this current year," she said. "The pandemic will produce an incoming class with a very different perception and understanding of social relationships and interactions than any that graduated before them."
Due to the constantly evolving nature of the pandemic, Lee is primarily researching information in trade publications and news outlets like Artforum, Art News, Women's Wear Daily, and Financial Times, over academic journals published with long lead times.
Rivas, who has expertise in artificial intelligence, is examining the areas of science, technology, and ethics. He's exploring potential list topics in a few ways. "I'm using experiential information based on student interaction, observation, and feedback, which I later verify in newspapers, magazines, and online public forums like Quora. Feedback from other faculty and students though (the experiential component) has been the best initial source for ideas."
Zurhellen had hoped to incorporate student input this spring, but was unable to do so because of the move to an online format due to the pandemic. However, he plans to do so during the 2020-21 academic year.
The Marist Mindset team is excited to produce a list that will inspire conversation and have impact. This year's list items will link to faculty research and observations, student research and activities, and further reading. According to Zurhellen, the goal is simple: "We hope the new Marist Mindset List helps build a sense of academic community among incoming first-year students across the country."