Events
"Changing America: What's at Stake?"
Marist College Poll panel of top political reporters, commentators looks at critical issues of Trump Administration and the electorate
The Marist College Poll recently convened a panel of top political reporters and commentators at Washington, D.C.'s Newseum to address the question, Changing America: What's at Stake?
Marist Institute for Public Opinion Director Dr. Lee M. Miringoff and Marist Poll Director Dr. Barbara L. Carvalho moderated the panel, which featured E.J. Dionne, Jr., senior fellow at the Brookings Institution and Washington Post columnist; New York TimesWhite House Correspondent Maggie Haberman; NBC News Senior Political Editor Mark Murray; and Cook Political Report National Editor Amy Walter.
At Washington, D.C.'s Newseum for the "Changing America" panel were, from left to right, Mark Murray of NBC News, Maggie Haberman of The New York Times, Marist Poll Director Barbara Carvalho, MIPO Director Lee Miringoff, Amy Walter of The Cook Political Report, E.J. Dionne, Jr. of the Brookings Institution and The Washington Post, and President David Yellen.
In welcoming the audience of Marist students, alumni, and friends, including many from the worlds of politics, and the media, Marist College President David Yellen called the Marist Poll "a beacon around the world for the kind of work that it does." He pointed out that it was the first college-based poll and said it serves "an incredibly important function in helping smooth some of the rough edges of our democracy."
"It's an unprecedented time in our politics and in the nation," noted Dr. Carvalho, before presenting a series of poll numbers that illustrated her point. The numbers showed a breakdown in trust of public institutions, a hyper-partisan polarization, and historically-low approval ratings for President Trump.
"He's really off to a rocky start," Dr. Carvalho said.
Before kicking things off, Dr. Miringoff said the panel "addresses a nation undergoing great change with a great deal on the line." Bringing the panelists into the conversation, Dr. Miringoff asked if today's political climate is a rehash of the upheaval of the 1960s "or is Donald Trump representing something entirely different?"
"One of the reasons Donald Trump was successful is the breakdown in institutions across the country," Murray said, "and the first institution that he was able to take over was a broken Republican Party" during the primary before doing the same with the media and government during the general election.
"There was an enormous psychic break that voters had with their elected officials and with their politicians after the fiscal collapse," said Haberman, who was fresh off a previous day's exclusive White House interview with President Trump. "It's hard to overstate how much of an impact that had," she added, "but this President also really did help feed the erosion of trust in these institutions, including our electoral process, in a way we've never really seen."
"The fundamental error Trump made...is in misunderstanding how we ended up there," Dionne said, before highlighting what he saw as the most telling piece of data from the November exit polls, which showed that 60 percent of voters had an unfavorable view of Trump. "This is the electorate that made him President," he said, adding that the election was less an endorsement of Trump by those who voted for him than a repudiation of Clinton.
"We are at something of a tipping point, and we have been for the past 20 years," Walters said. "To me, the 2016 election was surprising not that it happened but that it took this long for it to happen. In other words, we've been building to this moment for some time." She pointed to dramatic demographic and cultural changes as forces propelling the country toward an inevitable political rupture.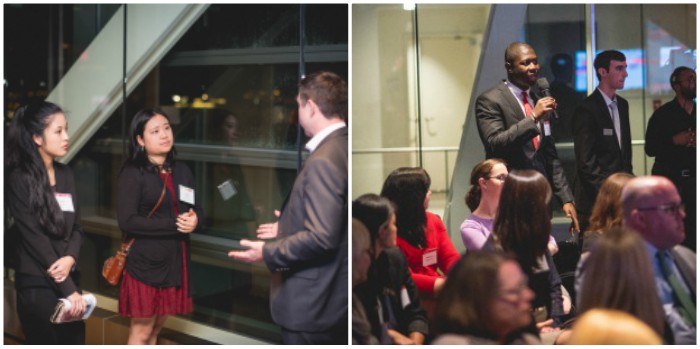 Marist College students Dori-Lei Chee '18 and Naomi Ko '17 speak with NBC News Senior Political Reporter Mark Murray, left; Ifedapo Benjamin '17 asks a question of the panel, right.
The panelists went on to tackle questions of how Trump and the political press view each other, the extent to which there is any historical context for the Trump presidency, and what the impact of all this will be on the 2018 mid-term elections and the 2020 presidential election, before taking questions from the audience and engaging in informal discussions with guests at a post-event reception.