Campus Communications
Office Hours with Dr. Edward Antonio
Michelle Eggink, Assistant Director of Content Marketing & Communications
Office Hours is a segment where the Inside Marist team sparks captivating conversations with key members of the campus community. Find out more about the inner workings of the College, gain fresh perspectives, and celebrate the invaluable contributions of those who make Marist the vibrant community that it is.
In this segment, Inside Marist's Michelle Eggink interviews Dr. Edward Antonio, Vice President of Diversity, Equity, & Inclusion.

Dr. Edward Antonio, VP of DEI. Photo by Nelson Echeverria/Marist College.
Q What are some things most people don't know about you?

A First, I am a scratch golfer. I was taught golf by the late Tim Price, brother to the Zimbabwean professional golfer (and three-time major champion) Nick Price. I actually caddied for Nick Price in Zimbabwe. I rowed in college and was a coxswain. I speak many languages, the one that people do not associate with me is Hebrew. I was a journalist before I became an academic, and later an administrator.

Q What activities do you enjoy outside of academia?

A Outside of academia, I read a lot, I cook a lot, I bake, run, and roast my own coffee. I make artisan breads, truffles, British scones, and cakes. Although I am far from being a connoisseur, I collect wines and single malt scotch.

Q I love the windows in your office; what do you like about your office's central view of campus?

A Whenever I look outside of my office windows [in Lowell Thomas], I get to see so many of our students walking by. When I see them, I cannot help but think that each of them is on a journey. Each one of them has hopes, dreams, fears, worries, and so much potential. I don't take any of them for granted and feel excited to see them in an environment where they learn, grow, and create their own story. It is a powerful reminder of why we are here.

Dr. Antonio looking out his office windows. Photo by Nelson Echeverria/Marist College.
Q How does the term 'belonging' fit into the Office of Diversity, Equity, & Inclusion?

A Belonging has many facets. These include sense of being at home, emotional connection, acceptance and inclusion. At Marist, belonging is a hope. We hope everyone has a sense of belonging, a sense of being deeply connected to this place. Belonging is a promise, and so we work to create an environment in which everyone can embrace that promise. Belonging is an invitation to everyone who studies, works, and plays here to claim Marist as vital part of their experience, as a part of their identity as a Red Fox. Now belonging doesn't happen without context. We need to establish diversity, equity, and inclusion first. People must come together from all different walks of life to create an environment in which we all feel we can belong.

Q There are so many mental and physical health benefits from feeling a sense of belonging. How, as a community, can we feel like we belong with one another despite our differences?

A As human beings, we are hardwired for belonging and connection. It's in our genetic makeup to seek out belonging because we need it to survive and thrive. If you look at nature, everything is interconnected, and diversity is built into the structure of every ecosystem to help everything really live.

The trouble is that we have somehow decided to disconnect, to alienate ourselves from nature and from each other. We live in a polarized world precisely because we've forgotten that what makes us human is that we belong to each other. So, we make excuses around race and gender and other differences to divide ourselves. My vision in the Office of DEI&B is to help create an environment where while we see and acknowledge each other's differences, we also notice how we all have so much in common. We are all interconnected, we all belong, no matter how different or unique. It is an important balance to maintain.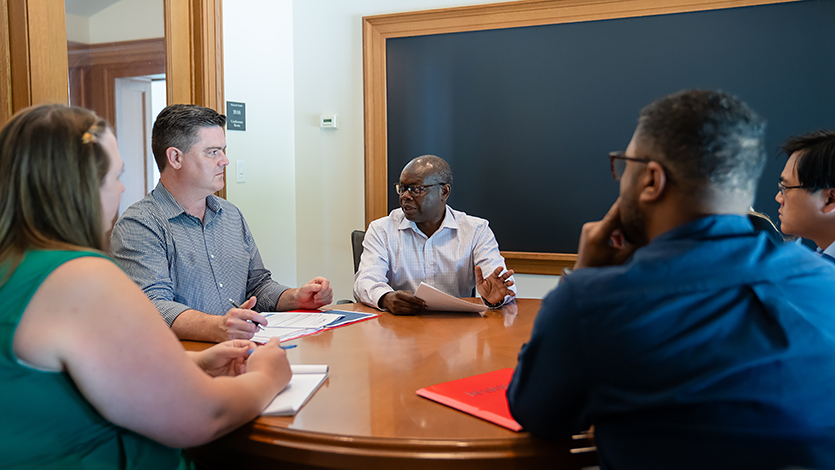 Image of Dr. Antonio and colleagues discussing the interfaith project. Photo by Nelson Echeverria/Marist College.
Q What are the top 3 goals of the Office of DEI?

A 1) Ongoing Learning & Transformational Development- To create meaningful change, we need to be engaged in an ongoing process of learning. We need to learn about ourselves and the differences we bring to the table, and we need to learn about each other and our community here at Marist. The Office of DEI&B will help foster learning and development through workshops, educational opportunities, and helping faculty bring an equity mindset to their research and to their teaching. This learning will happen through workshops, panel discussions, online courses for faculty, staff and students through different kinds of DEI programming.
2) Building Community Through Narrative- To develop a strong DEI community spirit, we will be introducing story-sharing and story-exchange events to help people develop more empathy and gain different perspectives. In this process, we will have students, faculty, and staff sit down together and share their own stories about important aspects of their background and life. After someone has shared their story, another person who has listened will then tell that person's story as if it was their own personal story. Expert facilitators will explain the practice and help people learn perspective-taking and what it might be like to step into someone else's shoes.
3) Establishing Restorative Justice Practices- Working with faculty and staff, my office will introduce Restorative Justice practices to help deepen and strengthen sense of expansive community, address challenges in our relationships and interactions that arise we encounter as part of living in a diverse community. Restorative Justice is important for restoring broken relationships and promoting better caring and empathic interactions.

Dr. Antonio speaking with students at Admitted Student Day at Marist College. Photo by Carlo de Jesus/Marist College.
Q Is there anything you want to demystify about the Office of DEI&B and what diversity means for the institution?

A It's important for people to understand that DEI encompasses much more than race, sexuality, gender, and disability. The primary objective of this office is to provide leadership to the College in fostering a sense of community and connection. It's to help us learn that our differences are assets rather than liabilities. This isn't just about race; it's about human connection. In essence, it's about cultivating a community of people who care about equity, justice, and inclusion.

DEI is not an aside or an afterthought, it's a central part of this College's mission and vision. We collectively shape the kind of community we want to be part of. Every individual, whether a student, staff member, or faculty member, brings unique talents to the table. I care deeply that everyone feels accepted and that DEI is a part of all of our work.