Alexa Comuniello giving speech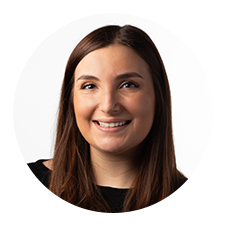 Alexa Comuniello
Manalapan, NJ
Academic School
Communication & the Arts
Campus
Italy
Alexa Comuniello '16/'19M received her BA in fine arts/art history from Marist in 2016 and immediately transitioned to the College's Florence-based MA in Museum Studies program. Since completing her graduate coursework, she has worked in higher education fundraising while simultaneously completing her thesis on recent socioeconomic changes in the Hudson Valley as a result of arts institutions. Comuniello recently served as the graduate student speaker at Marist's 2019 Commencement Exercises.
What brought you to Marist initially as an undergraduate?
I first visited Marist when I was in high school to see my cousin graduate, and I fell in love. I'd never been to the Hudson River Valley, and I was completely captivated. When I started seriously thinking about where I wanted to go to school and found out about the amazing study abroad programs, I was sold.
How did you know that continuing on in the MA in Museum Studies program was the right choice for you?
I think I knew from the time I applied to Marist as an undergraduate that I wanted to pursue the MA in Museum Studies. At 17, I wanted to be a curator, and that meant a PhD, which meant a master's degree. The plan changed a bit along the way, and when I was a senior, I planned to apply to a few different graduate programs—I had a feeling that I was set on Marist because I was so comfortable. But then I thought, "Who am I kidding—why would I go anywhere else?"
Was your experience as a graduate student at Marist different from your undergraduate experience?
It wasn't terribly different. I felt the same degree of guidance in graduate school as I did during my undergraduate career. As an undergrad, Marist felt nurturing but not overbearing, which made me feel prepared going into graduate school. The MA program operated pretty similarly—plenty of chances to hold your own, but also the option of asking for help when you needed it.
How would you describe the quality of the MA in Museum Studies program (faculty, facilities, curriculum, etc.)?
I firmly believe that I could not have received an education of this caliber anywhere else. The faculty for the MA program is unparalleled, everyone from guest lecturers to academic advisors. I've never met people so passionate about student education and lauded in their fields, and the curriculum reflects that. It can be rigorous, but as a student, it all depends on how you manage your time. And nothing I say could do justice to the facilities—the city of Florence is your classroom. You're within walking distance of some of the most impressive museological collections and spaces in the world, surrounded by buildings and streets that are likely centuries older than anything you grew up around if you're from the US. It's truly mind-blowing, and it makes the learning experience even richer. My only warning—I hope you like stairs.
What are your career plans now that you've finished your degree?
I've actually been working full time at a university in New York City since completing my coursework in Florence two years ago. Since working in the Office of College Advancement at Marist as an undergraduate, I've wanted to work in fundraising for arts, cultural, and educational institutions (hence my change in career plans). That was one of the most important things I learned in the MA program—museum studies sounds like a narrow field, but it's all about the accessibility and efficacy of learning opportunities for people in all walks of life.
Is there anything else you'd add about your Marist experience that prospective students might be interested in hearing?
I cannot overstate how grateful I am that Marist has become such a big part of my life. My only regret is that I didn't take advantage of more of the opportunities I was offered there during the last six years. I felt like I could have done even more. My number one piece of advice would be to not pass anything up, unless it's for the sake of your sanity. Take every trip, attend every lecture, and talk to everyone. And that goes for both the Poughkeepsie and Florence campuses!