Students talking in front of posters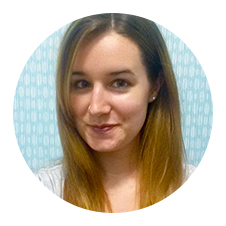 Meaghan Hughes
Pougkeepsie, NY
Academic School
Social and Behavioral Sciences
Campus
Online
Meaghan Hughes is a member of Marist's M.A. in Mental Health Counseling Class of 2019. She holds a BA in Psychology from Vassar College and is currently employed as a Support Specialist in the Outpatient Mental Health Clinic at Westchester Medical Center.
Why did you choose to pursue your graduate degree at Marist?
There are many Mental Health Counseling programs in New York, but I knew that I wanted a very small program so that I could have a lot of hands-on experience and get to know my classmates and professors really well. I attended an open house at Marist in the fall before I applied and was very impressed with the program here. It was clear that I would have a lot of opportunities for internship sites, which is a huge part of the second year of the program. The Mental Health Counseling program here is also working toward meeting CACREP (Council for Accreditation of Counseling and Related Educational Program) standards, which is recognized as a meaningful seal of approval among these programs.
Why did you choose to participate in the SSBS Graduate Assistantship program?
I was interested in having a collaborative working relationship with a professor and I thought that working as a Graduate Assistant would make me feel more involved with the school and the program in a more meaningful way.
What kind of work did you do for the SSBS Assistantship?
I've been gathering background information for a research project that has been submitted to the North Atlantic Region Association for Counselor Education and Supervision conference this fall. Dr. DelRosario, several other counseling students and myself are part of a separate research team working on an evaluation of the admission standards of Mental Health Counseling programs across the country. As a Graduate Assistant, I've been working on creating some of the data collecting procedures, such as the tools we're using to establish inter-rater reliability among the researchers.
I feel so much more engaged in the program through working in the Assistantship. It's really emphasized to me that I'm not just here to get a graduate degree but to become involved in the whole profession of counseling.
How has the assistantship and graduate program helped you grow as a professional?
My confidence in my own ability and knowledge has definitely improved throughout my work in the assistantship. I can definitely apply this to my future work as a counselor. I'm sure that when a client comes in for a session, they're going to be focused on what is happening at that moment, as they should. But I know that there are going to be hours of preparation, consultation, and self-care that are all part of my ability to be a good counselor. The assistantship has taught me that preparation is vital.
What advice would you give to a student considering pursuing a graduate degree at Marist and applying for the assistantship program?
I would absolutely recommend the assistantship program to anyone. It is a time commitment, but as long as you have good time management skills it's feasible. If the professor you work with gives you an assignment that you complete remotely on your own time, you have to be able to prioritize that. You should also be ready to be flexible, as your responsibilities can vary on a weekly basis. Those are opportunities to try something new, and though it could be intimidating, I think it's a really good chance to grow and develop new skills.