Students talking to each other in front of posters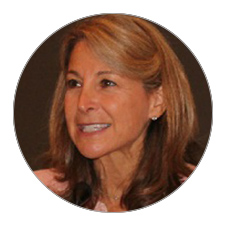 Pari Farood
Poughkeepsie, NY
Academic School
Management
Campus
New York
Pari Forood is a member of Marist's online MPA Class of 2015. She received a BA from Vassar College and is currently the Executive Director of the Miles of Hope Breast Cancer Foundation.
Tell us about your work history before Marist, including years of experience, industry, companies, and positions.
After graduating from Vassar, I was a legislative aide and then the Press Secretary to Congressman Hamilton Fish, Jr. in Washington D.C. for eight years. I got married and moved back to the Hudson Valley where I was a partner with my husband in running our radio stations, and I managed local political campaigns. I served on every Board of Directors of every charity in the area (!) and consulted on many political campaigns. After raising my two daughters, I jumped back into political life and was the Women's Issues Director for a U.S. Senate campaign in NY. In 2004, I started the Miles of Hope Breast Cancer Foundation with 2 women in order to bring support and services for people affected by breast cancer to the 8 counties of the Hudson Valley. While completing this degree, and working full time, a book I wrote was published. Please go to:www.westcornwallpublishing.com to read more about it and see a short video.
What are your career goals?
To run a large public or private foundation and to keep writing.
Why did you choose to pursue your degree at Marist?
I felt that I needed a graduate degree and all of its accompanying knowledge to be a great ED of a public charity or private foundation.
Tell us about a project or course that was particularly meaningful to your professional development.
Ha! Nonprofit Management with James Melitski! I thought I would breeze through this course knowing everything after running a foundation for 10 years and I ended up learning a great deal from the reading, the assignments and especially the forum discussions with the professor and fellow students. It just goes to show, you can always learn more even about something you feel you know pretty well.
How has a degree from Marist and your coursework enhanced your career?
My knowledge of my field has increased tenfold: I am a better strategic thinker; I have a better overall appreciation for the process of creating, implementing and evaluating programming; I understand nonprofit organizations, public organizations, bureaucracies their history and how to make them more efficient; I now know and appreciate how to motivate and reward staff; I am a better writer; and I have a great appreciation for the budgeting process.
What advice would you give to a student considering pursuing their master's degree at Marist?
It will help you in whatever career you choose—it is essential to make you a better manager and good management is the key to organizational success.
If you took an online class or had online learning as part of a regular course, tell us about your experiences – any tips or suggestions to pass along to future students?
Time management is key—don't get behind on assignments just because you are interacting with your class and professors through a computer.
Any additional comments?
I thoroughly enjoyed this experience and recommend it to everyone. I worked full time throughout my MPA degree work and I am not sure what I will do with all of my extra time once I graduate in May!