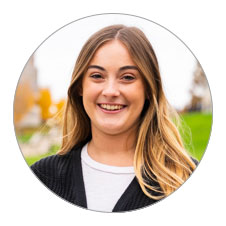 Rebecca Castellani
Howell, NJ
Academic School
Communication & the Arts
Campus
New York
Rebecca Castellani is a current senior studying Fashion Merchandising with a concentration in Business and Promotion. She transferred to Marist in the fall of 2016. On campus, she works in Admissions as a tour guide and student assistant and holds a leadership position on the Transfer Student Advisory Board. She is also involved in the cheerleading team as a prior member and now a student coach and is very active with Mporium, an entrepreneurial boutique run by fashion students on campus. She also has a job lined up for summer 2019 as an Assistant Buyer for Macy's in New York City.
What made you choose to transfer to Marist?
I chose to transfer to Marist because of the community environment. As soon as I stepped onto the campus, I felt immediately welcomed and knew this was the school I was meant to be at. I also chose Marist because I felt I would be able to get a really strong education in the fashion program while also being able to have a college campus experience and get involved outside of the classroom.
Can you talk about your experience with the faculty within your academic school?
The faculty within the Fashion Department have been nothing but extremely helpful. They make sure I'm registering for the right classes, as well as taking classes I want to be taking, and they help me look for internship and job opportunities. The faculty have also played a vital role in my growth as a person and have provided me with the tools I will need to succeed in the fashion industry post-graduation.
Can you provide some tips for new transfer students to get acclimated to the campus?
My number one tip to get acclimated to campus would be to get involved in something! Between the many clubs and events offered on campus, there is something for everyone. It is a great way to meet new people, especially people who have similar interests as you. Another thing would be to get out and do things around campus beyond going to class and being in your room, even if it is just studying in a common area.
Please speak about your internship experience.
Marist is extremely helpful in preparing students for internships by providing contact information for the company recruiters, posting internships on the website FoxQuest through Career Services, and hosting companies on campus during Career Fair so students can network with them. During my time at Marist, I have had two internships. The first one was during the summer after my sophomore year at Mon Cheri Bridals. My second internship was during the summer after my junior year at Macy's in Herald Square in New York City. I was offered the internship after meeting Macy's recruiters during the on-campus Career Fair, and it was an incredible experience. After a successful summer, I will be starting a full-time job with Macy's as an Assistant Buyer after graduation next year!
What advice would you give to prospective transfer students looking at Marist?
The advice that I would give to prospective transfer students looking at Marist is to not be afraid. Transferring to a new school, whether it be from a two-year or four-year school, can be intimidating. The community at Marist is extremely welcoming and as a transfer student I felt that I fit right in with my class, even though I wasn't here for the first year. I can't imagine ending my undergraduate degree anywhere else but Marist!