Students talking in front of posters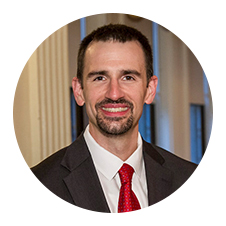 M. Sean Kowaliw
Poughkeepsie, NY
Academic School
Management
Campus
Online
M. Sean Kowaliw is a member of Marist's online MBA Class of 2016. He lives in the Poughkeepsie area and is employed by Imaging On Call as the Director of Information Systems.
Tell us about your work history before Marist, including years of experience, industry, companies, and positions:
I began working at the Cleveland VA Hospital in 1998 which got me into the radiology field. From there I became interested in digital radiology which took me to the Cleveland Clinic in Ohio and Sonix Medical in New York for direct experience with Radiology workflow. I moved to the vendor side a few years later and went to AMICAS, a provider of electronic image viewing software. I spent 5 years there, 3 of them in Daytona Beach, Florida. I had the opportunity to return to the Northeast to work for my old boss at AMICAS and have been at Imaging On Call for the last 6 years. I started as the head of Client Services but moved over to IT due to my experience with their AMICAS PACS.
What are your career goals?
To continue to increase my knowledge in business as well as Healthcare IT. A CIO or Director of Operations would be nice, but as of now, I'm currently satisfied with my current position.
Why did you choose to pursue your degree at Marist?
I like that it's local and online so I can take the courses at my pace. Also, my employer is paying for the courses.
Tell us about a project or course that was particularly meaningful to your professional development:
MBA 685 Negotiations and Conflict Management was especially useful to me since I work in a remote environment and dealing with employees remotely is challenging, let alone dealing with conflict with remote employees.
How has your coursework enhanced your career?
I'm constantly out of my comfort zone with the course work which I see as a good thing. I'm always learning new things so learning how I learn has really helped me with other areas of my career. I also have a broader understanding of management and business, rather than just education or IT where my background has been for the last 13 years.
What advice would you give to a student considering pursuing their master's degree at Marist?
Be ready to be regimented about your learning. As I mentioned above, it's important to figure out how you learn best and apply that to your learning. There won't be an instructor feeding you information so you need to be comfortable with obtaining knowledge with reading comprehension. Also, participate in the forums and ask questions of others. That's a major part of having a good online learning experience.
Discuss your experience with Marist's online learning environment:
I had a tough time at first with the online learning program since I'm more comfortable with lecture style learning. I have to work extra hard to concentrate on the readings and exercises in the text to make sure I comprehend the concepts. Luckily, I really enjoy the forum portion of online learning which helps balance out poor performance when it comes to math or logic problems.
What do you believe are some of the most important issues in the field of leadership development?
Listening, humility and conflict management. I seem to be dealing with these issues on a weekly basis, both at work and in my personal life. I think these topics are all sides of the same coin in that a good listener shows humility (especially when listening to criticism) which leads to appropriate conflict management. Knowing that resolutions rarely come about without conflict of some sort, effective workers need to have the tools to handle conflict.
Failure is one other area that people need to be very comfortable with. Handling failure, quickly, gracefully and with a sense of learning can help propel your knowledge and career. Some of my grandest failures have ultimately led to my biggest successes. There should be a course just on failure itself.