Student Achievement
Four Marist Teams Shine in Mid-Hudson Regional Business Plan Competition
The regional event was hosted by Marist on a virtual platform; winning teams will advance to the state competition in May.


April 30, 2020—Four student teams from Marist will advance to the New York State Business Competition next month after winning in their respective categories at the 8th Annual Mid-Hudson Regional Business Plan Competition (MHRBPC) on April 17, which was hosted by Marist, but held on a virtual platform.
The MHRBPC featured 33 teams with over 90 students from nine different colleges in the region, including: Bard College, Iona College, Marist, Rockland Community College, SUNY New Paltz, SUNY Purchase, Touro Graduate School of Technology, United States Military Academy at West Point, and Westchester Community College.
President Dennis Murray opened the awards ceremony and greeted over 120 people on WebEx. He spoke of the history of the college and invited everyone to visit during better times. New York State Senator Sue Serino, addressed the group by video. Awards were given virtually.

Huge Participation in a Challenging Year
This year, all of the competing regions were faced with making the decision to move to an online format due to COVID-19. With the support of most of the regions, the New York state organizers, and Marist, a mutual decision was made to use a virtual platform in a relatively short period of time.
"We anticipated a drop in participation this year because our submission deadline was at the same time as when the COVID-19 crisis seemed to really hit the U.S. Students were being sent home for spring break, were told they may not be coming back to campus and needed to adjust to finishing their course work online," said Cynthia Worrad, Assistant Dean of the School of Computer Science and Mathematics at Marist and an organizer of the event. "To our surprise, the response by the students was enthusiastic and determined to compete this year even with all the challenges they were facing. It inspired us all to provide the best experience possible for these creative and talented students. We are so proud of their hard work and determination."
Roberta Diggins, co-coordinator of the MHRBPC said, "New challenges seem to materialize every day but as long as we can rise to meet these challenges, we can be proud of our successes."

Marist Winners
With support from Marist and area sponsors, cash prizes were awarded to the first and second-place teams in each category. The winners in each category move on to compete at the state level. Marist's winning teams spanned a variety of project areas:
/stelTH/: 1st place Consumer Products and Services track
Marist Fashion Merchandising students Rae Crescas '20, Lisa Giulianelli '20, and Shantelle Clark '20, are co-founders of /stelTH/, who aim to give power of uninhibited gender expression to those who have been oppressed through inclusive design. /stelTH/ is a company focused on providing an assortment of business casual products at moderate price points that fit the individual's biologically gendered body, but express their identified gender. Stealth, a term used by the transgender community to refer to an individual who conceals the fact they are transgender and presents solely as their preferred gender identity.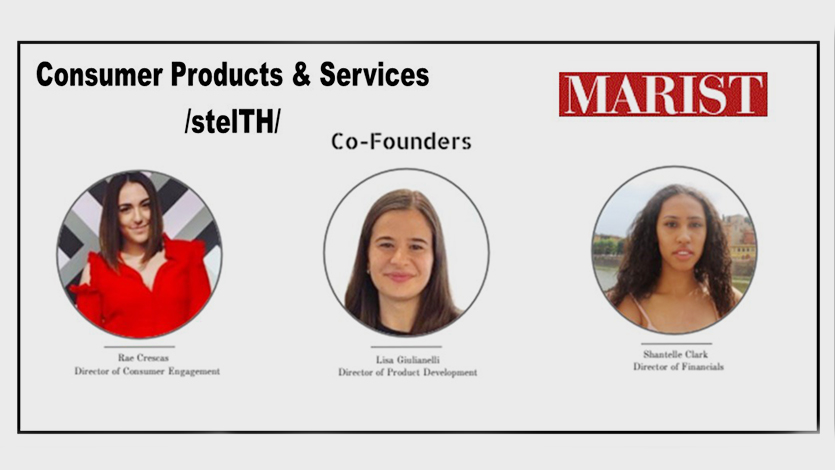 EVITAL: 1st place Energy & Environment track
Marist student Michaela Ceci '20 BFA, Fashion Merchandising, and Iona College student Raymond Carapella '20 are two active members of the fashion industry and co-founders of EVITAL, a New York based company that manufactures eco-friendly, decomposable, and cost effective clothing hangers. EVITAL is focused on eliminating plastic waste in the fashion industry by developing a sustainable and environmentally friendly hanger sourced from a mycelium and hemp blend.
No Waste Left Behind: 2nd place Energy & Environment track
Marist Fashion Merchandising students Emily Labdon '20, Jacquelin Lamoureaux '20, and Klea Hasaj '20, are co-founders of No Waste Left Behind, an environmentally friendly fashion company that produces trims and findings with recycled plastic filament and 3D printing technology. The founders' focus is to provide today's designers with sustainable trims and findings, which include snaps, rivets, buttons, buckles and aglets.
Golden Tomato Enterprise: 2nd place Agricultural Technology and Food track
Marist students Charlotte Uwimana '20, Business Administration/Finance major with a minor in Information Systems and Accounting, and Jeremiah Furia' 22, Finance major, are the co-founders of Golden Tomato Enterprise. Golden Tomato Enterprise's mission is to leverage technology to produce high quality tomatoes to provide to customers in Tanzania and other East African Countries. Their vision is to become one of the leading suppliers of tomatoes in East Africa where the shortage of tomatoes makes headlines every year.
The MHRBPC was generously sponsored by TD Bank, Marist College's School of Computer Science and Mathematics, Marist College's School of Management, Hudson Valley Economic Development Corporation, Hudson Valley Startup Fund, Small Ball Marketing and SCORE. For more information about the MHRBPC, click here.
The New York Business Plan Competition, which was originally scheduled to be held on Friday May 1, at the Sage Armory in Albany, will now be held on an asynchronous virtual platform over the month of May. Winning Teams will be announced May 22. Aside from competing for over $85,000 in cash prizes, student teams will have the opportunity to gain valuable feedback and guidance from the judges.