Faculty
Sports Communications Professor Sparks Student Enthusiasm Through Research and Sports Analysis
Michelle Eggink, Assistant Director of Content Marketing & Communications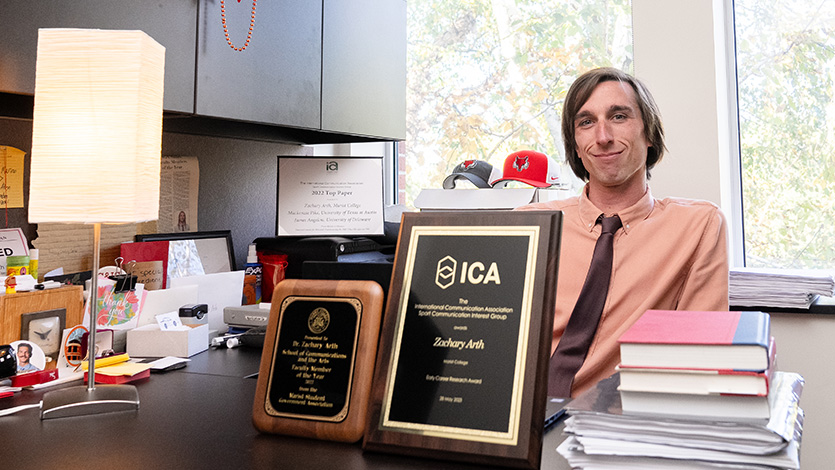 October 9, 2023 — Meet Dr. Zachary Arth, a distinguished faculty member and sports analytics scholar, who enjoys strong coffee and competing in high-level bowling competitions. Dr. Arth, whose field of study focuses on pioneering sports research, has been honored by the International Communication Association.
"I feel that my research is central to something I stress in my classes: Sports are about so much more than just sports and they can really tell us so much about our society — the good and the bad — if you look at them with a critical eye," said Dr. Arth, who recently won an Early Career Research Award from the International Communication Association. The sports communication interest group facilitates excellence in academic research worldwide and only gives the Early Career Research Award out to one scholar annually.
Benjamin Leeds '26 and Dr. Zachary Arth in the Center for Sports Communication discussing the Major League Baseball playoffs.
Dr. Arth's award-winning research centered primarily on issues of identity and portrayals of athletes during sports broadcasts. In his research, he looked at coverage patterns between male and female athletes over the past several Olympics. This work has shed light on a significant shift in media representation, where women have received more coverage than men — an evolution that would have been unthinkable in the early 2000s and before.
Although Dr. Arth maintained an active research agenda during his first four years as a Marist professor, averaging three journal publications per year, he humbly expressed how surprised he was to win this recent award.
"It's such an honor to receive this award," he said. "I've not really compared my research production to that of other scholars in my field, so I did not expect this award to come my way."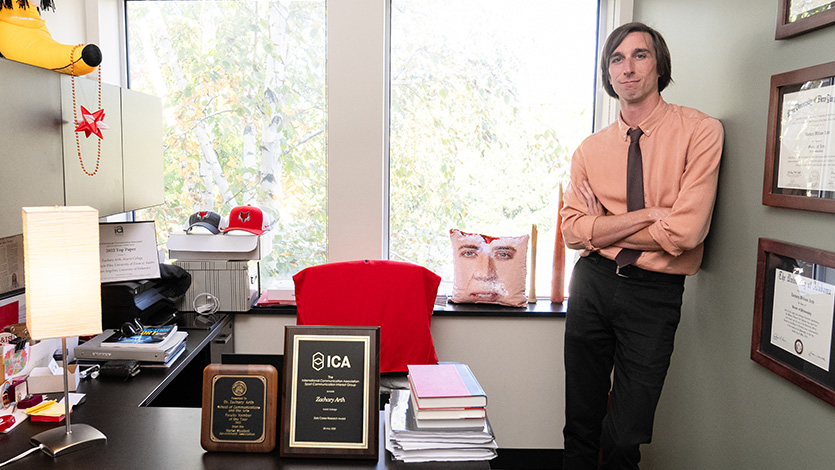 Popular among communications students, the professor also received the SGA Faculty Member of the Year Award for the School of Communication and the Arts for the 2021-22 academic year.
In addition to his own research projects, Dr. Arth works with students through the Center for Sports Communications and teaches Issues in Sports Media and Sports Analytics. He is the faculty advisor for the Communication Honors Society (Lambda Pi Eta) and one of the faculty advisors for Maristat, the Sports Analytics club on campus that helps students tap into a cutting-edge field in today's sports world.
"Dr. Arth is one of the most approachable professors at Marist, as he takes time to get to know his students and their interests," said Luke Sassa '24, communications major and sports analytics club member. "I've learned a lot in his classes because they are truly engaging, as he uses real-world examples to bring each topic to life. Dr. Arth has been a great resource for me to bounce ideas off of for my honors research work, as his knowledge of the landscape has helped guide me greatly."
Dr. Arth is working on a study with recent Marist sports communication graduates investigating the impact and changes that can occur when baseball players transition from a Major League Baseball team to representing their nation in an international competition.
"Dr. Arth has an engaging approach to teaching that is universally appreciated by students, and his expertise in research is an excellent resource, " said Daniel Capuano '23, sports communication and public relations graduate. "I worked with Dr. Arth frequently at Marist and now post-grad, and through all of my experiences, I've learned so much and really enjoyed myself."