A man working in front of the computer
February 2022 Newsletter
Getting to know… President Kevin Weinman
Last October, Kevin Weinman became the fifth president of Marist College.
A native New Yorker (he was born in Queens), Weinman grew up in northern New Jersey. A first-generation college student, he earned his Bachelor of Business Administration degree from Notre Dame, where he majored in both accounting and history. He subsequently completed his MBA at the Kenan-Flagler Business School at the University of North Carolina; from there, he went on to earn both his master's (from the University of Colorado) and his Ph.D. (from the University of New Hampshire) in history
Weinman began his professional career by putting his finance skills to work in the private sector, with stints at Arthur Andersen, Hewlett-Packard and Western Union. In 2007, he was named assistant vice president, financial planning and budget at Dartmouth College, a position he held for six years. Before coming to Marist, he served as the chief financial officer at Amherst College in Massachusetts.
Weinman's wife, Beth, is contract administrator/associate controller at FTL Labs Corp. in Amherst. The couple has two children: Son Alex attends Colorado College in Colorado Springs, and daughter Brooke is a high school junior in Amherst. Both are avid ice hockey players, and mom and dad attend their games whenever possible.
In early December, Weinman announced that he and Beth have pledged $250,000 to Marist. These funds are slated to support several initiatives that help make the college accessible to talented students regardless of their financial standing.
Despite his busy schedule, the new president graciously agreed to chat with us about his background, his early impressions of the Marist community, and the pitfalls of assuming his new role during a pandemic.
Q: Your educational background mirrors what the SoM hopes its students will achieve: a solid knowledge of business practices coupled with a strong liberal arts focus. What skills did you glean from these two discipline areas?
A: I've always found the two areas to be mutually reinforcing. A lot of what I learned studying for my master's and Ph.D. in history helped me in my business roles. As a college administrator, there's a lot of writing, a lot of public speaking, and a lot of strategy involved in articulating key priorities and engaging with people who disagree with decisions being made. Many of those skills come from advanced studies in the liberal arts, where you're researching, constructing cogent arguments, delivering conference presentations, and having respectful and heated debate in the classroom.
All these things serve business majors and business professionals extraordinarily well. I came to the history major at Notre Dame because I really enjoyed the work; reading and writing was in some ways a respite from accounting, which I also loved but for different reasons. But over time, I came to realize just how beneficial that work is to someone in the field of business.
Q: What caused you to switch your employment focus from the private sector to academia?
A: I won't say that it was entirely haphazard, but probably close to it. I spent the first 15 years of my career in the business world, first in public accounting, then getting an MBA, then working in roles that involved corporate finance, branding and marketing. But I was still drawn to advanced studies in history. I was very lucky to come across the history program at the University of Colorado; it was an evening program, and I just loved it. After the coursework was done, I found myself teaching classes on an adjunct basis. I was spending as much time on a college campus as I was in the corporate world. It dawned on me that colleges have finance people as well; I came across a posting for that sort of work at Dartmouth College and was somehow fortunate enough to convince them to take a chance on me. And ever since, I've loved working in higher ed administration.
Q: What initially attracted you to Marist? And what was the deciding factor that convinced you to accept the position of president?
A: Marist is a dream institution for someone with my background. It has a focus on the core liberal arts, but it also has five other schools that help students prepare for professional careers of one kind or another. So many successful new programs and new points of emphasis have emerged here in recent years. Amherst and Dartmouth are pure liberal arts colleges that offer a more traditional form of undergraduate education, whereas Marist is so wonderfully complicated: It has been innovating and branching out with professional and preprofessional programs that have grown so far, so fast. To be at an institution that is eager to adapt itself to the needs of tomorrow's students is really exciting to me.
Q: It is early days, but what are your impressions of the college thus far?
A: I've been warmly received, and it's been energizing. I've spent as much time as possible getting out and about to games, performances, lectures, and recitals. I've met with a variety of student groups; I've held student office hours and had lunches with faculty and staff. I've done a lot of listening, and I'm hearing versions of the same theme: People really love Marist, but they have ideas about how Marist can become better going forward. It's exciting to be at a place that has both a solid foundation and opportunities to continue to grow and evolve and develop.
Q: You have a son who is in college now. Does being a parent of a college student bring a different perspective to the work you do?
A: Absolutely, particularly as it relates to the pandemic. As we think through the choices we must make between continuity, student safety, protocols, and so forth, I'm able to consider what's best for Marist students, faculty and staff. But as a parent with a student who's going through this at another institution, I really understand what these decisions mean, and how they will be received by parents. There is no easy way to lead a residential college through a pandemic — these are all tough calls that not everybody will agree with — but communicating them in a way that's mindful of how our students and their parents hear them is really important. So yes, I think it's helped inform my decision-making and how we communicate to our community.
Q: Other than maintaining good health, what is the most challenging thing about becoming a college president during a pandemic?
A: Every business struggles with allocating time between day-to-day operations and thinking strategically; you don't have the luxury of focusing on one or the other. As a new president eager to start developing a vision and imagining the merits of the future, it is a challenge to be dedicating so much time towards pandemic-related operational decisions. But they are essential because the health and safety of our community depends on it.
Q: How would you describe your vision of the role of a college president?
A: We have so many people here who love Marist in different ways; inspiring them to give their all to make it better is absolutely critical. College environments are very stressful and challenging from a mental health standpoint, not just for students but for others as well, so demonstrating empathy and concern for people is crucial. But none of this means anything unless it's done genuinely. Genuine leadership, inspirational leadership, empathetic leadership — those are the traits that come to mind.
BoA execs meet-and-greet students
Students, faculty and staff braved a heavy rainstorm to attend a welcome-back-to-campus meeting with members of the School of Management's Board of Advisors (BoA) on Sept. 28. Held in the historic Cornell Boathouse, the informal get-together included a boxed lunch and short presentations by BoA chairman Tim Keneally '69, president of KapStone Container Company, and board members James E. Daly '72, vice president, investments at Stifel, Nicolaus and Company, Inc.; and Michael Marchesano '78, managing director of ABM/CISD SIIA.
Besides offering students the opportunity to ask career questions of these business executives, the event served as a forum to introduce some of the student-centered initiatives contained in the BoA's recently approved five-year strategic plan. To help students transition from the classroom to the workplace, the plan includes the establishment of a mentorship program that will pair undergraduates with mentors recruited from the BoA as well as the college's alumni; having each undergraduate work one-on-one with a mentor for at least one year is the ultimate goal of the program. Other plan objectives include facilitating networking between students and business colleagues, hosting social gatherings for alumni and upper-class students, and increasing the number of classroom presentations given by BoA members each year.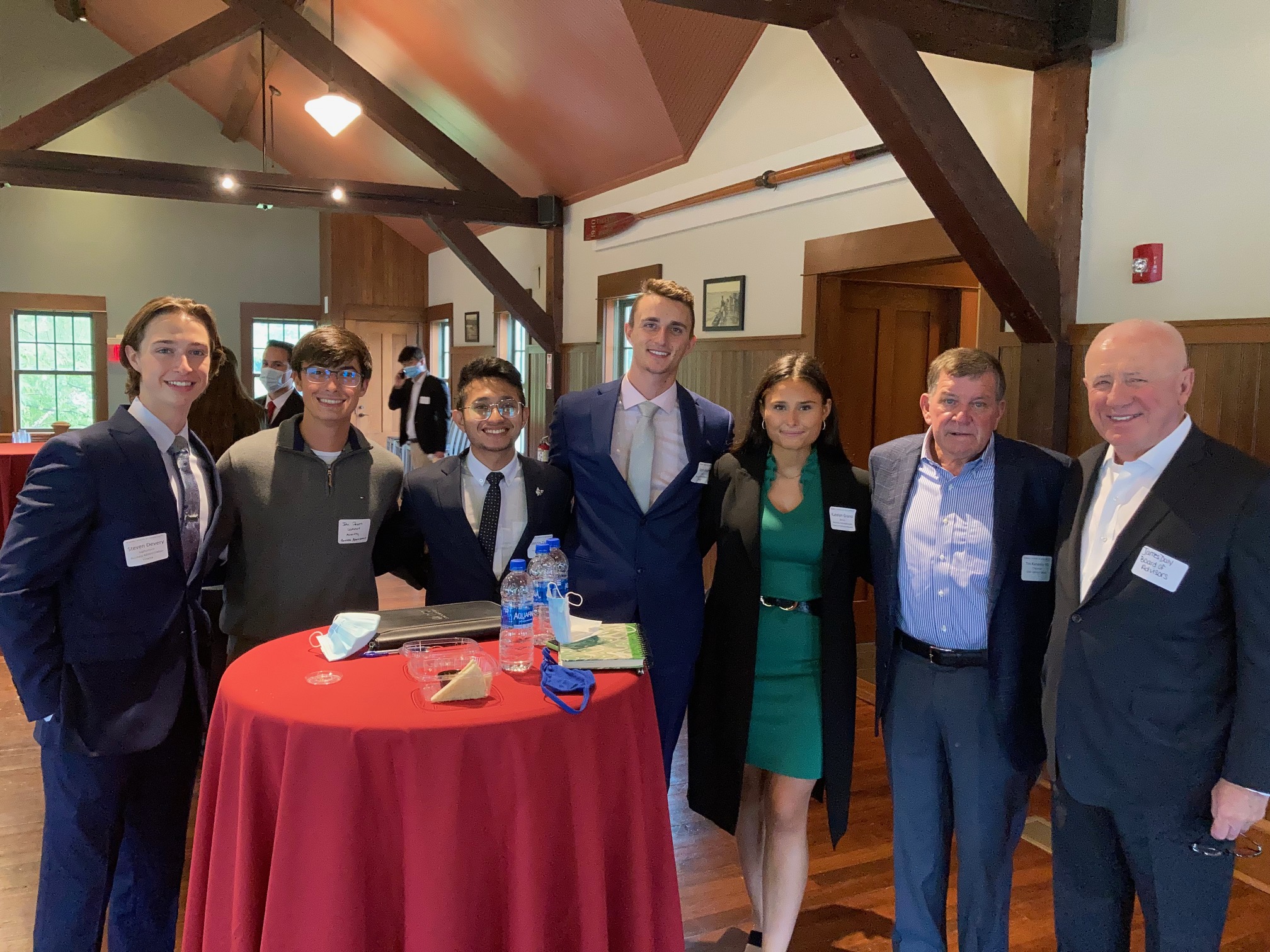 IN THE PHOTO: Students pose with BoA members Tim Keneally '69 (second from right) and James E. Daly '72 (right)
Professor for a Day
Alumnus Brian Wenzel visited the School of Management on Oct. 28 as part of its executive-in-residence program. Wenzel, who earned his bachelor's degree in accounting in 1989, currently serves as the executive vice president and chief financial officer at Synchrony, a consumer financial services company that is one of the largest issuers of store credit cards in the U.S. Wenzel brings more than 30 years of financial and strategic management experience to this role, in which he oversees a number of areas including accounting and controllership, financial planning and analysis, investor relations, and the consumer bank.
Supporting interaction and dialogue between students, faculty and business leaders is the purpose of the executive-in-residence program. During his eight hours on campus, Wenzel met with Senior Associate Dean James Phillips, attended a meet-and-greet reception with the faculty, and shared lunch with students in Fontaine's Henry Hudson Room. He also gave presentations in three classes: Financial Management, taught by Prof. Christopher Reck; Marketing Principles, taught by Prof. Pamela Harper; and Principles of Microeconomics, taught by Prof. Andrew Kosenko.
"My Financial Management students heard firsthand from a public company CFO about the skills he has most relied on during his career," Reck recalled after Wenzel's classroom visit. "He also engaged the class in a conversation about how to launch a career and adjust as you grow professionally. The importance of integrity was a thread running through the entire session, which was so impactful to hear from Brian given his role."
Prof. Harper echoed Reck's sentiments. "[Wenzel] was very engaging," she said, "and his discussion of the business environment and current issues was very relevant."
IN THE PHOTO: Brian Wenzel '89 lectures to students in Pamela Harper's BUS 340 Marketing Principles class
Wise words for worried students
On September 29, alumnus Don Reardon visited campus to speak with students in the business and fashion merchandising programs about his business experience.
A member of the class of 1988, Reardon earned his bachelor's degree in communication arts. He is the principal partner of Portland, Oregon-based IDW. Comprised of a team of designers, this company designs footwear, apparel, and hard goods for the sports, outdoor, fashion, and medical industries; clients have included The North Face, Eddie Bauer, Nike and Speedo.
During his stay, Reardon spoke to students in finance, marketing, and fashion classes, and lunched with SoM students in the Hancock Center's board room. He summed up his impression of the students as follows:
The Marist students I met were brilliant and eager, but many have a great deal of understandable anxiety. Thanks to the pandemic, they view the world largely through a social media lens where only two outcomes exist: "Influencer-With-Motor-Yacht" or "Florida-Man-Throws-Alligator-Through-Drive-Up-Window." Not seeing yourself living happily in the dominant domain between dramatic glory and humiliating failure creates amplified feelings of jeopardy for young people. They've been robbed of reality in some ways. I'm here to tell students: "Breathe! The career path for each person is different, often delightfully dull, and governed only by those disappointments we ourselves create with unrealistic expectations."
IN THE PHOTO: SoM students at the luncheon meeting with Don Reardon
Exhibits tout student research
Thought-provoking student research was on full display at the semiannual Senior Thesis Exhibit, held on December 8 in the Murray Student Center. A total of 39 members of the Marist Honors Program took part in the exhibit, which featured posters created by each student to illustrate and explain their individual research project. A dedicated faculty mentor worked one-on-one with each student, helping them conduct an in-depth exploration into the topic of their choice.
The following seven School of Management students were among the presenters; their research topics and faculty mentors are also listed below.
Victor Allegretti – "The Unethical Factors that Drive Athletes/Coaches in Sports"
Faculty mentor: Dr. Zachary Arth
Jennifer Coury – "The Benin Bronzes and the Role of Museums in Repatriation"
Faculty mentor: Dr. Anne Bertrand-Dewsnap
Jamison Embury – "Investment Regime in the New Era"
Faculty mentor: Dr. Xiaoli Wang
Lydia Giguere – "Was the Paycheck Protection Program a Waste of Taxpayer Funds?"
Faculty mentor: Prof. Christopher Reck
Matthew Kutz – "The Moneyballing of Everything"
Faculty mentor: Prof. Leander Schaerlaeckens
Elizabeth Mackey – "Crypto in Ten Minutes or Less"
Faculty mentor: Dr. Brian Haughey
Elisa Maddaloni – "Corporate Social Responsibility and Brand Loyalty"
Faculty mentor: Dr. Elizabeth Purinton-Johnson
IN THE PHOTO: Honors student Elise Maddaloni '22 and faculty mentor Elizabeth Purinton-Johnson with Maddaloni's thesis presentation
Do the Right Thing
The fall semester's Ethics Week took place on November 10-11. During these two days, seven talks were presented that explored the importance of making just and conscientious business decisions.
The first two lectures dealt with healthcare. Prof. Anne Zahradnik discussed "The Business of Healthcare: Margin vs. Mission Decisions." Held later the same day, the keynote program featured Megan Diechler, the executive director of Catskill Hudson Area Health Education Center, a nonprofit organization working to improve healthcare access in underserved areas. Entitled "The Social Determinants of Health and Access to Healthcare," her talk was given in conjunction with Dr. Lisa Stephens, senior lecturer of chemistry and the college's pre-health program coordinator. Their discussion focused on themes developed in "Uncomfortable Conversations with a Black Man" by Emmanuel Acho, the book selected as the college's 2021-2022 Common Read.
The presenters of the four remaining talks included members of the faculty as well as several SoM students. Professors Pamela Harper and John Cary tackled "Employment, Pressure and Ethics," while Prof. Thomas Madden and Associate Professor of Environmental Science Dr. Richard Feldman discussed "Sustainability as Ethics." A business major with a concentration in marketing, junior Khmari Awai's program was aptly entitled "Ethics in Marketing."
About 50 people attended the final presentation, "Ethics Matter in Business and Beyond," given by Gabriella Vittoria '24 and Anna Conaghan '23. "We talked about the most common unethical occurrences in business, and why students must conduct business in the most ethical way possible," Conaghan said. "In addition, our presentation focused on how ethical behavior correlates to more success in business.
"Ethics is a topic that we are very passionate about," Conaghan continued, "so giving this presentation gave us a strong self-fulfilling feeling, because we knew we were bringing awareness to important matters."
IN THE PHOTO (L-R): Gabriella Vittoria '24 and Anna Conaghan '23 after their Ethics Week presentation
Liberty Knits delivers again
On December 15, SoM Associate Professor Elizabeth Purinton-Johnson brought 50 gift bags to Liberty Station, a shelter for homeless veterans in Poughkeepsie. Each bag contained a winter hat, scarf or pair of mittens, all of which were knitted or crocheted by members (and friends) of the Marist community. "I was a little nervous when I made a personal pledge to [Associate Professor] Tommy Zurhellen that 50 gift bags would have [handcrafted] items," Purinton-Johnson said. "Then the donations started coming in. My office was filled with bags and bags of lovely handmade items, all to support our veterans and let them know they are remembered."
This is the third consecutive year that Liberty Knits, as this project is called, has provided handmade gifts to local veterans. Purinton-Johnson was inspired to start the program by Zurhellen, who in 2019 walked more than 2,800 miles – from Portland, Oregon to Poughkeepsie – to call attention to the plight of homeless veterans in the U.S.
IN THE PHOTO (L-R): Tommy Zurhellen, Faith Cousens, Elizabeth Purinton-Johnson, and Mercury (Purinton-Johnson's greyhound and a therapy dog) with veterans' handmade gifts. An online instructor in the School of Social Sciences, Cousens will organize the program next year
Sage advice for job-seekers
Current SoM graduate students, along with alumni (both graduate and undergraduate), gathered virtually for "Making a Change: What's Next for Your Career," a presentation offered by career management expert – and alumna – Amanda Augustine on November 6. A certified professional career coach and resume writer, Augustine earned her bachelor's degree in business administration, with a concentration in marketing, in 2004. Her job-search advice and tips have been featured in numerous publications ranging from The New York Times to Forbes, Glamour and Working Mother magazines.
Augustine's presentation offered targeted guidance for individuals at different points in their employment journey, from recent graduates entering the job market to career changers and those looking to get a leg up on the proverbial corporate ladder. She stressed several tactics, including breaking the process of job-hunting into phases; identifying what skills, values and work environments are most satisfying to you; and using SWOT analyses (the acronym stands for "Strengths," Weaknesses," "Opportunities," and "Threats") and other exercises to clarify immediate and future career goals.
Not surprisingly, networking is key: According to the Forbes Business Council, "networking during the pandemic has become more of a necessity than an option." Get the ball rolling by "communicating your goals to your immediate circle," Augustine says. "Also, target those who have indicated they want to help, are interested in meeting new people and networking, and share some common interest or history with you."
IN THE PHOTO: Career coach and alumna Amanda Augustine '04
Golf outing scores big for SoM
The historic and picturesque St. Andrew's Golf Club in Westchester County was the site of this year's School of Management Board of Advisors Golf Outing, which took place on September 27. After enjoying lunch on the clubhouse patio, 120 golfers took to the links for 18 holes played in the scramble format. An additional 30 guests joined the players for a cocktail reception and buffet dinner at the end of the day.
The purpose of the event was twofold: To honor alumnus and college trustee Tim Brier '69, and to raise funds for two SoM scholarships. Brier, who earned his bachelor's degree in business and economics at Marist, is a cofounder of online travel company Priceline.com. The board recognized him for his successful business career, entrepreneurial leadership, and unwavering support of the college.
As a fundraiser, the event was an unqualified success. A total of $30,000 was donated towards the School of Management Term Scholarship, which provides financial assistance to qualified seniors. An additional $35,000 was raised in support of the School of Management Advisory Board Endowed Scholarship, which will exist in perpetuity and benefit future generations of talented students.
The day's activities were organized by BOA Golf Committee members Michael Babic '04, Tim Keneally '69, Greg Garville '74, Kevin Hogan '02, Tom Murray '02, Maureen Solero and Kim Viggiano '02.
IN THE PHOTO (L-R): Class of 1969 graduates Dan Mahoney, Bill Rowley, SoM Board of Advisors Chairman Tim Keneally, and honoree Tim Brier