A man working in front of the computer
May 2019
Learning to Lead
The fourth annual School of Management Graduate Student and Alumni Leadership Development Weekend took place on May 3-4 on the grounds of the U.S. Military Academy at West Point.
Approximately 40 current grad students and alumni — along with SoM faculty members and staff — networked during the Friday evening cocktail hour and dinner, both of which took place at West Point's historic Thayer Hotel. The evening's keynote speaker, Stanley S. Litow, spoke about the ethical challenges facing business and society. Litow is IBM vice president emeritus of Corporate Citizenship and Affairs, and president emeritus of the IBM Foundation; during his tenure with the firm, he helped orchestrate the company's Corporate Service Corps, which trained more than 4,000 employees as community service project leaders.
The unsettled weather notwithstanding, the group reassembled on Saturday morning for an outdoor "urban orienteering" program led by the Thayer Leader Development Group, a West Point-based organization that emphasizes character building as the foundation of strong leadership. The exercise offered participants hands-on experience in leadership, problem-solving, and conflict resolution, among other skills. Later in the day, the current and former students enjoyed lunch at MacArthur's Restaurant and a tour of the West Point Visitor Center and Museum.
"This program aims to hone networking and leadership skills," Dean Lawrence G. Singleton says. "Since most of their coursework is done online, students get to connect with each other — and the faculty — on Friday evening. And the hands-on orienteering program on Saturday offers practical experience in how to work effectively as a team."
IN THE PHOTO: Urban orienteering program participants and facilitators at West Point
SoM holds first international research conference
The first School of Management Undergraduate Student Faculty-Guided International Research Conference was held in the Student Center's Riverview Rooms on April 13. Sixteen students presented the results of research projects developed on a topic related to international business. Affiliate Professor of International Business Detelin Elenkov was the conference organizer and acted as adviser to many of the presenters. Professors Jianing Fang, Pamela Harper, Vernon Murray, Caroline Rider and John Cary also guided the students in their research.
The following is a list of researchers and the titles of their presentations:
Holly Shea '20, Julia Solin '20 and Taylor Ziman '19 — A Comparison of Human Trafficking Structures in the United States and Russia: Social Marketing Implications
Trevor Redl '21 and Rosemarie Smerina '21 — Italy and China's Belt and Road Initiative
Peter Bolt '19 — The Importance of Data Cleaning
Terry Ciccaglione — How Do Hurricanes Affect State Municipal Debt Prices?
Jana Brzovski '19 — Michael Porter's Diamond Model in Respect to Smaller European Countries
Gabriella Zubradt '21 — Geisha Effect: Asian Skin Care Shakes Up the U.S. Beauty Market
Denalda Cupa '20 — Assimilating the Impact of Social Resources of the Future, in the Case of Berlin
Carleigh Teague '19 — A Comparison of Human Trafficking Structures in the United States and the Philippines: Social Marketing Implications
Jeffrey Eng '21 — Levi Strauss IPO
Nicholas Tsilikos '22 — Boeing 737 MAX
Jessica Caunedo '20 — Increasing Risks Associated with International Marketing
Bob Nkubara '19 — Nutritional Education
Amanda James '21 — The Transformation of International Travel
Svyatoslav Kozak '20 — The Retail Side of Amazon and How to Become a Merchant with FBA
MPA program spotlights law enforcement leadership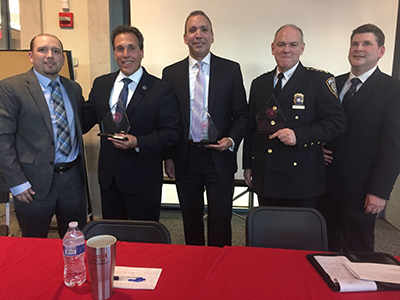 The School of Management's Department of Public and Nonprofit Administration hosted "Leadership Perspectives in Law Enforcement," a panel discussion featuring a trio of the program's distinguished alumni, on April 10 at the Yonkers Public Library. The panelists — Yonkers Police Commissioner Charles Gardner MPA '09, Westchester County Department of Corrections First Deputy Commissioner Louis A. Molina MPA '11, and MTA Police Chief Owen Monaghan MPA '09 — addressed a variety of relevant topics including the importance of community engagement and networking, the evolving role of technology in law enforcement, stress management and mentorship. Cosponsored with the library, the event was live-streamed to current MPA students.
Associate Professor of Public Administration Tony J. Carrizales was the event's organizer and panel moderator. "It was great to hear [from the panelists] how coursework from their Marist degree had made a critical impact in their professional development," Carrizales noted, "especially in building professional connections with their classmates that have carried on throughout their careers."
IN THE PHOTO: From left: Prof. Tony Carrizales, Charles Gardner, Louis Molina, Owen Monaghan, and Professor of Public Administration James Melitski
Business-savvy guest speakers visit campus
The School of Management was abuzz this spring with guest speakers — many of whom are alumni — making presentations to students in finance and accounting.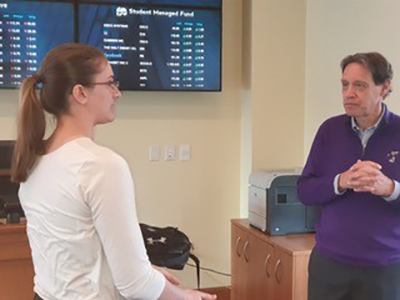 Associate Professor of Finance and Investment Center Director Brian Haughey hosted a total of six speakers this semester. Dean's Board of Advisers member Greg Garville '74, a senior executive advisor to Connecticut-based Brookside Equity Partners, was first up, discussing "Lower Middle Market Private Equity" on Feb. 22. The following week, John Giuffre '17, a Houlihan Lokey financial analyst, spoke about "Private Equity and Leveraged Loans." Both talks were held in the Investment Center; along with Haughey's students, members of the Student Investment Club were in attendance.
IN THE PHOTO: Senior Cheyanne Robinson and Greg Garville '74
On March 27, Stephen Popper, a managing director of SageView Advisory Group — a registered investment advising company — met with finance students. Two dozen students listened as Dow Corporation founder Rodney W. Dow spoke on technical analysis and risk management, and gave a demonstration of his Dow Vector Analysis tool that helps traders with decision-making, on April 5. Recent graduates Sean Sullivan '15 and Nick Arnold '17 both came to campus on April 26. Employed by Citigroup, Sullivan discussed "Fixed-income Trading and Inflation Products," while Arnold — an analyst at Guggenheim Partners — made a presentation on structured products.
Two members of the New York State Office of the Attorney General discussed Medicaid fraud with students in Prof. J. Donald Warren, Jr.'s auditing class on April 16. Chief Auditor Thomasina Smith, CPA, and Jillian White '15, a certified fraud examiner and auditor investigator with the office's Medicaid Fraud Control Unit (MFCU), discussed how the unit works to protect New Yorkers from fraudulent practices, including overbilling, kickbacks, substandard drugs and medical equipment, and "Medicaid mills" run by organized crime. The speakers also provided information on career opportunities in the state attorney general's office.
IN THE PHOTO: From left: Chanel Vitale Marino '12, '16M, Marist assistant director of Annual Giving; Jillian White '15; Thomasina Smith
On April 30, a luncheon roundtable featuring executives from Atlas Air Worldwide Holdings took place in the Hancock Executive Boardroom. Cosponsored by the college's Center for Career Services and the School of Management Career Center, the event's presenters included Larry B. Gibbons '69, senior VP of technical operations and chief procurement officer at Atlas Air; Kevin D. Martin (staff VP of procurement) and Procurement Manager Deanna Horton were also on hand. The trio gave students information on the company, its internship program and employment opportunities.
IN THE PHOTO: The Atlas Air roundtable
Alumni News & Notes
A trio of MPA graduates recently earned recognition from various local and state organizations.
Angela Woods MPA '14 received the seventh annual Rockland County Freedom Award from Deputy County Executive Guillermo Rosa on March 5. A resident of Congers, Woods is a decorated U.S. Army colonel who served in Iraq. Currently, she works as chief of the Health Services Support Team at Joint Base McGuire-Dix in Lakehurst, New Jersey. A specialist in disaster preparedness, she teaches medical units how to respond to catastrophic events like natural disasters and terrorist attacks.
Michael J. O'Keefe MPA '16 was named Orange County Aide to the Grand Marshall for the New York City St. Patrick's Day Parade. A veteran of the U.S. Army — where he attained the rank of major— and the New York City Police Department, he works at Mount Saint Mary College in Newburgh, NY, as the executive director of operations and risk management. An active volunteer, O'Keefe offers his services to the Ancient Order of Hibernians of Orange County and the Newburgh Armory Unity Center.
On April 11, Maurice Catel IV, MPA '16 was promoted to the rank of captain in the New York Army National Guard during a ceremony at the 42nd Infantry Division HQ in Troy, NY. Catel, who lives in Wynantskill, NY, has been in the military for more than 19 years — 13 of them as an enlisted soldier — and served two tours in Iraq. At present, he works as the headquarters battalion logistics officer.
Student Success Story: Ali Kenney '19
"God moves in a mysterious way, His wonders to perform." So wrote English poet William Cowper in the 18th century. Those words would certainly ring true to Alison Kenney, who graduates from Marist this month — and will begin her professional career at Bloomberg L.P. on June 10.
Landing a position at the financial industry's leading software and media company happened in a circuitous way. "I knew that I had to attend the New York City Career Trek in my senior year," recalls Kenney, a Hamden, Connecticut resident. Held every fall, the trek takes small groups of SoM students on site visits to several Manhattan based-companies, where they meet with executives and alumni who work in their particular field of interest. At first, Bloomberg was not on Kenney's list of companies to visit — "but [Professor of Management and Associate Dean for Undergraduate Programs] Joanne Gavin actually changed the track I was on," Kenney says. "She knew that I wanted to work in finance, but not necessarily at a bank. She suggested putting me on the Bloomberg track — and boy, am I glad she did!"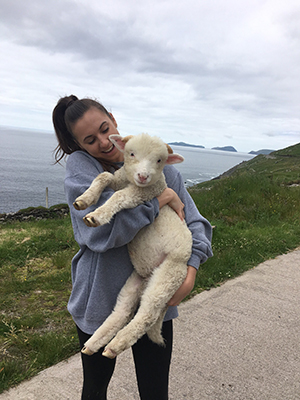 During her trek visit, Kenney connected with employee/alums Madeline Kachou '18 and Briana Ferrentino '16. "Maddie talked to me about Bloomberg, and I said to myself, 'This is a company I can see myself working for.' "
Kenney applied for a position with the firm the following morning. After undergoing an online screening interview, a "super day" site visit that included two behavioral interviews ("they were just conversations," Kenney remembers, "but you had to sell yourself"), and a final round of formal interviews, Kenney was offered — and accepted — a position on the company's financial products analytics and sales team.
Why Bloomberg? "Just walking into the office, the atmosphere was so comfortable," Kenney says. "The two Super Day interviewers were so easy to talk to, I didn't even feel like I was interviewing.
"The real world scares me," Kenney admits. "But from day one the company takes you back to the root of finance and trains you in everything you'll be doing; that sounds like an easy transition from college."
Understandably, Kenney has mixed feelings about seeing her collegiate career come to a close. "I'm so sad to graduate," she says, "but I know that my time here is done. Marist has really equipped me for the next step, and that has me really excited… And a little nervous."
And what will be her fondest memory of her Red Fox years? "That view of the Hudson River just never gets old," she says. "College can be very stressful. I had a dorm room with a direct view of the Hudson from my bed — it was so calming. I just look at that river, and everything's good."
IN THE PHOTO: Alison Kenney snuggles a lamb during the SoM's short-term attachment program trip to Ireland in 2017