A man working in front of the computer
School of Management Newsletter: November 2017
Running with the bull(s)
On October 26, the School of Management hosted its fourth annual New York City Career Trek.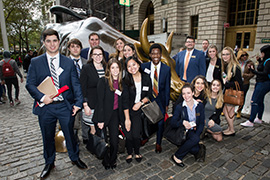 This daylong event brings undergraduates to Manhattan for site visits to various high-profile firms; this year's list included Goldman Sachs, Ernst & Young, Ogilvy & Mather, Cisco Systems, and IBM, among many others. Students choose a particular track — such as finance, marketing, human resources, or accounting — that corresponds to an industry or area of business in which they are the most interested. Each group then visits two or three firms; most often, an employee who is also an SOM alumnus meets them at the door.
The event's purpose is twofold: It offers students a glimpse into the working world, and paves the way for them to apply for internships and (eventually) jobs in the companies they visit. At the end of the day, all the participants — students, faculty, staff and alumni — attend a reception, which this year was held at the Club Quarters Hotel in midtown.
"This year's Career Trek was an even bigger success than the one held last year," said Joanne Gavin, associate dean for undergraduate programs. "A total of 150 students took part, and 20 different companies hosted them. The reception was awesome; about 60 alumni attended. It was a great day for everyone."
This was junior Paulo Siracusa's first Career Trek. "I was in the finance track, and I visited J.P. Morgan and Goldman Sachs," he said. "I was invited to attend the J.P. Morgan 2018 Wealth Management Summer Analyst Program – Latin America SuperDay," he said. "This was the last round of interviews for an internship position with their Latin America group." During the reception, the alumni he met "gave me a lot of advice on preparing for interviews. They told me what behavioral and technical questions I should be expecting to answer, and what classes I should take to be best prepared when starting a job at a bank. I believe that I got to the last stage of the interview process due to the networking experience."
Meet & Greet/Lunch & Learn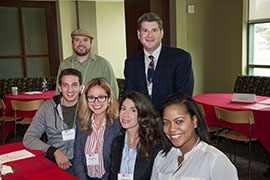 Graduate students, alumni, faculty, staff — even a few undergrads — gathered in the Cabaret on October 14 for the School of Management's Fall 2017 Graduate Student and Alumni Event.
[Grad Event] Participants at the afternoon get-together mingled with classmates and professors, enjoyed a buffet lunch, visited information stations staffed by professionals from various industries, got advice from the "Resume Doctor" (aka Prof. Ken Coletti), and took part in a scavenger hunt for prizes.
Director of IBM Analytics John J. Thomas was the event's keynote speaker. "Data and analytics play a huge part in how companies do business," he said. "And a unified approach to data governance and quality management is essential." Thomas outlined the latest developments in big data collection and analysis, and delineated which data skills are needed to land a position or promotion.
Both current students and alumni had positive impressions of the event. "I'm trying to build my network and look for an internship for next summer, so I thought this would be a good place to start," said undergraduate Natalie Slawuta '20. Tom Cantarella, a graduate of the college's Organizational Leadership and Communications program, completed his MBA last summer. "I try to come to as many alumni events as possible," he said. "This program was interesting, there was a lot of good information presented."
"I'm interested in the networking aspect," said current MBA student Janet Cobb, "as well as meeting with the Resume Doctor. I'm trying to change fields, so I need advice on how to transition. And of course I came to see the professors."
IN THE PHOTO: Prof. James Melitski (back row on right) visits with event participants
Native Intelligence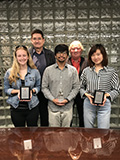 A quartet of School of Management students placed second overall in the inaugural International Business Case Competition at San Diego State University in California.
The competition, which took place on October 19-21, brought together undergraduates from colleges throughout the U.S. Each of the teams was tasked with brainstorming the best solution to an international business-related case study within a limited amount of time.
In true David-and-Goliath fashion, the team's second-place showing was a stellar achievement for several reasons. This was the very first time Marist has fielded a team in an international business competition. All four team members — Madeleine Durand, Prateek Samal, Natasha Cacho, and Yihan Wang — are juniors; most of their competitors were seniors. The team practiced together for just four months. Perhaps most impressive was the fact that the Red Foxes bested squads from several larger institutions with strong international business reputations, including Villanova, George Washington University, and the University of Southern California. Washington State University took top honors in the event.
"In the semifinals, our team was a close second," said Detelin Elenkov, visiting professor of international business and the team's faculty adviser. "And in the final round our students made the best presentation from a practical point of view, according to a spokesman for the judges. Most importantly, everybody came to congratulate us for our achievement."
"Participating in case study competitions such as this one is an invaluable experience for our students," said Elizabeth Purinton-Johnson, SOM associate professor of marketing and chairperson of the Department of Organization and the Environment, which includes International Business. "They get real-world practice in how to think critically and present their work in a way that's both persuasive and compelling."
"The globalization of the economy grows every day," said Dean Lawrence G. Singleton. "Increasingly, business students need to understand not just how U.S. markets operate, but how economies function in countries and cultures throughout the world.
"We're excited about and proud of our team's showing in San Diego. I hope their success will shine a national spotlight on the strength of our business programs here at Marist."
To learn more about the competition and view a list of participating schools, click here.
IN THE PHOTO: From left, back row: Dean Lawrence Singleton and Prof. Detelin Elenkov. Front row: Teammates Madeleine Durand, Prateek Samal, and Yihan Wang. Not pictured: Team member Natasha Cacho
School of Management hosts start-up challenge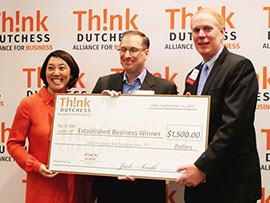 The Marist Murray Student Center was the site of the inaugural Think Dutchess Innovation Challenge Competition.
[Think Dutchess] Hosted by the School of Management, the September 14 face-off "is designed to encourage start-ups to plan their enterprises better and to engage with regional support services," said Think Dutchess CEO Sarah Lee. Finalists in two categories — Young Business and Pre-venture Business — pitched their product or service to a panel of judges. When the dust settled, Richard Romano and Danny Gonzalez, respectively, were pronounced the winners. Romano is the creator of Screamin' Onionz, a fiery condiment made with natural ingredients and no added sugar. Gonzalez is a partner in Facticiti, a Web-based assessment firm that matches a client's personal interests with job requirements.
"The day that the School of Management hosted the Think Dutchess competition was the same day that the school's IDEA Center was launched," said Associate Dean James Phillips. "Led by Jay Pantaleo, the school's director of executive programs, this effort works with students who wish to explore their ideas for opening and running their own businesses."
Phillips emphasized the importance of cultivating entrepreneurship on the undergraduate level. "According to several CEOs of major corporations, including Wall Street firms, the interest by college students in becoming entrepreneurs is at its highest levels. Here at the School of Management, we believe that the timing for the IDEA Center launch will leverage this interest at Marist and provide students with valuable 'hands-on' guidance in this area."
(Additional information on the IDEA Center will appear in a future issue of this newsletter.)
IN THE PHOTO: Screamin' Onionz creator Richard Romano (center) receives his prize from Think Dutchess CEO Sarah Lee and event sponsor Jack Smith of William A. Smith & Son Insurance
Alumni Profile: Vito Pagano '03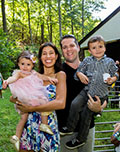 A 2003 School of Management graduate, Vito Pagano is the president and CEO of Independent Merchant Group (IMG); headquartered in Westbury, New York, the company also has offices in Boston and Florida. A Long Island native, Pagano lives with his wife Alexis, four-year-old son Christian and two-year-old daughter Jordan in Oyster Bay Cove. Although his business and young children keep him busy, in his off hours Pagano enjoys collecting cars and "loves-loves-loves boating" in Long Island Sound.
Q: Would you briefly describe your business career up to this point?
A: Right out of college, I worked for Pitney Bowes. I achieved 256 percent of my sales goal and won the national Rookie of the Year award. I was then recruited by Bank of America Small Business. I worked in merchant services with businesses that accepted Visa and Mastercard payments; I was a top performer. A year later, I was promoted to vice president of the company's Global Corporate Investment Bank, where I oversaw businesses that accepted [credit card] payments of $80 million to $2 billion a year and greater. I was one of 16 in the country at that level, and I was just 27 at the time. I was trained on the internal strategies of the bank and learned to recognize the value that a bank brings to a business.
In 2009, Bank of America asked me to sign a three-year non-compete agreement. Fast-forward two years, I'm about to get married, and they wanted to restructure my whole compensation package. I decided to leave and started my own industry. I started the first company in the country that said to companies, "Instead of changing banks and financial institutions, let me create transparency for you. I can validate that what the bank is charging you [for credit-card transactions] is best-in-class pricing, and that there are no erroneous fees in your statement."
I had no competition, and companies valued our service. After about two years, I developed software that reversed-engineered line item fees on a bank statement, exposing all the miscellaneous surcharges the bank was charging and bringing them to the attention of the merchant. This allowed us to grow. When we were acquired by a private equity group two years ago, we were doing a little better than $22 billion in Visa/Mastercard valuations.
Q: What made you decide to start your own company?
A: When the merchant services division of Bank of America was sold, I saw how the new owners changed compensation packages. They can totally change your whole future in one day. That was a real eye-opener. And because I grew in the bank so quickly, I recognized opportunity in the middle-market sector. Those two factors led me to start my own venture.
Q: That must have been a little frightening.
A: Oh, God. (Laughs.) It was quite the experience, to say the least.
Q: What is the best — and the worst — thing about being an entrepreneur?
A: The fact that every day is new and different. I like having to decide whether I'll spend the day out in the field doing nonprofit charity work, or cold-calling with my team, or doing a trade show. It keeps work exciting.
The one negative is that you're working hard all the time. People think, oh you're the boss, you can do what you want. But the reality is that you work harder than everyone else. Since I sold the company it's allowed me to reset my life and spend a lot more time with my kids. I have a very blessed life.
Q: Do you have any advice for students who might be thinking of one day starting their own firm?
A: Obviously, you first need to build a professional career. If you have the passion and fire to start your own business, you should go with it. I believe God doesn't give you a test that you can't pass. When you face challenges in business, you should look at them as learning experiences. Grit and good faith — that will get you through anything.
Getting to know… Prof. John Finnigan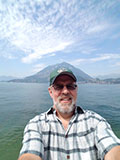 For John P. Finnigan, senior professional lecturer of finance and economics in the School of Management, making the transition from a 20-year career on Wall Street to the halls of academia was "a family decision."
Finnigan and his wife Karen are the parents of five children who range in age from 29 to 11. "I worked primarily at Dean Witter and Morgan Stanley in the 1990s," he says. "Initially I worked in operations on the municipal trading desk. By the end I was the CFO of BusinesScape, a small business management subsidiary of Morgan Stanley." Dealing with work and family obligations was manageable when his office was in downtown Manhattan; after 9/11, however, "I was moved all over the place: first to Jersey City, then to midtown, then the upper east side. My commute changed from half an hour to two and a half hours each way." During the same period, Karen had gone to medical school and by 2003 had earned her degree and joined a practice. These circumstances — along with the fact that two of their children were not yet in school — spurred him to change course. "It was too much," he recalls. "The long days were always there, but the commute beats you down. Leaving [his job] wasn't that difficult. I see my friends now and they say, 'Don't you want to come back?' And I say no, not really. I don't miss it."
His teaching career actually began at Dean Witter. "We had an orientation and a 'Welcome to Wall Street' class," he said. "They didn't have instructors, so I volunteered." Coming from a long line of teachers — his father, sister and niece all work in the classroom — Finnigan was more than up to the task. "It was natural for me, I had no inhibitions about teaching." A 2003 meeting at Orange Community College resulted in an adjunct position teaching an entrepreneurship class; soon after, he signed on to teach investment and economics courses at Marist.
To be successful on Wall Street, he tells his students, "You have to look at everything as an opportunity. Once you get your foot in the door, it's up to you to prove yourself. You need to grasp the concepts, have common sense and self-awareness — and you've really got to work hard.
"I give my students extremely difficult tests," Finnigan admits. "Some will come back and say, 'I've never failed anything before.' I say it's a good thing that you're experiencing it now so you can rebound. Those who bounce back will do well: They faced adversity and weren't scared by it. That's a good trait to have in this business."
Like many of his colleagues, what Finnigan enjoys most about his job is the students themselves. "By and large, they're really good kids and respectful. They enjoy the fact that they're getting an honest view from someone who has actually worked in the field."