A man working in front of the computer
School of Management Newsletter: September 2017
New accounting masters program now available
In late June, the New York State Education Department approved the School of Management's new Master of Science in Professional Accountancy (MS/PAccy) program.
This innovative, 30-credit graduate program allows students to simultaneously earn a master's degree and satisfy the 150 semester hours they need to become licensed as certified public accountants. Students will complete the program's 10 required courses through a combination of both online and in-class sessions, a number of which will be held during the summer months.
"The Marist Master of Science in Professional Accountancy provides an opportunity to strengthen foundational accounting knowledge in a timely and flexible manner and encourages students starting out in the accounting profession to seriously consider this quality program," says Stephen J. Cosgrove, chair of the Dean's Board of Advisers.
The new program has two features that should attract potential candidates, says Dean Lawrence Singleton. "Students will have the ability to complete the program in a short period of time. Marist undergraduate accounting students who are admitted to the program in their junior year can earn both the B.S. in accounting and the M.S. in professional accountancy in as little as four years and four months." In addition, Singleton says, the program gives students "the opportunity to enjoy an accounting internship during the traditionally busy winter season, when they can get the best possible public accounting experience."
The MS/PAccy program was developed — and shepherded through the state approval process — by Prof. J. Donald Warren, Jr., Schlobach Distinguished Chair in Accounting and the director of the program. Having retired from a Big-Four accounting firm, Warren has extensive experience in addressing the attributes for success in an accounting career. With the adoption of the 150-hour CPA licensing requirement, he notes, "the game has changed. For students entering the accounting profession or the corporate world, a graduate degree is more advantageous than an additional 30 semester hours in undergraduate studies. Many of their peers (and competitors for positions and promotions) from other colleges will have completed a five-year, 150-hour program that awards them a graduate degree in accounting."
Assisting Warren with the program development process were Associate Dean for Academic Affairs Kate Donham, SoM Director of Undergraduate Advising and Student Services Jean Theobald, and SoM Director of Executive Programs Jay Pantaleo. Professors Ken Coletti, Phil LaRocco and Greg Tully provided information necessary to prepare the program's proposal.
Financial Gains
Sixteen undergraduates took part in the School of Management's ASPIRE Finance Program last summer. An acronym for "Accelerated Summer Program – Italian Residential Experience," ASPIRE is a six-week stint at the Palazzo Le Monnier, Marist's residence in Florence. Although overnight excursions to Rome and the Italian Riviera are part of the itinerary, the students spent most of their time hitting the books: They completed three finance-related courses — taught by program organizers and SoM professors John Finnigan and Brian Haughey — thereby earning a total of seven academic credits.
Now in its second year, the program "allows students who might not otherwise have room in their schedules the opportunity to travel overseas," says Haughey. "And, as the 'accelerated' in the name alludes to, finance students potentially can complete their emphasis in their sophomore year, thereby allowing them to take advanced finance electives in their junior and senior years."
Stephanie Secor '20, one of this year's ASPIRE participants, had high praise for the program. "It provided the opportunity to meet new people and explore different cultures while furthering our education," she says. "And it allowed many of us who are unable to spend an entire semester away from campus to still have a memorable abroad experience."
Faculty Focus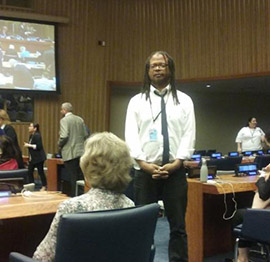 On June 23, SoM Prof. Vernon Murray — along with Marist professor of psychology Sherry Dingman — took part in a meeting on human trafficking organized by the United Nation's General Assembly. Murray and Dingman attended the session as representatives of Fang Protective Services, a nonprofit organization that has "consultative status" in the Economic and Social Council of the U.N. Along with their service to Fang, the two professors are involved in research on human trafficking.
"A Seat at the Table" is the title of Prof. Tia Sheree Gaynor's interview on No Jargon, a weekly online podcast series hosted by the Scholar's Strategy Network. Gaynor discusses her research into the gap between local government decision-making and the residents who are most affected by those decisions. (View the podcast here.)
Dean Lawrence Singleton has been elected to the Beta Gamma Sigma Board of Governors. Founded in 1907, this international honor society is the premiere honor society recognizing business excellence, and is often described as the "Phi Beta Kappa of business." Along with his election, Dean Singleton was selected to chair the 16-member board's audit committee.
IN THE PHOTO: Prof. Vernon Murray at the U.N.
Alumni Profile: The Rev. Maryann Berry '75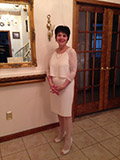 "If anybody had told me this is what I'd be doing today," says the Rev. Maryann (nee Paradiso) Berry '75, "I wouldn't have believed it. I have a degree in business. I thought I'd be working in the city. But here we are, teaching the word of God."
Along with Wayne, her husband of 42 years, Maryann is co-pastor of John 3:16 Christian Center in nearby Union Vale, NY. Her adult children, Maria and John — along with their spouses, Michael and Jessica — are all ministers in the 300-member church. Maryann also develops coursework and teaches at the center's accredited bible college, which offers a bachelor's degree in Christian theology.
Berry's journey from B-school graduate to cleric was a circuitous one. Born in Brooklyn, she spent her teens in Poughkeepsie. She enrolled at Marist and spent two years studying French; a love of music took her to Manhattanville College in Westchester for one year. Eventually she returned to Marist where she completed her B.S. in business administration. All parts of this disparate educational path have come in handy, Berry says: "I lead the music at the church, I do the accounting, and the language study helps me with the sermons."
Originally a member of the Catholic faith, Berry says she was called to the ministry after suffering through an 18-month illness that her doctors couldn't remedy. "I went to a prayer meeting with my mother at an Episcopal church," she remembers. "I sat by the exit door. I thought they were all crazy people." But the experience had a lasting impact: Berry turned to prayer, and her illness abated. "Something happened to me," she says. "We knew that something was changing, that God was calling us into the ministry." Berry described this experience in her first book, "Answered Prayer."
Earlier this year, Berry published "Why Are You Sleeping: A Spiritual Look at End Times." The book, she says, "deals with prophecies of the end of times, and where the church stands. It tries to answer questions — is Jesus going to return? Is Christianity the only road to truth? Will there be an antichrist? — from a biblical perspective." (Visit her website for ordering information.)
Berry credits her time at Marist with cementing her love for studies. And being "the only woman in the marketing class helped me develop confidence. What I learned gave me an incredible foundation of who I am today."
Getting to know… Joanne H. Gavin
Joanne Gavin, the School of Management's associate dean of undergraduate programs and professor of management, says she came to her academic career "by default." Becoming a college professor "was not necessarily my goal when I went back to school for my Ph.D.," says Gavin, now in her 16th year at Marist. "But it's been a great life. And I love teaching."
The New Orleans native is one of three Gavins currently offering instruction at the college: Husband David (also from the Big Easy) is an associate professor of management, and their daughter Dana is an adjunct instructor in the English department and works in the college's writing center. Joanne and David now make their home in nearby Hyde Park.
Joanne earned both her BA and MBA at the University of New Orleans, after which she established a career in hospital administration/healthcare. "My last job, staffing rehab centers for a national firm, got outsourced," she says. "I wound up going back to school to earn my Ph.D. [at the University of Texas at Arlington]. My degree is in organizational behavior, which is the application of psychology to the workplace. I had worked for some really, really bad bosses; I figured I could make an impact by helping to educate better managers."
Gavin entered the academic job market in August 2001. At that time, "there were more jobs than people," she says. "Then 9/11 happened. State-funded schools pulled their open positions off the market, and only small, privately funded colleges were hiring." After interviewing at Marist, the Air Force Academy and Le Moyne College in Syracuse, Gavin chose to relocate to Poughkeepsie.
"We really wanted to go home to New Orleans, but we decided we'd come east for a short while, just until thing settled down," she says. "Then Hurricane Katrina hit… Life happens. We miss home and our families, but we love it here."
Along with her classroom duties, Gavin is "totally focused" on her responsibilities as associate dean of undergraduate programs, a position Dean Singleton asked her to assume four years ago. "There are three primary things I deal with: the New York City Career Trek; the SoM Ambassadors; and the undergraduate program review committee, which handles all academic issues." She also serves as the faculty adviser for the Ethics Team and as the academic mentor of the men's tennis team.
Gavin has just returned from a sabbatical, during which she, husband David, and UT professor James Campbell Quick wrote a book for the American Psychological Association. "It's about how to create safe college campuses under Title IX in order to protect women from sexual assault," she explains. "I spent a year reading about women being abused at every level. It was depressing, but I felt it was really important and that doing it right mattered."
While New Orleans may be long plane ride away, Gavin is thrilled to be part of this college community. "Marist is a great combination of student involvement and academic rigor. Not that we're unique, but you don't find that everywhere. It keeps the faculty crazy busy, but for me it's what makes Marist so wonderful."