Student Achievement
IMC Students Team Up With City of Beacon, Local Nonprofit on Innovative Bus Project
September 4, 2018–Anyone who has visited Beacon, New York knows that it is a vibrant and trendy community anchored by the modern art museum Dia: Beacon. So when the City of Beacon wanted to reimagine Dutchess County Public Transit's Route D as a way to support Beacon's artistic and cultural attractions, they called on Marist's student-run integrated marketing firm, North Road Communications (NRC), for help. The project's aim was to spark new interest in the bus route by creating an arts-focused rebranding of the bus and several bus shelters in the city. After months of work, the colorful "Beacon Free Loop" made its debut on August 22 and is now being enjoyed by tourists and residents alike. The Free Loop ferries passengers all day Monday through Saturday beginning at the Beacon train station and Dia: Beacon, up to Main Street, and on to Mount Beacon Trailhead. The bus itself is a work of public art, its bold blue design a vibrant reminder of Beacon's creative energy.
The students of NRC played a pivotal role in the coalition that brought this innovative project to fruition. To help the City of Beacon realize its vision, NRC partnered with BeaconArts, a nonprofit that fosters and encourages the advancement of Beacon as a center for arts and culture. NRC has been BeaconArts' communications partner for a number of years, and for this most recent collaboration, NRC focused on both strategy and creative vision for the free bus loop, supporting the BeaconArts team and providing the new wrap design on the bus. The students worked closely with Kelly Ellenwood of BeaconArts, as well as with Beacon officials for final approval.
The Beacon Free Loop project was led by NRC account executive Alicia Del Vecchio '18, a communication major from Stamford, Connecticut; and art director Brianne Linden '18, a digital media major from North Easton, Massachusetts. They received key artistic and strategic support from fellow students Brendan O'Sullivan '18, a business administration major from the Township of Washington, New Jersey; Emily Jones '19, a communication major from Contoocook, New Hampshire; Katelyn O'Keefe '19, a communication major from Albany, New York; and Bridget Murtha '20, a communication major from River Edge, New Jersey.
NRC allows Marist undergraduates to gain hands-on experience outside the classroom before entering the working world, while providing high-quality services to organizations in the region. "The students in NRC have been given invaluable experience working with local clients like BeaconArts. The lessons learned in the classroom are put to work here. Over the last year, NRC has transitioned from a student-run PR firm to an IMC firm. The Free Loop project is an example of dedicated students from a couple different concentrations," said Professional Lecturer of Public Relations LoriBeth Greenan, who serves as faculty advisor for the firm. NRC currently consists of students majoring in PR, advertising, business, marketing, and studio art, among other majors.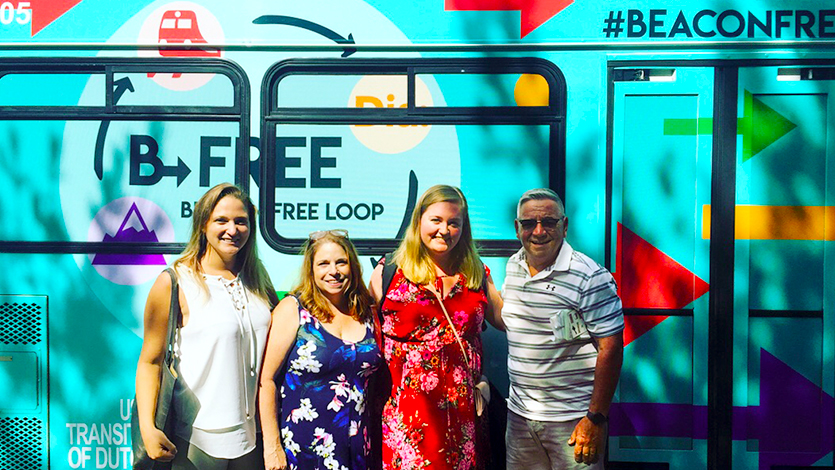 Pictured (l-r): Jackie Gruber '19, NRC Director; Kelly Ellenwood, ex-officio President, BeaconArts; Brianne Linden '18, former NRC Art Director; Beacon Mayor Randy Casale

What started as a student capstone project in 2011 now operates with 50 members and eight clients, accepting applications from local nonprofits throughout the year and allowing students to work on a variety of projects with each. Aside from BeaconArts, other NRC clients include Meals on Wheels of Greater Hyde Park, Ty Louis Campbell Foundation, Beacon Independent Film Festival, Hyde Park Visual Environmental Committee, Big Mouth Coffee Roasters, and the Magazine Media division of AEJMC. Past clients also include the Joint Journalism and Communication History Conference and the Mid-Hudson chapter of the National Alliance on Mental Illness. The Beacon Free Loop Bus project was one of the first IMC clients that NRC welcomed, and the firm looks to continue its transition from public relations to IMC functions.