Alumni
Marist's Maryellen Guardino '07 Awarded Forty Under 40 Mover and Shaker Award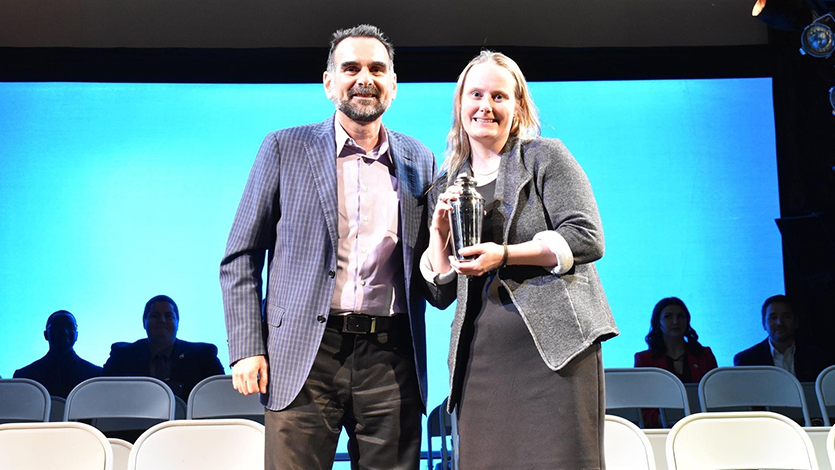 April 21, 2022 — This month, the Dutchess County Regional Chamber of Commerce honored some of the Hudson Valley's up-and-comers, among them was one of Marist College's very best. Maryellen Guardino, Marist's Director for the Office of Accommodations and Accessibility and adjunct faculty member, was named a Forty Under 40 Mover & Shaker for 2022. These awards are bestowed annually to 40 individuals under the age of 40 who have shown a strong commitment to the Hudson Valley.

Also, a Marist alumna Guardino '07 has always had a passion to work with students with disabilities, majoring in psychology and special education while a student. "I enjoy helping others and want to see students with disabilities excel in the college environment," she said. "I enjoy working in the higher education setting and hope to advance professionally as I grow in this field."

Guardino is a multi-degree holder from Marist (undergraduate and two graduate degrees). As an undergraduate, she was class Valedictorian, Student Government Association President, and a member of the Marching Band.

The Marist Office of Accommodations and Accessibility works to empower students with documented disabilities to be independent learners. Guardino and her team ensure that students in need have the appropriate accommodations and services needed to access the full potential of a Marist College education.
"Maryellen exemplifies the Marist Brothers' motto of doing good quietly," said Robin Diller Torres, Assistant Dean of Student Engagement & Leadership. "While she is not one who seeks or even enjoys this kind of attention, in short she is a 'phenom' and a perfect choice for this recognition. Whether it is parents, students, alumni or community members, she is loved and valued for her passion, skills, diligence and dedication."

Guardino has also been an Advisor to Marist's fundraising events for St. Jude's, and under her watch, the Marist team has consistently won awards for raising the most for this cause.