Academics
The New Shape of Education: A "Triangle Approach"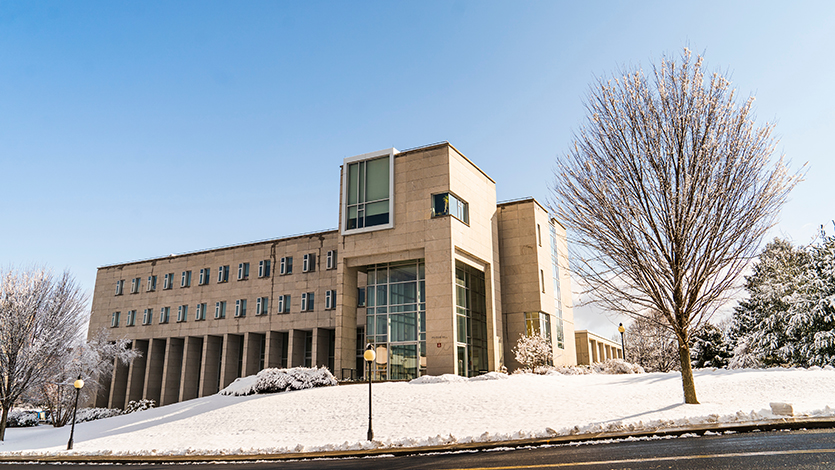 Many Marist students adopt a "triangle approach" by combining traditional majors with pre-professional minors and internships. It's preparing them for a complex and ever-changing workplace.

January 10, 2020—A Marist education is both grounded in the liberal arts and focused on real-world experience. During their time at the College, Marist students benefit from both exemplary teaching and distinctive learning opportunities, and they go on to successful careers, elite graduate schools, and nationally competitive fellowships. And employers value the skills gained through study of the liberal arts: critical thinking, the ability to write well, and a broad knowledge base. Increasingly, the College's interdisciplinary approach to learning and flexible curriculum are empowering students to diversify their thinking and be more expansive in their academic inquiry.
No one is taking a more innovative approach to preparing students for workplace success than the School of Liberal Arts (SLA). With a cross-disciplinary mindset, SLA is encouraging its students to explore multiple academic areas of interest to increase their marketability after graduation. This approach has been dubbed the "Triangle Approach," and SLA students are using it to pursue a strategic combination of studies. For example, a student might choose to have a major and two minors, or a double major with a minor. In this culture of collaboration, an English major who wants to write about environmental issues might add minors in environmental studies and public relations or journalism. History majors interested in immigration issues are adding social work and Spanish minors. A political science major with interests in gender equality and the legal profession might consider a minor in Women's, Gender, and Sexuality Studies and a Paralegal certificate.
According to SLA Dean Martin Shaffer, "Expanding beyond your chosen major is a wonderful opportunity to become more well-rounded and better prepared for the job market. It makes you stand out, and future employers will definitely take notice. We have many examples of students who have used the triangle approach to build successful careers." He notes that Marist's flexible academic culture makes it easy to double major or to add minors. In addition, the College is small enough that students receive mentoring and advisement to help them build their own triangle. Notes Shaffer, "An academic triangle gives students a strategic story to tell when they go on job interviews. It gives them that 'something extra.'" Combined in many cases with the internships, community service, and experiential learning the College is known for, Marist students are going on to great things.
Bernadette Hogan '17, New York Post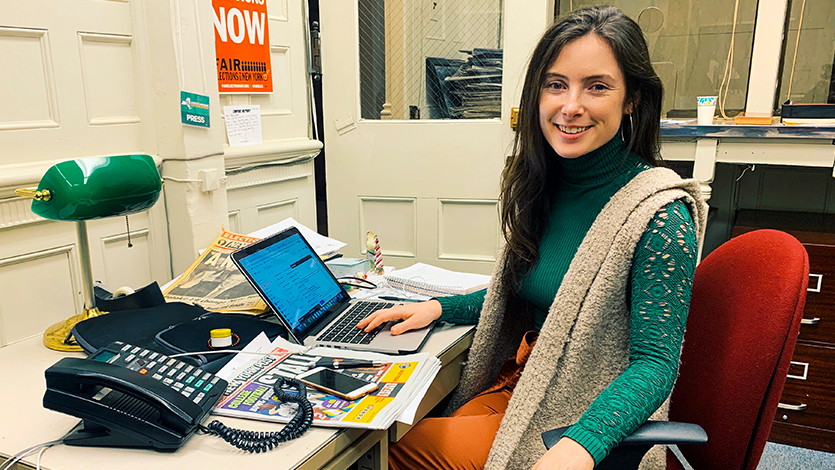 Bernadette Hogan '17 has found that you don't have to major in communication to have a successful career in journalism. For the past year, she has been a political reporter for the New York Post (she was previously a video producer for Spectrum News' nightly statewide political show). As the newspaper's sole representative in Albany, she covers state-level issues such as the vaping epidemic, providing driver's licenses to undocumented immigrants, and the measles outbreak. Hogan has even gotten to work on a Marist-related story, namely that of Associate Professor of English Tommy Zurhellen, who walked across America last year to raise awareness of veteran suicide and homelessness. Says Hogan, "I pitched the story to my Sunday editors, who ended up loving it and wanting to know more about his travels and who he met. The story ended up being a big spread on page three of the New York Post."
In Albany, Hogan works alongside a group of bureau reporters from other media outlets who serve as a supportive network for one another. She's finding that they also help her sharpen her game as she advances in her journalistic career: "New York State is a mammoth entity with so much money, power, and history that it's tough to break into. The best reporters have been up here for years and are brilliant. I feel like I'm at the Super Bowl every day." As if that didn't keep her busy enough, Hogan is also a regular guest on weekly political roundup shows.
Notes Hogan, "The liberal arts education I received at Marist really prepared me for what I'm doing now. All of those subject areas really converge in politics." A double major in English and philosophy, Hogan also minored in Spanish and theatre while at Marist, indulging her interest in multiple academic areas and gaining a well-rounded perspective. She says, "I'm a firm believer in the liberal arts, so it was important to me to have that type of undergraduate experience. Marist's small class sizes were a huge plus, as was the study abroad program." At Marist, Hogan had the opportunity to write both news and opinion pieces for the College's newspaper, The Circle, ultimately serving as editor-in-chief. She adds, "Doing op-ed pieces in particular was a great experience because it helped me really think through national topics." As a student, Hogan interned with the political unit of NY1 and participated in Marist's Albany Summer Internship Program, working at The Vandervort Group LLC, a lobbying firm in the state capital. The experience proved to be a great introduction to state politics.

Hogan has advice for students looking to get into the competitive world of journalism: "Learn to become a great writer and speaker and develop the skills that make you versatile. Ask yourself, 'What can I do to set myself apart from others?'"
Megan Nickel '19, The Overbrook Foundation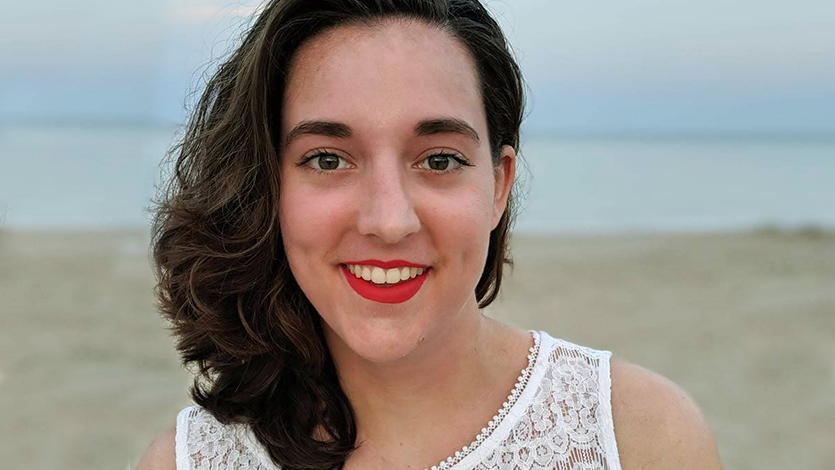 Recent Marist graduate Megan Nickel majored in environmental science & policy (concentration in policy), receiving the Baccalaureate Award for Excellence in Environmental Science, and was part of the Honors Program. As a student, she completed internships with Environmental Advocates of New York in Albany and at Scenic Hudson in Poughkeepsie, developing a real appreciation for non-profit organizations and gaining serious policy expertise. Her internship for Environmental Advocates, which came through the Albany Summer Internship Program, included lobbying legislators about proposed legislation and doing research relevant to bills and events. Her Scenic Hudson internship, through the Tarver Summer Internship Program, was even more ambitious: Nickel developed and managed a pedestrian needs assessment of the Poughkeepsie's Southside area and presented the findings to the City Common Council. As part of group capping project with other environmental science students, she assisted the Village of Rhinebeck by developing a flood prediction model, researching methods to mitigate flooding, and identifying grant opportunities. She presented her report and summary at the Village's board meeting.
In addition to her major in environmental policy, Nickel also had minors in Spanish, political science, and Latin American & Caribbean Studies, broadening her perspective significantly. During senior year, she spent a semester in Costa Rica studying sustainable human development and Spanish at the International Center for Development Studies in San Jose. While in Costa Rica, Nickel developed her professional skills by volunteering at Molinos Verdes de Moringa, a network of urban gardens, and by completing a two-week intensive experience at Finca el Tablazo, an organic and sustainable farm. Separately, she continued to hone her Spanish-language ability during a Campus Ministry-sponsored service trip to Merida, Mexico.
With a deep interest in both environmental justice and international development, Nickel parlayed her academic preparation and hands-on experience into a position as an environment program assistant at The Overbrook Foundation. Based in New York City, Overbrook is a progressive family foundation that supports organizations advancing human rights and conserving the natural environment. Nickel has a variety of responsibilities. She and her colleagues meet with, learn from, and support environmental non-profit organizations that work on areas of movement building, corporate and consumer practices, innovation, and Latin American biodiversity conservation. While grantmaking is the foundation's primary function, they stay informed of trends in the environmental field and produce reports and other projects
Says Nickel, "Having an interdisciplinary education has been incredibly helpful in my role at Overbrook and in philanthropy in general. A central principle of environmental science is the interconnected nature of the planet. Through my background in Spanish and Latin American and Caribbean studies, I have practical communication skills and I also understand the social, cultural, and historical context for environmental disputes. My background in political science has familiarized me with how and why decisions are made in government, and in turn, how citizens may influence government. An interdisciplinary, liberal arts education has prepared me to look at complex systems, recognize correlation and causation, and make and defend decisions." In particular, Nickels notes that low-income and non-English-speaking communities in the US are often on the frontlines of environmental clashes, so the ability to communicate in Spanish allows her to actively work with communities that are bearing the brunt of the climate crisis.
Her biggest piece of advice for students? "Take what you've learned in the classroom and run with it. Your internships, projects, and experiences set you apart and prepare you to make a difference in the world."
Joe Theall '16, Suffolk Law School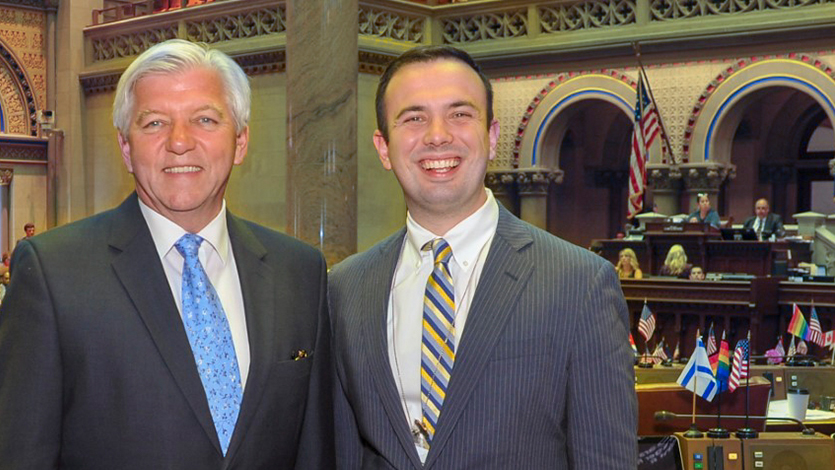 At Marist, Joe Theall '16 majored in political science with a concentration in public administration, and he added minors in accounting and cinema studies. In addition, he was a member of the Honors Program. Theall notes, "I have always been interested in the underappreciated role of local governments and thought the combination of courses offered in the public administration program and accounting would provide me with the practical skills to work in a municipal management role post-graduation. Taking courses such as Public Finance, Governmental Accounting, Tax and Public Administration gave me a great skill set that set me apart from other graduates." Theall's approach to his education also enabled him to make the most of his time at Marist and get to know great faculty from different academic schools. As he puts it, "Taking on a concentration and two minors allowed me to really sample the best of everything the College has to offer."
After graduation, Theall had originally planned to return to his home state of Massachusetts to work in a policy or legislative role, but he was drawn back to the Hudson Valley to work as finance assistant for Zephyr Teachout's congressional campaign in New York's 19th District. After the election, a committee clerk position opened up in the Albany office of Assemblyman Kevin Cahill (D-Kingston). Says Theall, "I often joked that it was exactly the job that I wanted after graduation but in in the wrong state; however, the opportunity ended up providing tremendous personal and professional growth opportunities." Working with a senior member of the New York State Assembly who was chair of the Insurance Committee gave Theall the chance to research and further legislation on complex issues such as codifying provisions of the Affordable Care Act, modernizing the ride-hailing industry in Upstate New York, and ensuring insurance coverage of updated healthcare technologies. As Theall remembers it, "The work was demanding, and I often drew upon the analytical and writing skills I developed in my political science courses. Whether writing a policy-focused press release or a bill memo, I was always relying on the research and writing abilities honed in my liberal arts education at Marist." Outside the office, Theall coordinated the fundraising for Assemblyman Cahill's re-election campaign, where he made good use of the skills developed in his Marist accounting courses.
Theall always knew that he wanted to pursue an advanced degree and return to Massachusetts, so law school was a logical next step. In 2019, he enrolled full-time at Suffolk University Law School in Boston, where he's a member of the Suffolk University Law Review and teaching assistant for a first-year contracts course. Recently, he accepted a position as a summer associate at Ropes & Gray LLP, a prestigious international law firm headquartered in Boston. Says Theall, "My focus has changed somewhat, and I am now exploring opportunities in corporate law. With my exposure to business coursework at Marist and friends who have gone on to exciting roles in investment management and emerging businesses, I've always had a curiosity about private-sector work." He believes that the analytical skills he developed with his liberal arts degree, as well as his professional experiences, have proved incredible valuable in law school. "I'm always digging deeper into issues and, in many ways, my Marist degree and work experience allow me to better understand the intersection between the 'real world' and established legal principles."
And how does that minor in cinema studies fit into the overall picture? Says Theall, "I've always believed that college is an important time to follow some of your personal interests. My passion for movies developed as a kid wandering video stores. I was delighted that Marist offered courses that explored film as an art form and dove deep into the themes and techniques that are often overlooked in casual film watching." Although he didn't originally think this aspect of his degree would have an impact on his career, he's found that having "something different" on his resume can be a great asset. He recalls one interview he had with a senior partner at a large law firm: "I expected we would spend our time discussing my legal skills, but instead, the partner spent the interview discussing the best recent movie releases and the genesis of our shared love of film. It was great to not only talk about a subject I'm passionate about, but my experience Marist's wonderful cinema studies program allowed me to speak intelligently on the topic."