Athletics
Coach Giorgis' Impact Goes Way Beyond the Court
Anthony Proia and Michelle Eggink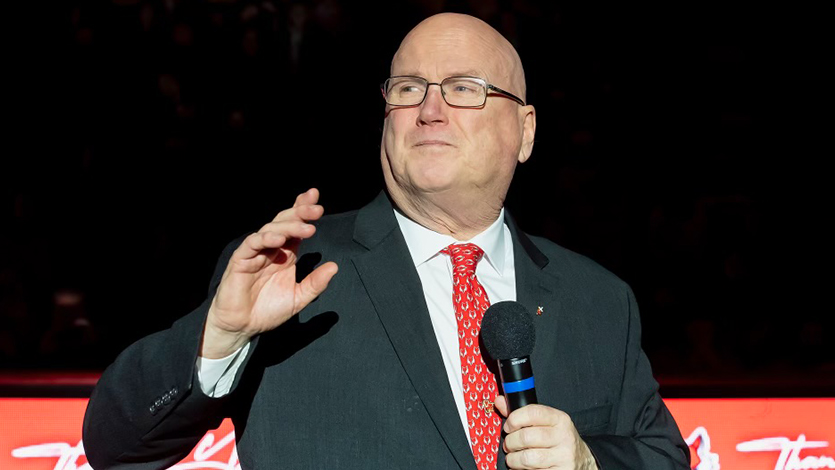 March 1, 2023 – When he arrived at Marist College in 2002, Brian Giorgis was already a legend at the high school level. More than two decades later, as Giorgis wraps up his run as Marist Women's Basketball Head Coach, his career will stand as one of the most unique and accomplished coaching careers in history. He coached Marist to 11 Metro Atlantic Athletic Conference championships and NCAA tournament appearances — including the conference's first-ever Sweet 16 appearance in 2007. Before arriving at Marist, Giorgis coached Our Lady of Lourdes High School to nine state championships.
Over the weekend, Giorgis' team played the last home game of their head coach's final season against Niagara. Friends, family, and distinguished alumni from his teams at both Marist and Our Lady of Lourdes were among the 500 in attendance. Niagara's head coach and former Marist assistant coach Jada Pierce even wore a 'Thank You Coach Giorgis!' t-shirt.
After the game ended, former players made their way to meet Giorgis on the court, surrounding him with greetings and hugs before he addressed the crowd.
"It's been a wonderful ride, it really has," Giorgis said holding back tears. "I can't thank you all enough."
Hundreds attended the post-game Giorgis celebration reception, where the coach was honored with speeches and video compilations from colleagues, friends, and players from all stages of his career. For those who played for Coach Giorgis and made the trip to Marist for one last tribute to the coach who meant so much to them, it was an emotional day for all.

Current and former players and coaches were among those paying tribute to Head Coach Brian Giorgis on Saturday - All photos by Stockton Photo.
"As a freshman at Lourdes High School, Giorgis took me under his wing and successfully coached me to become a Division I college athlete at Marist," said former Lourdes and Marist player and MAAC champion Kristin Griener '05. "Giorgis, you worked endlessly to make me a better basketball player. Most of us in this room were better athletes and are better people because of Coach Giorgis."
"Having the opportunity to play for Coach Giorgis and to coach with him is something I will never take for granted," said former Marist player and Director of Operations for the women's basketball program, Leanne Ockenden '14, who was also a two-time MAAC Defensive Player of the Year. "Coach Giorgis has always instilled the importance of family within our program over the last 20+ years. Not only did Coach make me a better basketball player, but he taught me how to be resilient, how to be mentally tough, and showed me the importance of dedication and loyalty."

Former two-time MAAC Defensive Player of the Year Leanne Ockenden '14 on Saturday
"You've taught me more than just basketball," said former Marist player and MAAC champion Allie Best '21. "You've taught me how to speak up and be a leader, how hard you have to work to be successful, and how to win. You've helped me become a better player and a better person, and I will be forever thankful for that."
"You've been such a great coach consistently throughout the years, and I feel like that alone is one of the most impressive achievements to have as a coach, aside from all of your amazing accolades," said former Marist player and MAAC champion Willow Duffell '21. "I'm just really grateful and forever thankful to have played for a coach like you Giorgis, you've shaped all of us so much and will always hold a special place in all of our hearts."
Seton Hall Women's Basketball Head Coach Anthony Bozzella has a long history of competing against Giorgis' Marist teams while he was coaching in the MAAC at Iona. Although the rivalry was often one-sided, with Giorgis beating him 28 straight times, Bozzella spoke about what an incredible mentor, friend, and Giorgis has been throughout the years.
"The nation is lucky that we've had such a great coach, but more importantly a great man, in Brian Giorgis," said Bozzella.

Current Associate Head Coach and future Head Coach Erin Doughty on Saturday
Erin Doughty, current Associate Head Coach and former Marist player, will be Giorgis' successor as head coach at the end of the season. She spoke about his legacy and expressed gratitude for his impact.
"Over the last couple of days many of us have gathered, told stories, shared laughs, and even cried, reflecting on our time here at Marist and what playing for Coach Giorgis has meant for us," said Doughty '06. "Like myself, many of us attribute much of who we are today and where our lives have gone to our time here at Marist and Coach. Coach will tell you that his success wasn't him, it was a group effort of players, staff, administration, God, being in the right place at the right time with the right people. Coach you may not have done all of this on your own, but your leadership, your blueprint, your belief, your vision, got us all here."

Brian Giorgis surrounded by his MAAC Championship trophies on Saturday
During the reception, it was announced that Giorgis has been nominated into the Women's Basketball Hall of Fame. Also, Dutchess County Executive William O'Neil officially named February 25th "Brian Giorgis Day."
"I've been asked the question 100 times, 'What's the secret to your success?'," said Giorgis. "I'm looking at it right here. As Lou Gehrig said at the end, 'Today I consider myself the luckiest man on the face of the earth.' I've been saying it for 67 years. I can't thank you enough."
You can watch the full ceremony here.
The season, however, is not over. The Red Foxes have two more regular season games left on the road before the MAAC Tournament in Atlantic City begins on March 7.