Athletics
Broadcast journalist, attorney Jack Ford to Speak at Marist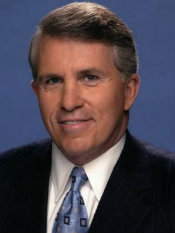 CBS News legal analyst and 60 Minutes Sports correspondent in conversation with Marist Center for Sports Communication's Keith Strudler
The Marist College Center for Sports Communication will present on Oct. 1 Emmy and Peabody Award-winning broadcast journalist, documentary producer, prominent trial attorney, author, and educator Jack Ford in conversation with Dr. Keith Strudler, discussing his experiences at the top of the media, legal, and sports worlds, including his prominent positions at NBC, ABC, and ESPN.
Ford currently serves as a legal analyst for CBS News and a correspondent for 60 Minutes Sports.
He may be best known for his roles at ABC News, starting in 1999, as an anchor and correspondent for Good Morning America, 20/20, and World News Tonight.
Prior to that, Ford worked at NBC News as chief legal correspondent, where he reported on major legal stories for NBC Nightly News, The Today Show, and Dateline. In addition, he was the co-anchor for the Weekend Today Show and a substitute anchor for Nightly News and Meet the Press.
Also a prominent sports journalist, Ford hosted ESPN's The Sports Reporters II from 2002-2003.
Broadcast journalist and legal expert Jack Ford in conversation with Dr. Keith Strudler
Wednesday, Oct. 1, 2014
12:30 P.M.
Fusco Recital HalL
Free and open to the public
Ford has been successful in various legal roles, both in and outside of television. Upon graduation from Fordham Law School -- an education he helped finance from winnings on the TV show Jeopardy! -- Ford spent three years as a prosecutor in New Jersey before entering private practice, successfully handling such high profile cases as the Northeast's first death penalty trial, one of the nation's first corporate homicide cases, and the Wall Street insider trading scandals of the late 1980s. He also served as an adjunct professor of law at the Fordham University School of Law and currently is a visiting lecturer at Yale University, New York University, and the University of Virginia. He is the author of two critically acclaimed novels, "The Osiris Alliance" and "The Walls of Jericho".
Ford started his journey in higher education at Yale University, where he was a scholarship student and three-year starter on the varsity football team. He is deeply involved with education issues and currently serves on the management team for the new education-focused network American Ed TV. He has received multiple awards including two Emmy Awards for his work in journalism, a Peabody Award, American Radio and Television Award, National Headliner Award, and the March of Dimes FDR Award. In 1997, he received an NCAA Silver Anniversary Award, which is presented to former outstanding college athletes who have achieved extraordinary success in their professional lives. In 1998, Mr. Ford was honored with a "National Father of the Year Award," and in 2009, he was a recipient of Yale University's highest athletic honor, the "George H.W. Bush Lifetime of Leadership Award."
Dr. Keith Strudler, director of the Marist College Center for Sports Communication, will moderate the one-on-one discussion with Ford, covering topics including the state of collegiate athletics, sports and broadcast media, and the challenges of working for a major television network. The pair will also discuss the role of the law on all of these fields. The discussion will be followed by a question-and-answer session with the audience.
For more information about the event or the Marist College Center for Sports Communication, please visit its website at sportscomm.marist.edu.