Events
Community Leaders Honored for Lifelong Impact on Students, Hudson Valley Families
Michelle Eggink, Assistant Director of Content Marketing & Communications
November 13, 2023 — Marist friends and community leaders gathered to celebrate three remarkable individuals at the College's 54th Annual Community Breakfast. President Kevin Weinman presented the President's Awards to George Decker '77 and Lori Cassia-Decker, Co-Founders of Angels of Light, and Tim Massie, Chief Marketing/Public Affairs Officer at Rhinebeck Bank, for their years of dedicated service to the people of the Hudson Valley.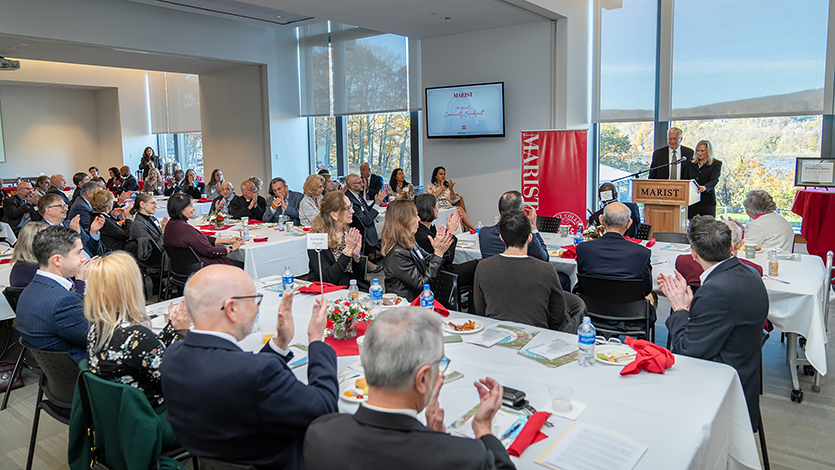 Community leaders applauding honorees at the Community Breakfast. Photo by Nelson Echeverria/Marist College.
George Decker '77 and Lori Cassia-Decker, Co-Founders of Angels of Light

Left to Right: George Decker '77, Lori Cassia-Decker, and President Weinman. Photo by Nelson Echeverria/Marist College.
Founded in 2012, the Decker's nonprofit, Angels of Light of Millbrook, N.Y., assists local families with children facing life-threatening health challenges and whatever their needs may be: medical bills, gas, utilities, food, lodging, holiday gifts, and other essential resources. They also recently sponsored an infusion room at MidHudson Regional Hospital so that local children can stay close to home to have their treatments.
"George Decker and Lori Cassia-Decker wholeheartedly embrace Marist's core principles of service to others and to the community," said President Weinman. "Their lifelong dedication to charitable endeavors exemplifies Marist's unwavering commitment to service."
Nate Morse, a first-year student at Marist who suffered a spinal cord injury in 2019, can attest to the significant impact of Angels of Light's services. The organization helped the Morse family during Nate's recovery, becoming like family to them.
"The Deckers are an extremely caring and generous family, and I wouldn't be where I am today if they weren't in my life!" said Morse '27.

Left to Right: Lori Cassia-Decker, Nate Morse '27, and George Decker '77. Photo by Nelson Echeverria/Marist College.
Angels of Light has delivered over 10,000 gifts to more than 2,000 children in the Hudson Valley. George has had a distinguished career in the financial sector and volunteered for New Horizons Resources-an agency providing services for individuals with developmental disabilities. Lori has worked in the health and fitness industry and has been a strong advocate and volunteer for several charitable causes and organizations since 1983.
"Our story began with providing holiday gifts for children, and we've since expanded our efforts, which has been a blessing that fills our hearts," said Lori Cassia-Decker. "Our goal is to help give families the support they need and to help children feel special and comforted, assuring them that they are never alone and that their community always has them in their thoughts and prayers."
Tim Massie – Chief Marketing/Public Affairs Officer, Rhinebeck Bank

President Weinman and Tim Massie. Photo by Nelson Echeverria/Marist College.
Tim Massie's decades of service to the Hudson Valley community include a 17-year tenure as Marist's Chief Public Affairs Officer, as well as two decades as an adjunct professor teaching courses on the Poughkeepsie campus and abroad. Throughout his career, Massie mentored and advised hundreds of students, fostering personal and professional connections far and wide.
"Tim Massie has been a central part of the Marist family and the Marist story for over three decades," said President Weinman, who lauded him for playing a "pivotal role in elevating the College's national presence, attracting prominent speakers to campus, showcasing the accomplishments of students and faculty, and giving Marist a voice and a seat at high-profile events and national conversations."
Beyond his past work for Marist and Rhinebeck Bank role, Massie is a trustee of the Dyson Foundation, a charitable organization that uplifts nonprofits and transformative community projects in the mid-Hudson Valley. He has served on over 60 nonprofit boards throughout his career.
Massie has made history in numerous respects. He and his husband, Peter Clark, made history as the first same-sex couple to receive the "Family of the Year" honor from Family Services of New York. They were the first same-sex couple to be married in Dutchess County following the 2011 passage of the Marriage Equality Act in New York State. Massie was also the youngest person elected to citywide office in Poughkeepsie, serving on the Board of Education at the age of 23.
Massie has also amassed a number of awards including "Ally of the Year" by the Gay, Lesbian and Straight Education Network in Collier County, Florida, the "Champion of Justice Award" from Legal Services of the Hudson Valley, and received the City & State magazine's Corporate Social Responsibility Award.

Pete Clark and Tim Massie. Photo by Nelson Echeverria/Marist College.
While Massie has made many notable contributions to the Hudson Valley community, it is the mentoring and life coaching of so many Marist students and alumni that he is most proud of in his career.
"I always thought of myself as a connector, bringing people together for the mutual benefit of all parties," said Massie. "I tried to instill that role in the students I taught or mentored at Marist for more than 20 years. It's networking, yes, but it's more than that. It's helping others, knowing that kindness and generosity beget kindness and generosity. It's treating everyone with respect and having empathy for their situation in life, being there for someone when they're in need, as you yourself may be one day."
Former Track and Field student-athlete and economics major, Steve Rizzo '18, shared how Tim was instrumental in his life.
"I'm so grateful to learn from and be guided by a person like Tim," said Rizzo. "Tim is the reason why I was able to secure all of my internships and my first job out of college by connecting me with Marist alumni and close friends of his. Tim has not only helped me get a foot in the door with competitive companies that led to my career taking off, but he's become a part of my family."