Student Achievement
Marist-FDR Presidential Library Partnership Gives Student Unparalleled Access to Major Moments in U.S. History
Bryan Terry, Assistant Director of Content Marketing & Communications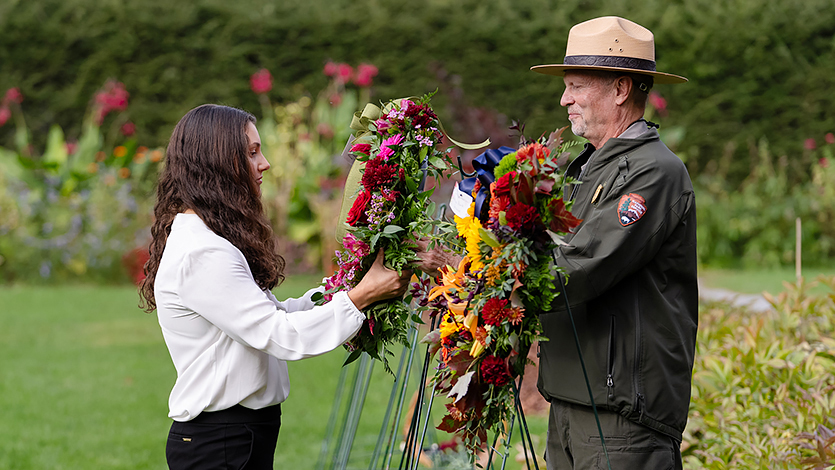 October 16, 2023 — It is no ordinary birthday celebration. And for one Marist student in particular, it was extraordinary.
Every Oct. 11, the Franklin D. Roosevelt National Historic Site marks Eleanor Roosevelt's birthday with a solemn ceremony in the picturesque Rose Garden. This year, Krystyna Lubrano '24 took part in that ceremony, laying a wreath at Roosevelt's grave monument to mark her 139th birthday.
"I feel incredibly grateful," said Lubrano. "To be even a small part of the legacy of such an incredible woman is an honor."

Krystyna Lubrano '24 (seated at far left) and other participants and audience members in the Rose Garden of the Franklin D. Roosevelt Historic Site in Hyde Park. Photo by Nelson Echeverria/Marist College.
The invitation to participate capped off a successful internship and research experience for Lubrano, a history major who will graduate next spring. Most undergraduates never have the opportunity to work in a presidential library, but Lubrano got an unmatched behind-the-scenes look into the history of the nation and the world.
"The idea of this program is to get our interns to experience what it's like to work in a historic location and what that means in terms of bringing the story alive," said Jeffrey Urbin, Education Director at the Roosevelt Library. "You've got the documents, you've got the artifacts, and in education, our job is to make it pertinent to students."
Seeing how some of the more troubling aspects of President Roosevelt's legacy were presented was one of the most memorable parts of Lubrano's experience.
"One of the reasons I am so passionate about what I study is because of the satisfaction that comes from uncovering an untold perspective, and getting to tell a story that had been previously silenced," she said.

Krystyna Lubrano '24 in the Franklin D. Roosevelt Presidential Library. Photo by Nelson Echeverria/Marist College.
The interest in these areas led Lubrano to her honors research project about the impact of New Deal housing policies on the modern-day U.S. education system.
This project led her right back to the Roosevelt Library, where her internship coordinator, Urbin, helped her apply to do research in President Roosevelt's archives.
With Urbin's support, Lubrano had the opportunity to read declassified FBI files from 1943 discussing racial issues in the country.
Lubrano's hands-on experience at the Roosevelt Library is part of a longstanding and rich relationship between the historic site and the Department of History and School of Liberal Arts at Marist. That relationship is marked by Professor of History David Woolner's position as Senior Fellow and Resident Historian of the Roosevelt Institute, and by a robust internship program coordinated by Dr. Steve Garabedian, Associate Professor of History.
"I work with Jeffrey Urbin each spring to ensure the library gets quality interns, and, in turn, to ensure our interns have an enriching semester of experiential learning," said Dr. Garabedian.

Krystyna Lubrano '24 stands with Jeffrey Urbin, Education Director for the Roosevelt Library next to a bust of the former president. Photo by Nelson Echeverria/Marist College.
"They're getting real job experience," remarked Urbin. "The idea is to get students to perform in a wide variety of different settings, working with a wide variety of people, and develop skills they're going to need when they get out into the real world."
Beyond internships, the Department of History offers the FDR Research Seminar, an upper-level history course in the fall that includes archival research at the Roosevelt Library. It is a culminating experience for many history majors in which they focus on a specific topic, receive their own research cards from the library, and work closely with archivists and Marist faculty to do high-level historical work.
"The archivists are incredibly helpful to our students, who gain a sense of the national significance of historical preservation and interpretation," said Dr. Robyn Rosen, who teaches the seminar.

The grave monument for President Franklin D. Roosevelt and First Lady Eleanor Roosevelt in the Rose Garden of the Roosevelt Historic Site. Photo by Nelson Echeverria/Marist College.
Lubrano's experiences were just the start of her commitment to equity, both in the study of history and in the present. In November, she will present her research at the 2023 National Collegiate Honors Conference in Chicago.
At Marist, as Vice President of Diversity, Equity, and Inclusion (DEI) for the Student Government Association (SGA), she develops programs to increase student awareness of these issues.
She previously contributed to a DEI workshop piloted by Dr. Sasha Biro, and is now planning a panel discussion to celebrate the 75th anniversary of the Universal Declaration of Human Rights, one of the guiding documents for the United Nations.
"The declaration has an incredible impact around the world," said Lubrano. Eleanor Roosevelt was instrumental in its drafting, and I believe it is important to recognize the global change that started just down the road from Marist in Hyde Park."