Student Achievement
Fox Chat: Quick Questions Over Yella's Wings
Jadyn Lance '24, Marketing & Communications Intern
Tristan Shannon '24 enjoying Yella's wings outside on the Gartland Commons Quad. Photo by Yasir Olenja '24/Marist College.
Fox Chat is a student-produced segment where Red Foxes sit down to connect over coffee or a quick bite and chat about their Marist experience.
In this segment, Jadyn Lance '24 interviews Tristan Shannon '24, a running back and kick returner on the football team.
Tristan Shannon '24
Major: Games & Emerging Media with a concentration in design and writing.

Q: Favorite place on campus to grab a quick bite?
A: I enjoy North End, especially the barbecue jumbo wings from Yella's.
Q: How do you balance school and sports as a student-athlete at Marist?
A: Balancing academics and athletics requires strong time management skills. I give everything 100 percent effort. My mentality shifted from freshman to senior year. Managing various responsibilities helps you think and act faster. The game of football and life itself accelerate as you grow older, so maturity plays a significant role in handling it all.
Q: Do you have a pre-game ritual?
A: I play my pre-game playlists, chew some bubblegum, and drink blue raspberry C4 pre-workout.
Q: What attributes make you a valuable player on the Football team?
A: I'd say my quickness, speed, and decision-making set me apart.
Q: What's your favorite Marist memory?
A: Eating pancakes at the Midnight Breakfast in the dining hall. I'd grab six Oreo pancakes and follow them up with cookies and cream ice cream. It was a lot of Oreos that day.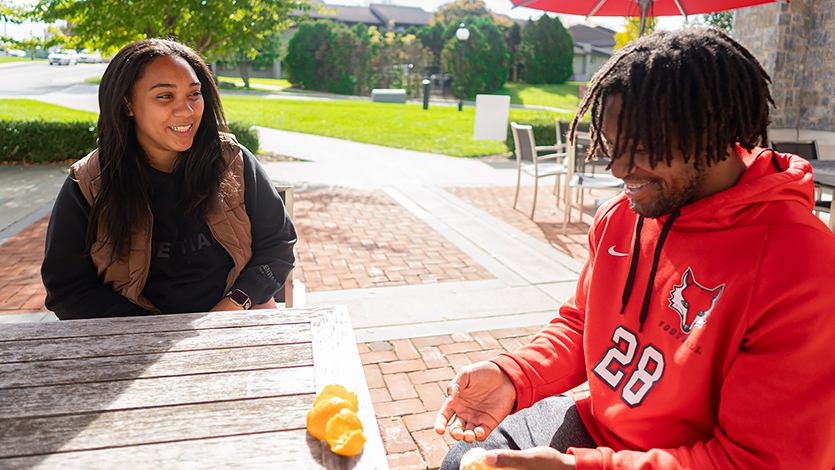 Tristan enjoying the rest of his meal from Yella's while chatting with Jadyn Lance '24 at the North End tables. Photo by Yasir Olenja '24/Marist College.
Q: Who are some of your favorite Marist professors?
A: Currently, my favorite professors are Dr. Dan Amernick and Dr. Kat Schrier because they taught my two favorite classes; Media Studies and Game Design. They both made their classes engaging and easier to understand. Time flies when you're engaged in a lesson!
Q: What is your current passion project?
A: I really enjoy creating CapCut videos outside of class, but also enjoy 3D modeling from time to time.
Q: What does life after Marist look like?
A: My plan is to get a job at a game design studio or pursue a career in professional football in America or Canada.
Tristan and the Red Foxes have two regular season games left. They will be at Dayton on Nov. 11 and home against Bucknell on Nov. 18.