Diversity and Inclusion
Honoring Hispanic Heritage Month
Michelle Eggink, Assistant Director of Content Marketing & Communications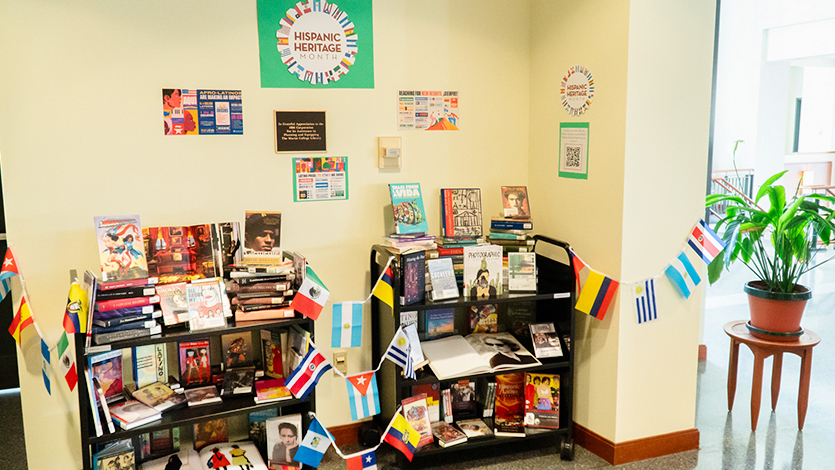 September 25, 2023 — Marist is gearing up for a dynamic Hispanic Heritage Month celebration, where the College will honor a variety of Hispanic traditions through food, music, and knowledge.
Hispanic Heritage Month, celebrated annually from Sept. 15 to Oct. 15, is a vibrant and culturally rich observance that pays tribute to the diverse and profound contributions of Hispanic and Latinx communities. During this month-long celebration, people from all backgrounds come together to honor the customs, traditions, and achievements of those with roots in Spain, Mexico, the Caribbean, and Central and South America.
It's a time when the nation reflects on the profound impact that Hispanic and Latinx cultures have had on American society, from art and literature to music, cuisine, politics, and beyond. Hispanic Heritage Month serves as a reminder of the unity in diversity, showcasing the immense influence these communities continue to have on the country's social, economic, and cultural landscape.
To celebrate Hispanic Heritage Month, the Office of Diversity, Equity, Inclusion, & Belonging and a number of other groups on campus are presenting a variety of Hispanic traditions through food, music, education, and more.
Here are a few planned events for the month to come:

Featuring Hispanic Cuisine
Gourmet Dining will feature popular and traditional favorites such as empanadas and sweet plaintains. Music and menu items will be inspired by some of the Gourmet Dining staff.

When: Dining Hall Hours on Oct. 3 and throughout Hispanic Heritage Month
Where: Student Center Dining Hall

Hispanic History Library Display
The display for Hispanic Heritage Month will feature books, graphic novels, children's books, and films from the library's collection.

When: Now through Oct. 1 and Oct. 9-Oct. 15
Where: James Cannavino Library, 2nd floor, to the right of the main lobby

Lecture: Beyond Columbus: History, Ethics & the Colonization of the America
Sergio Pinto-Handler, Assistant Professor of History, will give a talk on the history of Spanish colonialism in the Americas, tracing the contours of the colonial system and treating the long history of colonial rule as a transformative moment in the global history of violence, ethics, and humanitarianism.

When: Tuesday, Oct. 10, noon - 1:30 p.m.
Where: Fusco Recital Hall

Movie Night
Join the Student Activities team for the Latino blockbuster 'In the Heights', complete with the film screening and a delicious snack spread.

When: Thursday, October 12, 8:00 p.m.
Where: Murray Student Center 3102

A Hispanic Celebration of Art, Music, & Creativity
The Center for Multicultural Affairs will collaborate with the Art and Music Departments to help celebrate Hispanic art, music, and creativity.

When: Thursday, Oct. 12, 5:30 p.m.
Where: Murray Student Center 3103-3104

Leading Latino Music Journalist Leila Cobo Speaks at Marist
The Spanish and Journalism programs will host Leila Cobo, Chief Content Officer of Billboard Latin/Español as part of the Autumn Lecture Series. Leila will deliver a talk about women in Latino music and her career as a music journalist.

When: Thursday, Oct. 26, 6:30 p.m.
Where: Hancock 2023

Be sure to follow the Office of DEI & B on social media and be on the lookout for more events.